7 Rila Lakes Hiking Guide (in Spring) – Bulgaria's Best Hike!
Before arriving in Bulgaria I had chosen a couple of mountain ranges that I wanted to visit. I had even gone as far as figuring out which towns had hostels that I could stay in close enough proximity to the hikes that there would hopefully be a bus.
Now that's quite a lot of planning for me, proud?
Well, I didn't go as far as looking up the heights of the mountains… Turns out those amazing mountains that I had seen pictures of were well over 2000m tall and very much still in alpine winter conditions.
Despite this, and everyone telling me it might not be possible. I headed for the Rila mountain range anyway.
Wanting to hike the famous 7 Rila lakes, I spent a few hours online trying to find out about the possible conditions in early May. As to be expected, google wasn't much help…
I managed to find a single comment, on one blog from 5 years ago, saying the main loop of the lakes should be okay in May.
That was enough for me, so I set off!
Now I'm here to inform the internet that it is entirely possible to hike the 7 Rila lakes in Spring and here is exactly what you need to know…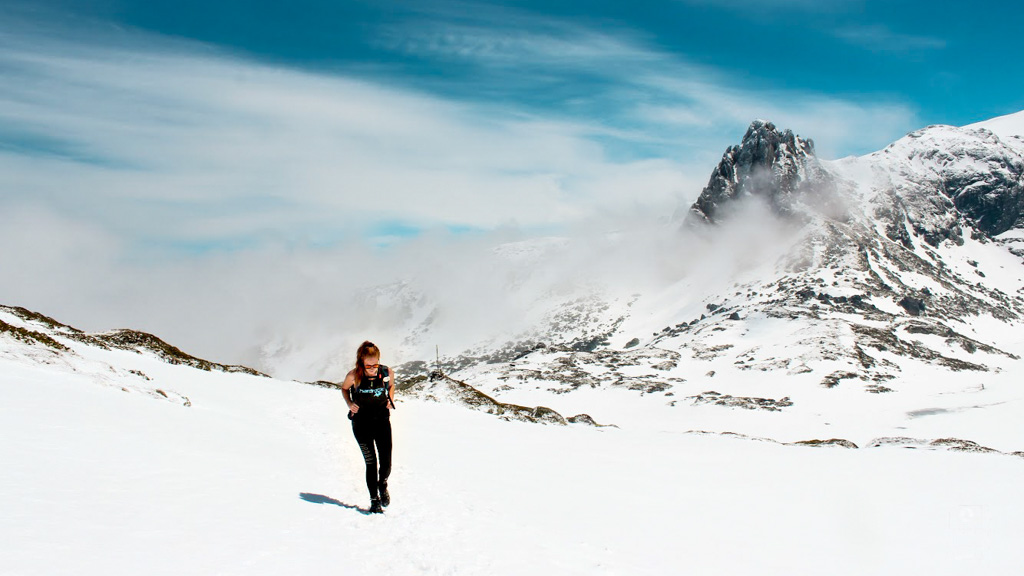 Bags Always Packed is a reader-supported site which means some of the links on this page may be affiliates. I spend a lot of time researching these hotels, tours and products and only recommend those which I would use myself. Booking your trip through my links is a great way for you to support my work for free, as I will earn a small commission at no extra cost to you. ♡
Quick Summary
Don't have time to read the whole post? Here are some quick things to know about the hike. Read on to find out exactly how to hike the 7 Rila lakes in early May, as a day trip from Sofia.
| | |
| --- | --- |
| ⛰️ Elevation Gain: | 350 m / 1,150 ft |
| 🥾 Length: | 10 km / 6.2 miles |
| ⏰ Time: | 3-4 hours |
| 🏛️ Closest Town: | Sapareva Banya |
1. Preparing to Hike 7 Rila Lakes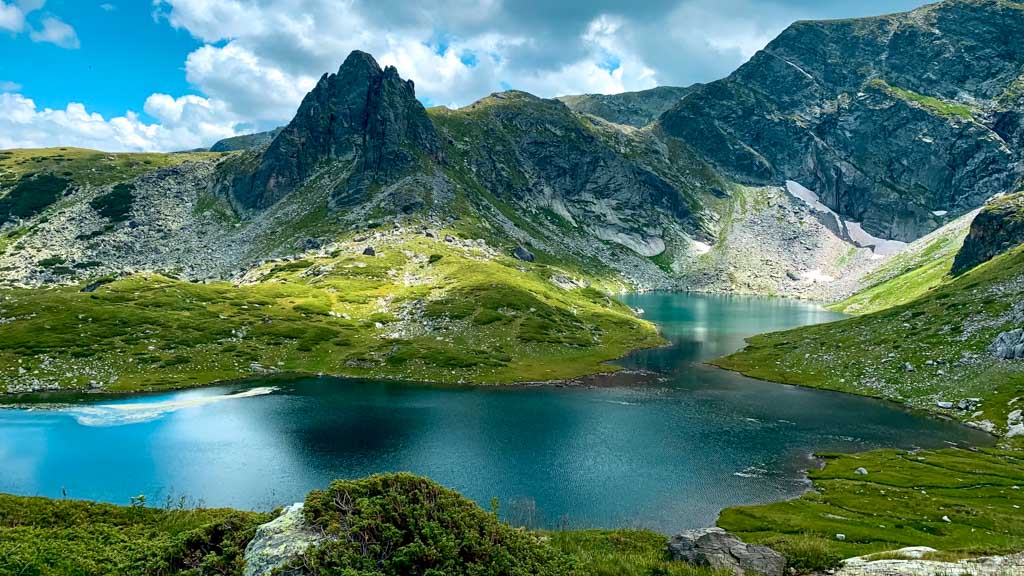 After arriving in Sofia and realizing that the next day was going to be the only one with decent weather for the foreseeable future, I interrogated the hostel staff about buses and convinced a new friend to come along.
For reference, I did the hike on the 8th of May. There was definitely still a lot of snow so you will need good hiking boots and to be prepared for the cold. The hike goes above 2,300m so the climate up there will be very different to in the city.
I would advise going only when there is forecast good weather as with the snow and fog, the lack of visibility can become quite dangerous. Make sure you download a map of the hike with GPS tracking on your phone so you can find the path.
The lakes will all be frozen over at this point too so if you can't see the mountains, there will literally be nothing to see.
As this mountain is, in fact, a ski resort, there is a webcam at the top of the chairlift that you can check online. That being said, if you know about alpine weather, you would know not to take that to heart.
2. How to Get to Seven Rila Lakes from Sofia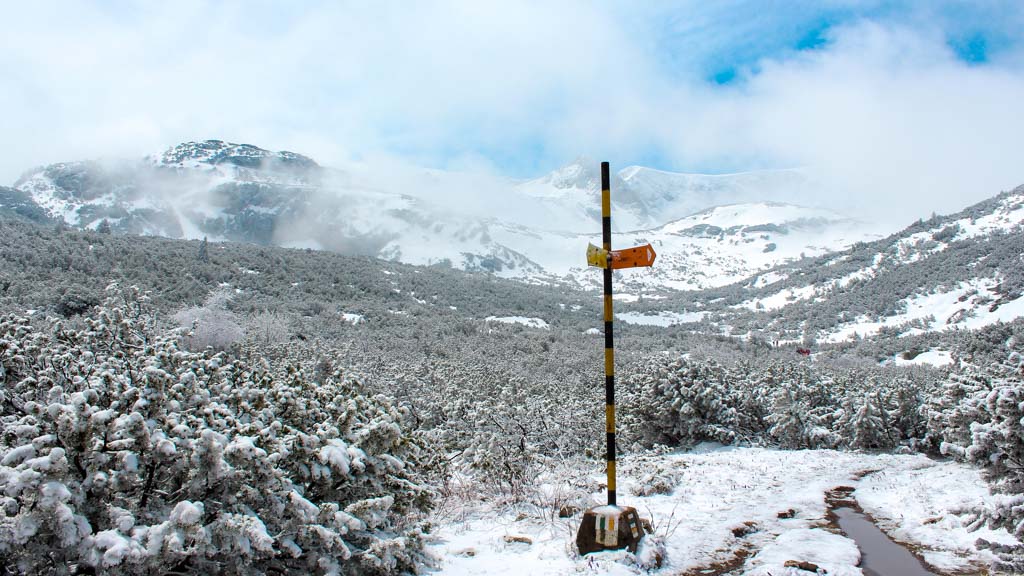 When I hiked 7 Rila Lakes in early spring, there were no shared transfers available and I didn't want to pay to rent a car, so my only option was to take public transport.
Nowadays there are many more options for how to get to the 7 Rila Lakes throughout the year so let's go through each one by one.
2.1 Driving to 7 Rila Lakes
Renting a car and driving to Rila is the easiest way to reach the amazing 7 Rila Lakes hike.
You can pick it up in Sofia and drop it back on the same day if you plan right as the trip takes around 1.5 hours to drive each way.
If you're travelling in a group, rental cars can also be quite cost-effective as the prices for 1 day start at around €50.
2.2 Transfers to 7 Rila Lakes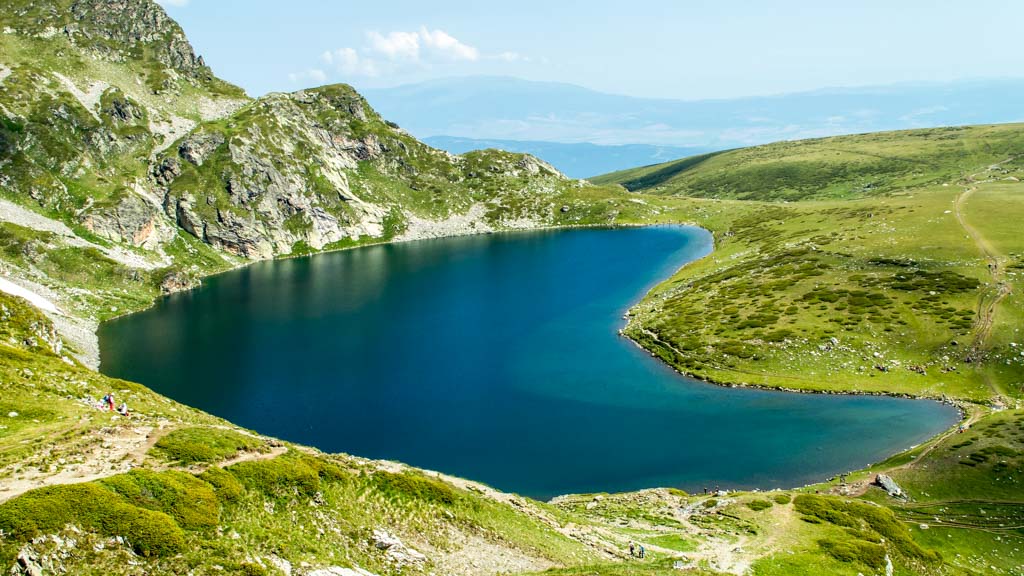 Another easy option if you don't want to drive yourself is to organise a transfer.
This self-guided hike from Sofia includes minibus transport from Sofia to Rila plus tickets for the cable car.
You will have 5 hours of free time to hike and enjoy the area and your English-speaking driver/guide can advise you on the different hiking options available.
After your time at the lakes is over, you will also get taken for a 1.5-hour stop at the Rila Monastery before your easy return to the city.
I would have chosen this option if it was available when I visited 7 Rila Lakes as it is convenient and cost-effective without being too restrictive on time.
If you would prefer a private transfer, this tour offers both guided and unguided options. Alternatively, if you want to join a fully guided day trip, check out my section on the best tours below!
You can also visit the 7 Rila lakes from Plovdiv if you are not making a stop in Sophia. If this sounds like something you are interested in, I recommend booking this tour from Plovdiv.
2.3 Getting to Rila on Public Transport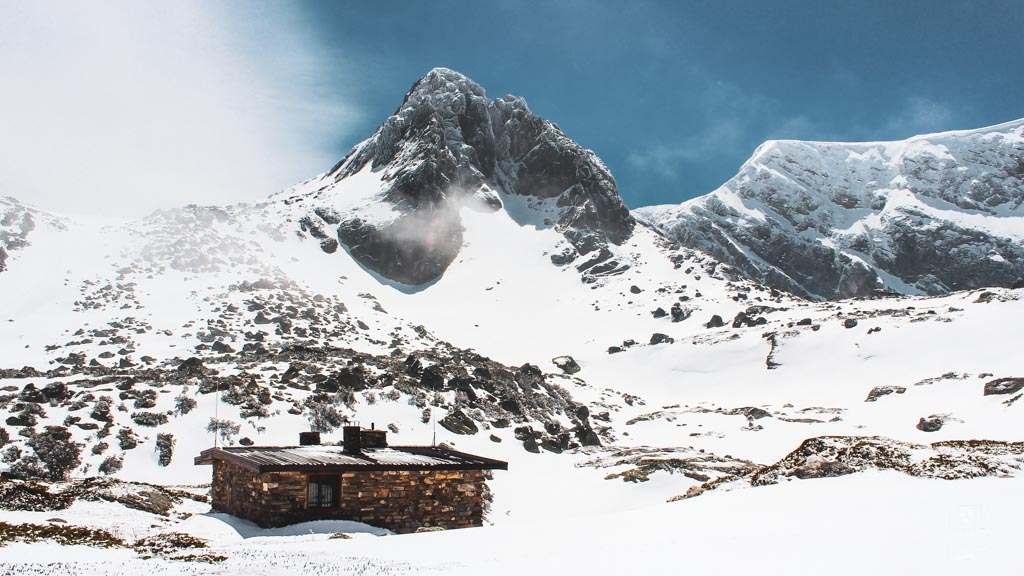 Lastly, the cheapest option for how to get to Rila Lakes is public transport. This is what I did as it was early spring and therefore the transfers were not yet running.
There are 3 steps to get to the 7 Rila Lakes by transport:
Bus from Sofia to Dupnitsa
Local bus from Dupnitsa to Sapareva Banya
Taxi (or shuttle) from Sapareva Banya to the chairlift
During summer there are shuttles from Sapereva Banya to the chair lift however, we didn't find any when we arrived in early Spring.
So let's go through each part of the journey in more detail.
Step 1: Bus from Sofia to Dupnits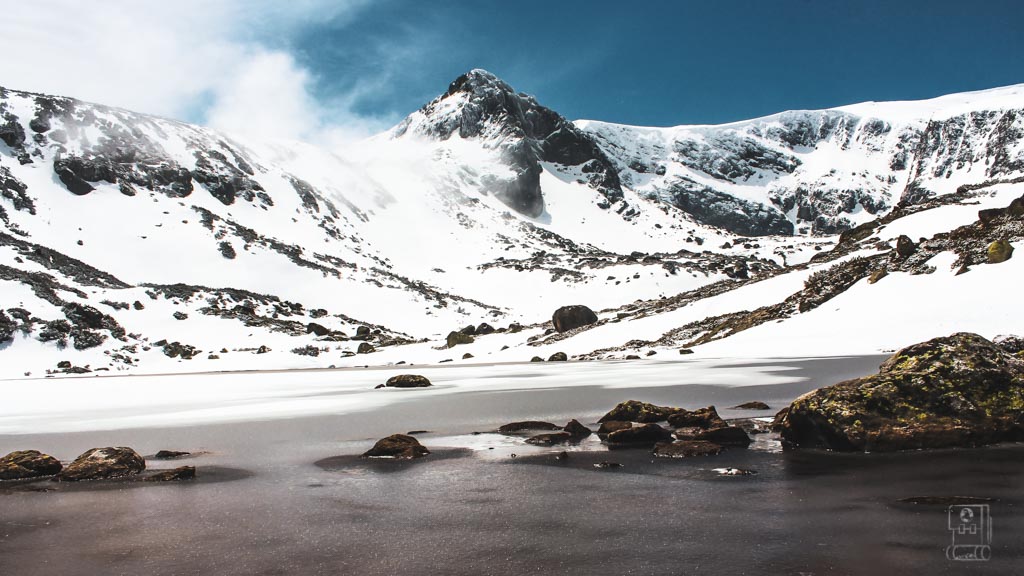 Union Ivkoni runs a bus that stops at both the central and west bus stations and leaves approximately every hour.
TOP TIP: Although the central bus station is easy to walk to, if you catch a 10 min tram to the west station, you save yourself 40 mins on the bus.
This bus costs 7 lev / €3.50, takes 1.5hrs, and you can look up bus times on busbud.com. I took the 8:50 am from the west station and bought my ticket from the little kiosk outside the bus stand.
Step 2: Local bus from Dupnitsa to Sapareva Banya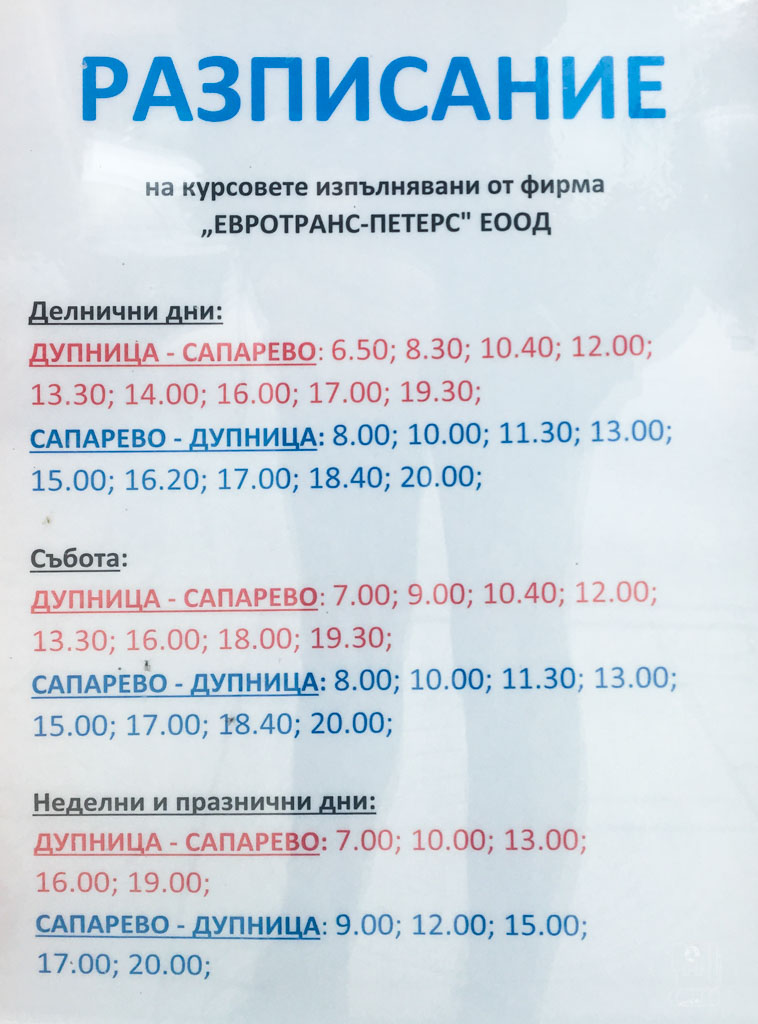 Get off at the first stop in Dupnitsa, it's before the town centre so you will probably arrive a little earlier than scheduled.
Cross the road, walk to your right and look for the bus stop on the adjacent street.
This is the schedule that was posted at the stop however, the bus seemed to always be 10-15 mins early or late. We arrived at 10:05 and still managed to catch the "10 am" bus around 10:15 am.

The bus we hopped on was number 11, although I'm fairly sure all local buses that stop here go to the same places.
Plus, if you look foreign, everyone knows where you are trying to go and will constantly wave you in the right direction.
Get on the bus and pay the drive 1.60 Lev (€0.88) when you get off.
Step 3: Taxi or Transfer from Sapareva Banya – Rila Mountain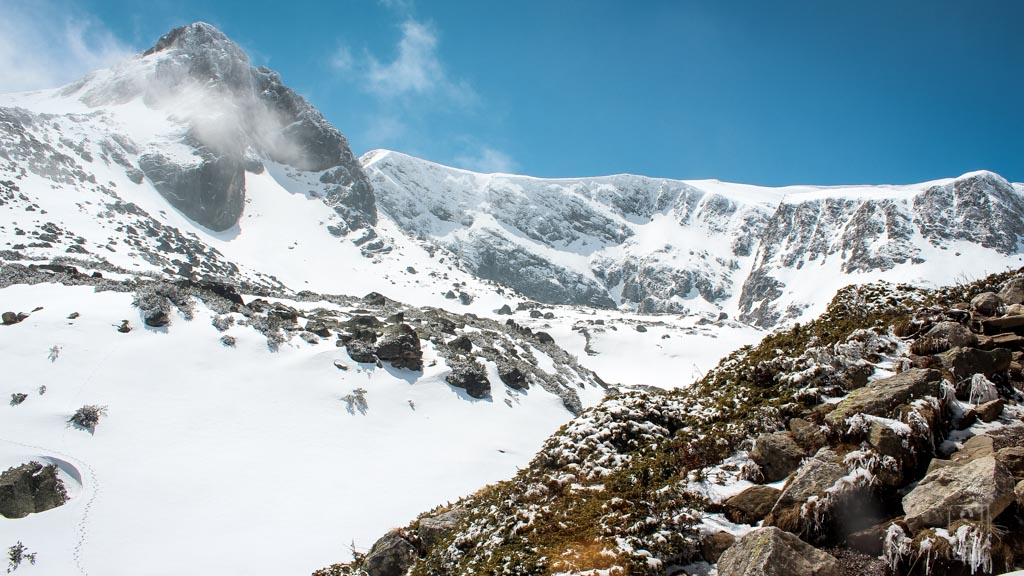 Arriving in the centre of town, you just have to wait 5 seconds and people will appear to offer you a taxi all the way to the chairlift.
They also will know where you want to go, but it never hurts to confirm with them that you want the chair lift to the 7 lakes.
In the peak summer months, there are also local transfer services which run in little minibuses from the same bus top. We didn't find any of these as it was too early in the year, but the taxi for 2 people was the same price as the shuttle.
Some locals we asked told us that we should take another local bus to Panichishte and we might find a shuttle from there, however, the bus seemed to be non-existent and it didn't seem worth the risk of getting stuck there thanks to the infrequent buses.
In the end, we took a ride with a really nice man who owns a guest house in town. On the drive up through the fresh snow and fog, he too tried to convince us that we couldn't hike but was of course happy to drive us nonetheless.
Although he spoke enough English to get by, he seemed to have a real passion for rocks that didn't translate very well.
Multiple times he stopped in the middle of the road and pointed out the rocks and tried to explain something about the road. Although I still have no clue what he was trying to convey, I'm sure it would have been some interesting information and I appreciated the effort.
Remember to take the phone number of the taxi as you might need it to get a ride down.
On arrival, our taxi driver talked to the man selling souvenirs and then told us to ask him to call for a pick-up when we were done.
Pointing at the dash which read -1C, he joked that he would see us in 5 mins when we were too cold.
This was even more of a joke because the chairlift turned out to be the slowest lift in the world and took around 40mins to reach the top!
We paid 16 lev total for the trip (€8.50) and according to the Internet, the shuttle bus would have been 7 each anyway.
3. Hiking the 7 Rila Lakes Trail (with Trail Map)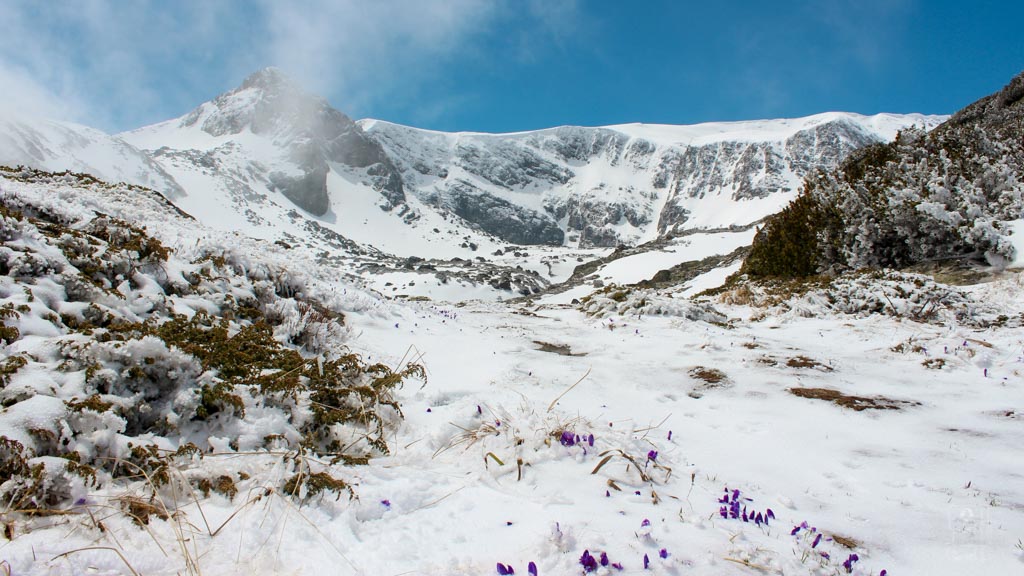 Now you've made it to the bottom of the chair lift, it's finally time to start your hike!
But before you get to the lakes, you have a choice of whether you would like to take the chairlift to the start or walk the 1.5 hours up on foot.
The chairlift is cheap and usually much quicker than walking, although on the day we rode it the temperature was -1 °C and it stopped for 10 mins halfway up. So after spending nearly 40 mins freezing my ass off in the air, I wish I had just walked!
Rila Lake Lift (Pionerska chair lift)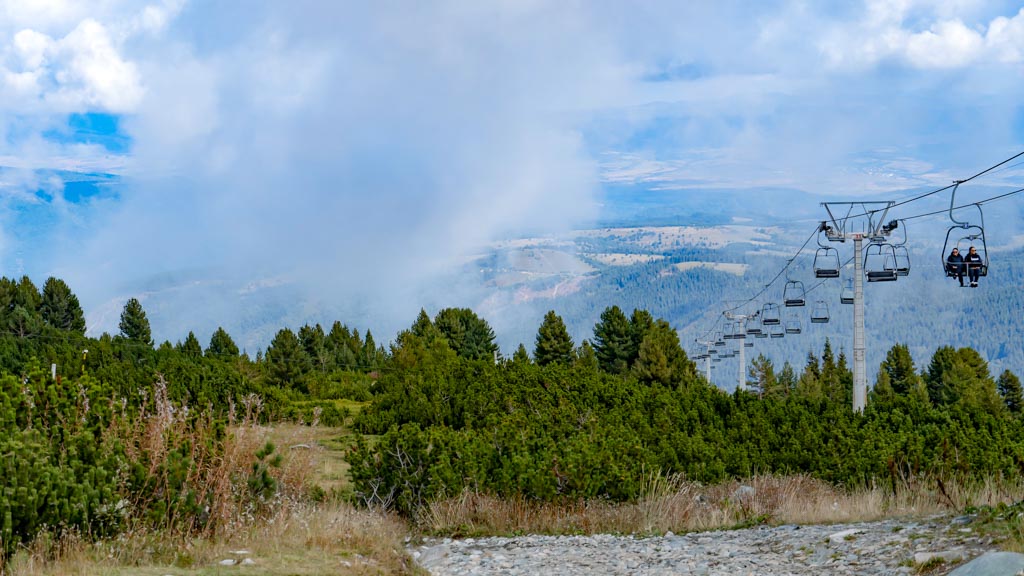 The Rila Lake chairlift is open most of the year as in the winter this area is used as a ski resort. However, in the off seasons (springs and summer) it may only be operating on weekends.
In summer, the chairlift is open between the following times:
Monday (except last Monday of the month): 12:30 – 18:30
Tuesday – Friday: 8:00 – 18:30
Weekends: 8:00 – 19:30
NOTE: The chairlift is closed all day on the last Monday of each month.
Tickets cost 10 lev (€5.00) for one way or 18 lev (€8.00) return.
As I didn't know how long anything was going to take us, we decided to take the lift up and bought a one-way ticket. In hindsight, I would have preferred to walk as it takes under 1.5 hours to walk to the top and the chair itself was slow and uneventful.
After rugging up in all our extra layers we tentatively loaded the icy chair and began our accent further into the clouds. At first, it seemed like we were the only stupid people who believed the forecast for sunny weather.
The chairlift is supposed to take around 20 mins, but after the chair stopped for an extra 10 mins halfway, we seriously started to question our motivation. Then we passed a single, sad-looking soul, descending the chair.
My experience Hiking the 7 Rila Lakes
At the top, we were greeted with an even thicker sheet of blinding white fog, blending into the snow so much that we failed to even see the giant chalet that stood 20m away.
Still unsure whether the hike was possible, and unable to see any trailheads, we decided to head inside and ask. Unsurprisingly, the woman did not speak English but offered up French as an alternative.
So, I asked simply "Est ce que possible de promenade à les lacs?" (Is it possible to walk to the lakes?)
This was met with a confused look and a need for clarification… "you want to go to the lakes!?"
My enthusiastic 'Oui' was met with a resounding 'no'.
Outside and studying the maps again, we decided just to try in the reverse direction. This way we should reach the Sedemte Ezera hut in around 40 mins, with some lakes on the way. At least we could possibly ask for more information here or turn around if we had to.
Walking into the white abyss in the general direction of the trail we found a single track of footprints.
Following these for 15 mins, over bushes and through creeks, they brought us around a corner into a valley with the faint hint of sun trying to break through the fog.
Excitedly, we kept walking and within 10 mins the sun had succeeded, the sky was blue and I was ecstatic.
Suddenly we were surrounded by those giant imposing peaks that I love so much.
So, if you are wanting to hike the 7 Rila Lakes early in the season, know that it IS absolutely possible to hike the & Rila Lakes in Spring, but be aware of the more technical conditions.
I would not recommend this for a bad weather day, if I had known, I wouldn't have even attempted this hike in the conditions we got. The only thing that allowed us to start the hike was that one set of footprints!
The Seven Lakes
As you might expect, the 7 Rila Lakes hike takes you past 7 gorgeous alpine blue lakes, surrounded by lush green and dramatic mountains.
Each of the different lakes is named after its most striking feature. To give you an idea about each of them, here is why each lake is named as it is:
The Tear (Salzata) – The super clear waters let you see quite far to the depth of this lake
The Eye (Okoto)– This is the deepest lake in Bulgaria and unsurprisingly, it's shaped like an eye
The Kidney (Babreka) – Again, this one is shaped like a kidney
The Twins (Bliznaka) – This is the largest of the lakes and when full, the "Twins" lake looks a little like an hourglass with a narrow section joining the two. However sometimes when the water level is low the twins become two separate lakes (making it 8 Rila lakes)
Shamrock (Trilistnika) – shaped a little like a three-leafed clover and has shallow banks
Fish Lake (Ribnoto Ezero) – the shallowest lakes
Lower Lake (Dolnoto Ezero) – All of the other lakes overflow into this lake which then feeds into the Dzherman River.
NOTE: Swimming is not allowed in any of the 7 Lakes as it is located in a national park to preserve the landscape.
Seven Rila Lakes Hiking Trail Map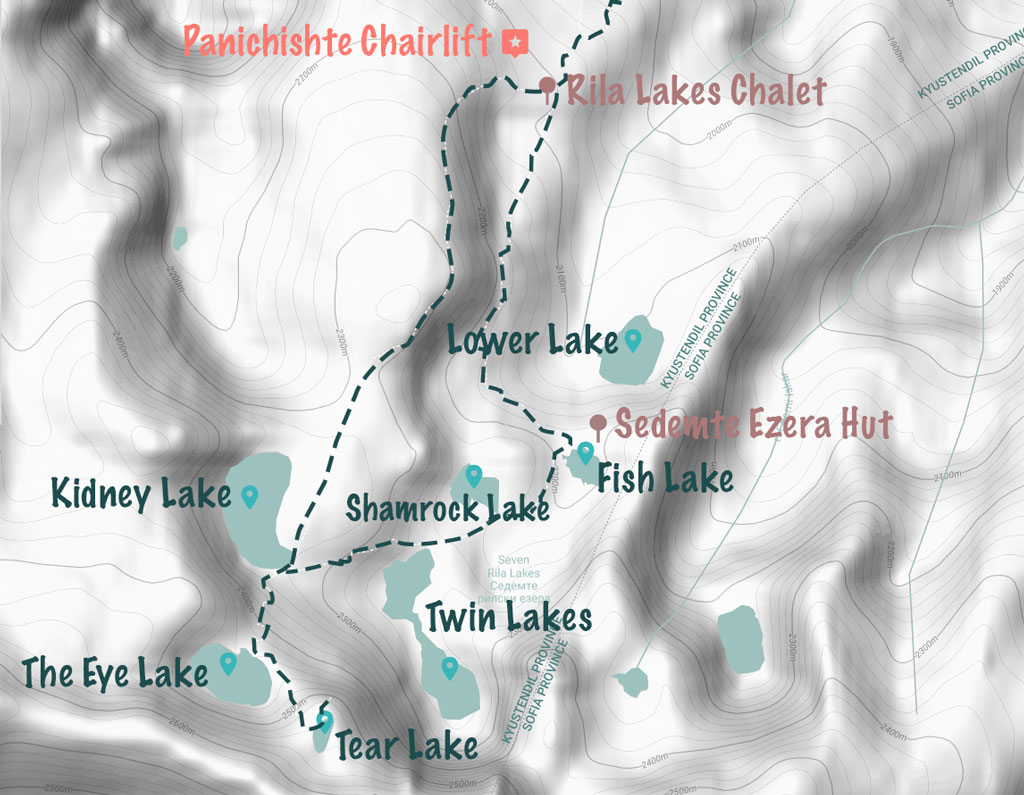 Starting from the top of the chairlift you will see the Rila Lakes Chalet right in front of you (if it's not an insanely foggy day like it was for us). The trail begins right here at the Chalet and you have a choice of going right or left to start the loop.
Most people complete the loop anti-clockwise (turning right at this first fork) as you will go up a little in elevation first and then the remaining of the trail is a gradual walk down through the lakes.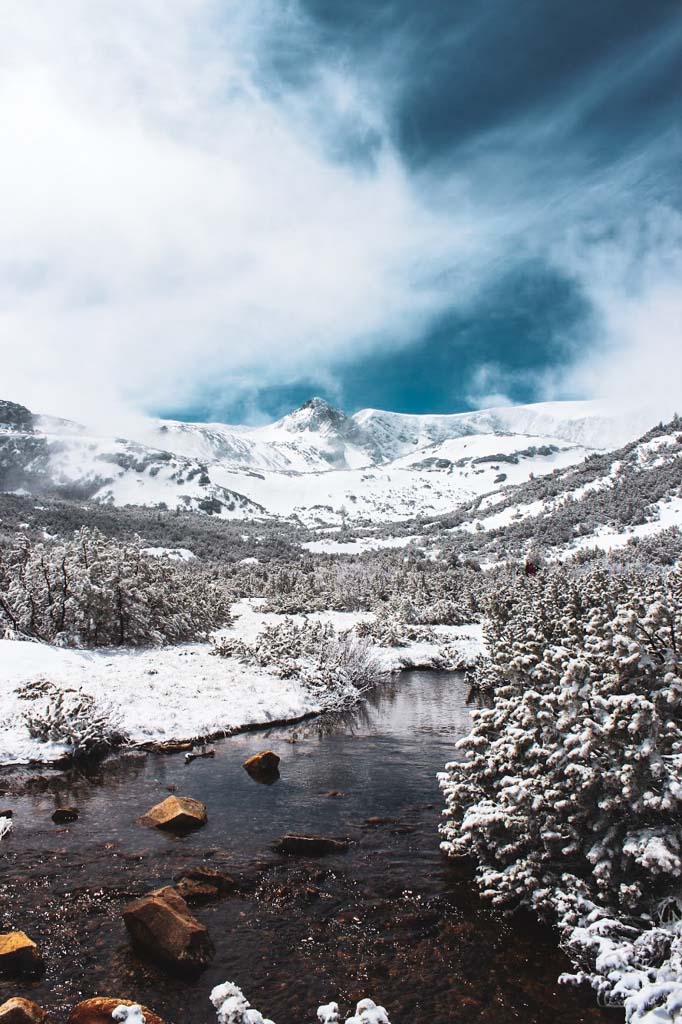 As I mentioned earlier, we walked clockwise as we couldn't see anything and wanted to use the Sedemete Ezera Hut as a guide to determine how long it would take to complete the loop in these conditions.
I recommend following this map as you can download it to work offline and it will show you all the information you need to know for this hike while tracking your location.
We visited most of the lakes (which were frozen but still visible and beautiful) however, didn't hike the extra tail leg which takes you up a ridge to Tear Lake where you have a viewpoint of all 7 lakes. Although this was tempting, the conditions weren't right as there was too much snow and it could have potentially been pretty dangerous.
After the sun came out, we did see a few more groups of people on the trails which made me feel a little relieved thinking it wasn't as bad as everyone made it out to be!
Completing the whole loop takes between 3-4 hours depending on how many breaks you take but the walk itself is easy-medium difficulty (in Summer) as it is just 10 km (6.2 miles) and 350 m (1,150 ft) of elevation gain.
We chose to skip the cold chair lift ride down and enjoyed a very muddy descent all the way to the car park.
Returning to Sofia
Upon arrival, we asked the souvenir man to call our taxi as instructed. While we waiting for our driver, a few people came down from the trails and it seemed that everyone else who had hiked that day was in either their own cars or rentals.
If you don't have pre-arranged transfers, I suspect it's probably worth attempting to hitchhike from here back to Sapareva Banya, or even Sofia, as it is a very popular day trip from the city.
If not, just reverse the direction of your public transport. Remember to cross the road from your original stops and look for buses going in the other direction than the way you came. And be patient, this is Bulgaria!
4. Best Tours of the 7 Rila Lakes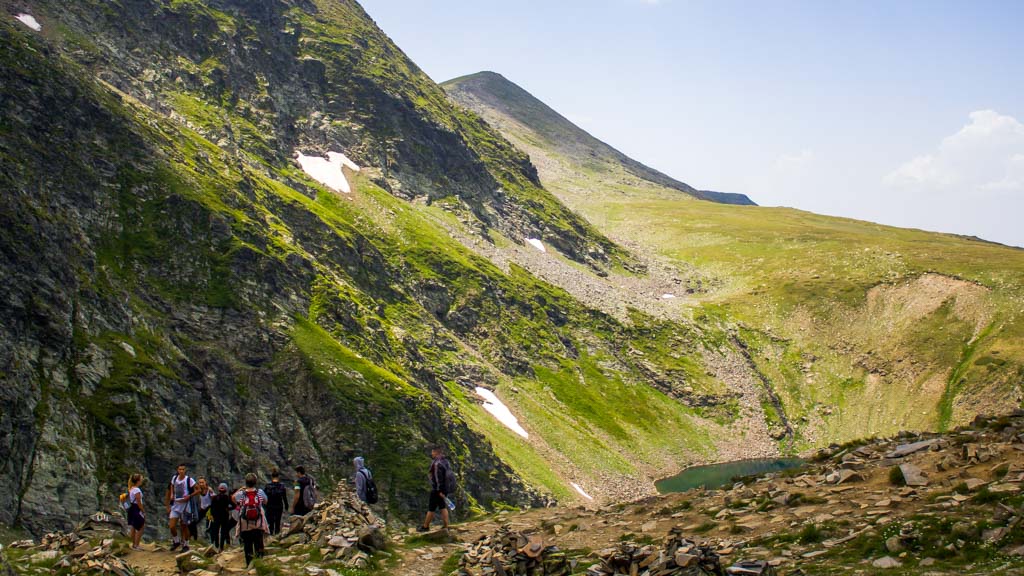 As I mentioned in my section above about how to get to the Rila Lakes, I think taking a tour or organised transfers is the best option for this hike.
The basic self-guided hike option is only around €30 per person so the price is not too outrageous yet you still get to enjoy the hike without being limited by a tour group.
Below I have picked all of the best different tour options that I can recommend to you so you can easily pick your preference. Just make sure to book in advance as these tours will book up, especially in the peak season!
5. Where to Stay Near the 7 Rila Lakes Hike
Most people choose to stay in Sofia and take a day trip to hike the 7 Rila Lakes. But if you really want to experience this magical place for more time, you can stay at the top of the mountain, right next to the first lake!
Let's take a look at all your options.
Where to Stay Around the 7 Rila Lakes Hike
There are two accommodation options on the mountain itself – Rila Lakes Chalet and Sedemte Ezera Hut. Both offer simple mountain accommodation however the Rila Lake Chalet (Rilski Exera) is definitely the larger and nicer of the two.
Based right at the top of the chairlift, Rila Lake Lodge (chalet) is a large multi-story building with private rooms and a restaurant, making it more like a traditional Bulgarian hotel. You can make a booking by contacting them through their website.
Sedemete Ezera offers a more traditional mountain hut vibe with shared rooms, simple beds but good food and company. If you wish to stay at Sedemete Ezera, you must call (+359 (0) 882 506 060) to make a booking. Make sure you organise your stay quite far in advance though as rooms do book out!
Off the mountain, there are also a handful of guesthouses where you can stay dotted around the base of the chairlift as well as in the ski village of Panichishte, or the town of Sapareva Banya, but a lot of them have pretty poor reviews so I would suggest staying in Sofia instead.
Where to Stay in Sofia
6. Tips for Hiking the 7 Rila Lakes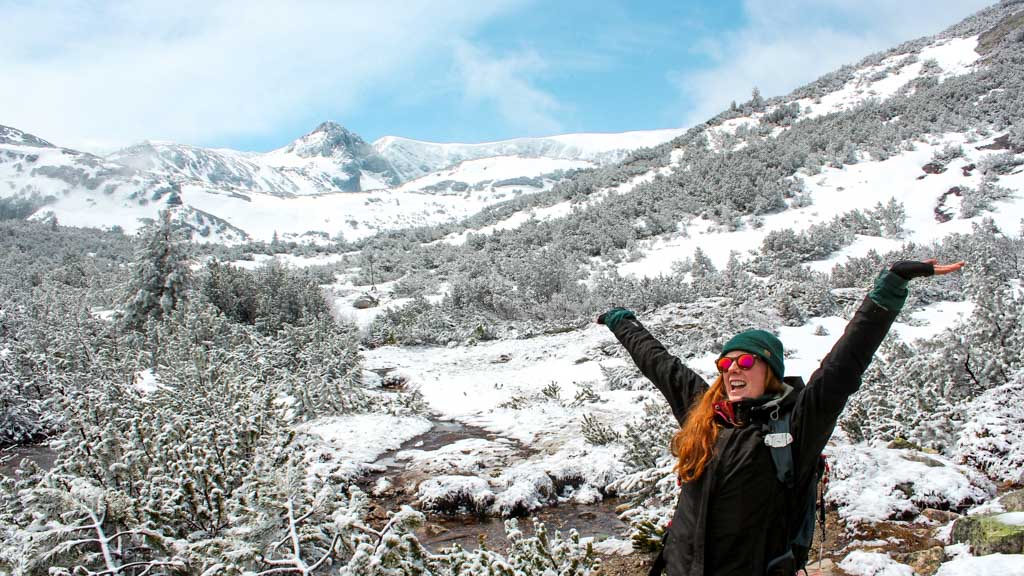 Alright, now that you have read all about the hike, here as some extra tips to help you prepare for your hike.
6.1 Cost of Hiking the Seven Rila Lakes
The only cost associated with the hike itself is the chairlift to get to the trailhead. However, you can skip this if you want to add an extra 1.5 hours uphill to your hike (and down).
Aside from the chairlift, you will also need to pay for transport from Sofia, so here is a quick breakdown of costs per person to help you pick the best option for you:
6.2 Packing List for 7 Rila Lakes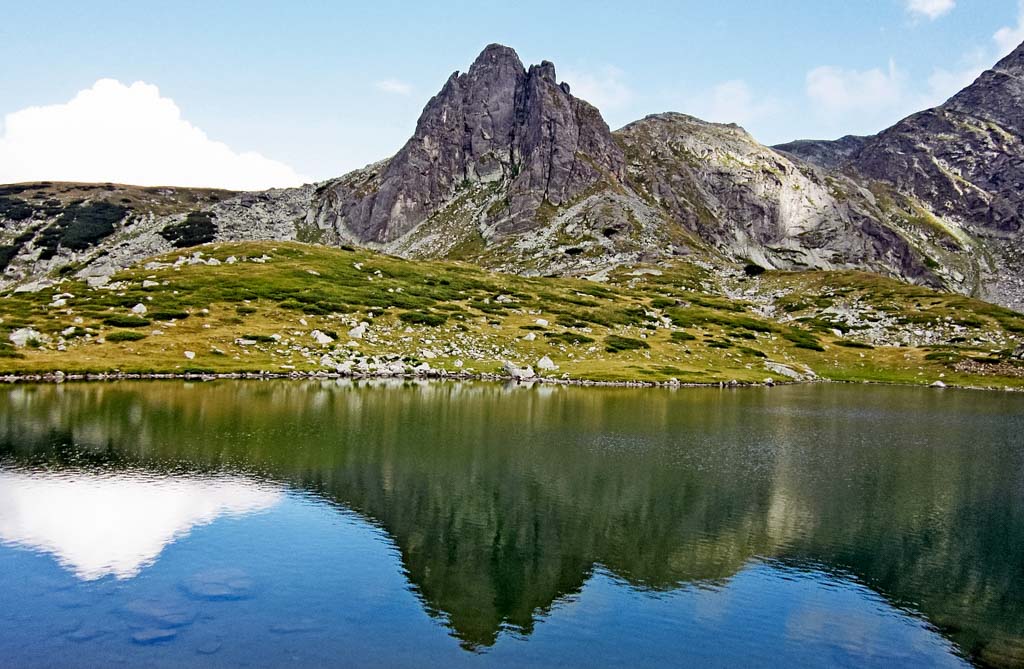 There are a few things to remember for the hike to 7 Rila Lakes
✔️ Long-sleeve layers (especially in Spring)

✔️ Food

✔️ Water

✔️ Cash – for the chairlift and transfers (bus and taxi)

✔️ Good walking shoes – the trail is pretty good but it can be rocky so solid shoes are a must

✔️ Sunscreen & hat

✔️ Bug spray
6.3 Best Time of the Year to Hike Seven Rila Lakes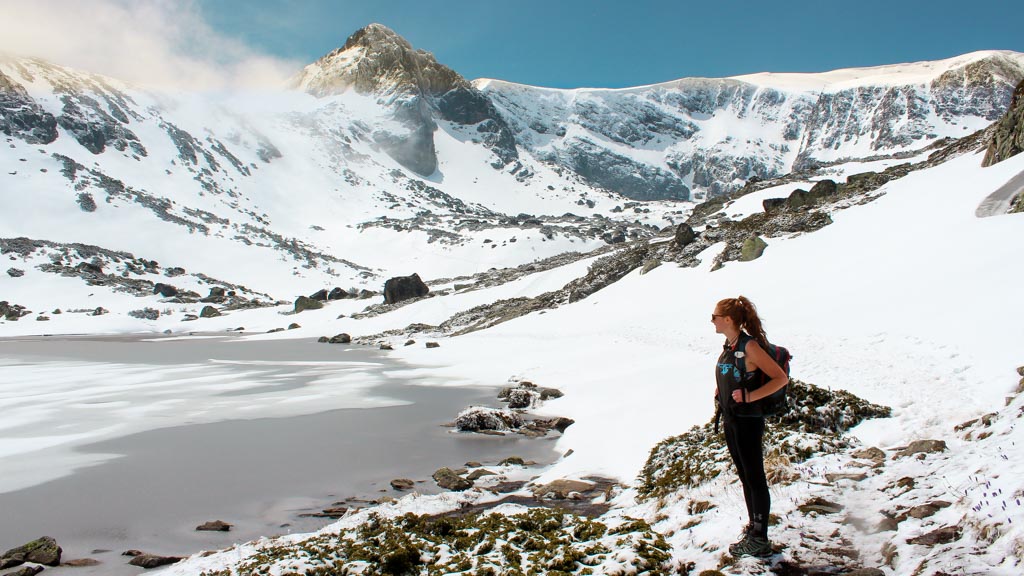 The best time to hike the 7 Rila Lakes is the peak of Summer in July and August, however, this is also the busiest months.
Fall (September – October) can also be a good time to hike the 7 Rila Lakes if you want to go when there are fewer crowds, however, the weather is a little more unpredictable at this time so you may face rain or even snow.
In winter it is not possible to hike the Seven Rila Lakes without snowshoes as there is a lot of snow on the ground and this area is actually used as a ski resort. If you really want to visit you can join a snowshoe tour where you will walk the 7 Rila Lakes trail while covered in snow!
Alternatively, you can try a snowmobile tour of the area but it's unlikely that you'll get to see the lakes themselves.
Lastly, it is also possible to hike in Spring (May – June) however if it has been a particularly long winter there may still be a lot of snow on the ground and unfavourable conditions (like when I started the hike). I would only advise planning a hiking trip to the Seven Rila Lakes in Spring if you are quite experienced or if you are joining a tour.
6.5 Difficulty of the 7 Rila Lakes Hike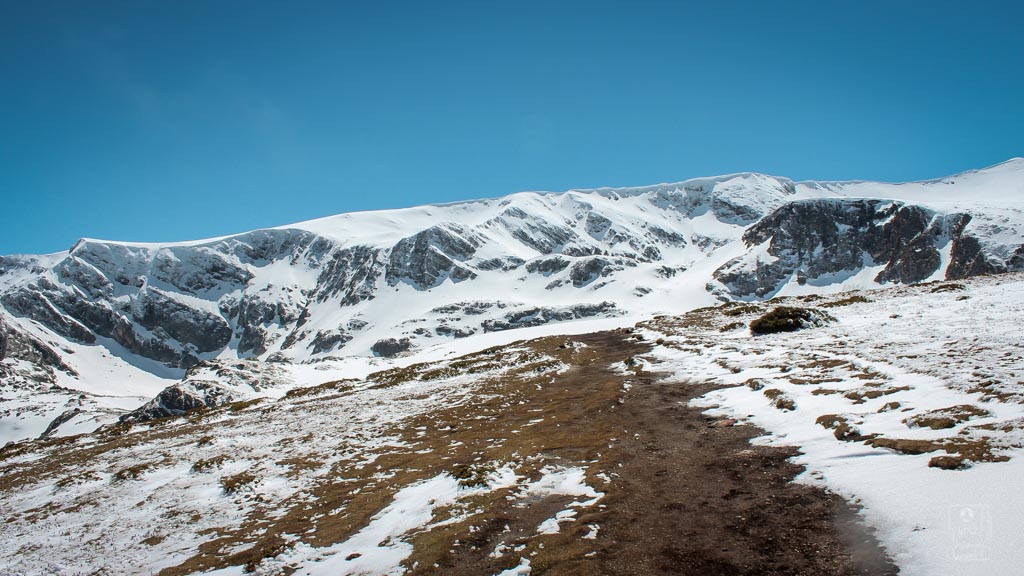 The Seven Rila Lakes hike is an easy to medium difficulty trail.
Hiking this trail you will traverse 350 m (1,150 ft) of elevation gain spread over 10 km (6.2 miles). For beginner hikers this can be a little challenging but not unpassable for anyone of average fitness, making it a medium-difficulty hike.
However, for experienced hikers, this seems quite literally like a walk in the park! So for those of you who are avid hikers, I would say the trail is fairly easy.
FAQs About Hiking Bulgaria's 7 Rila Lakes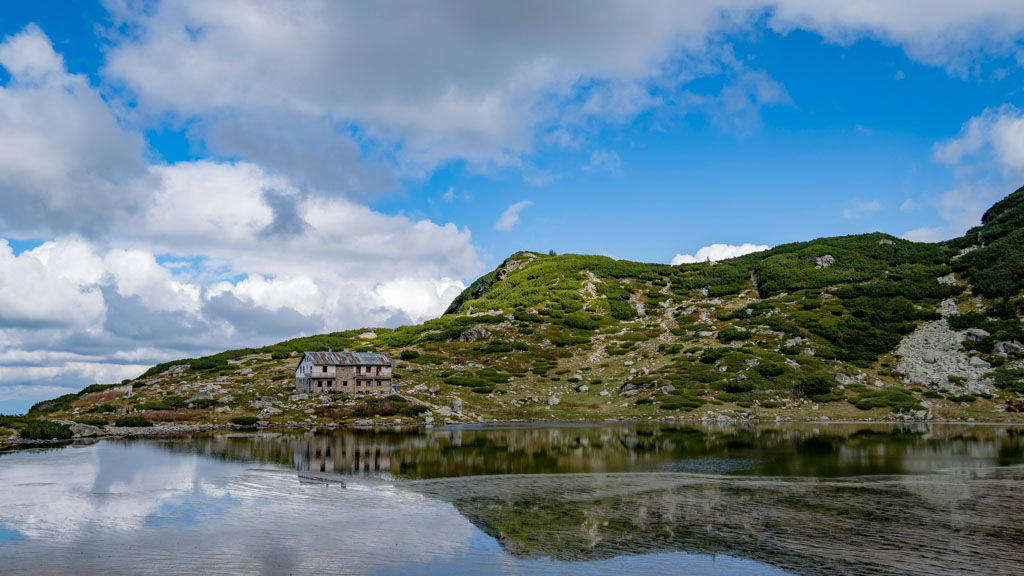 What should I pack for the 7 Rila Lakes hike
You should pack layers of clothing, food, water, cash (for the chairlift and transport), sunscreen and bug spray for the 7 Rila Lakes hike.
How much does it cost to hike the 7 Rila Lakes?
The chairlift to the 7 Rila Lakes costs €8 return and the only other cost associated with hiking the Seven Rila Lakes is the transport to get there. Public transport is ~ €10 each way per person. Alternatively, you can book a transfer service which includes all transport and the chairlift for ~ €30 per person.
When is the best time to hike the 7 Rila Lakes?
The best time to hike the 7 Rila Lakes is in summer (July and August) as the snow will have melted and the temperatures are warm and sunny in the mountains (but not too hot).
Can you do the 7 Rila Lakes and Rila Monastery on the same day?
Yes! The 7 Rila Lakes hike can be done on the same day as the Rila Monastery and there are tours available which include both. Note that even though they are very close on the map, you have to drive just under 2 hours around the mountain to reach the Monastery.
How difficult is the 7 Rila Lakes hike?
The 7 Rila Lakes hike is easy-medium difficulty. With 350 m (1,150 ft) of elevation gain over 10 km (6.2 miles), experienced hikers would find this hike easy whereas it would be a medium difficulty for novices.
---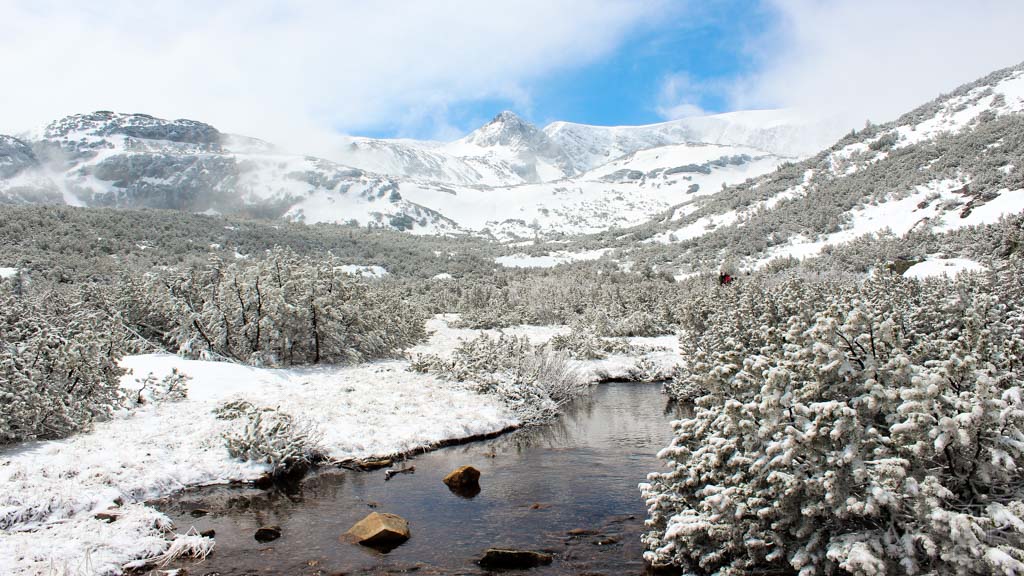 I hope this post gave you all the information you could possibly need for a safe and fun hike of the Seven Rila Lakes in Bulgaria!
I've gone through everything you need to know about how to get there, schedules for the chairlift, the best tours and accommodations, what you need to bring, and of course given you a handy map of the hike itself!
If I've missed anything or you simply want to share your experience, leave me a comment below. I love to hear your stories and answer your questions!
Happy hiking,
Kate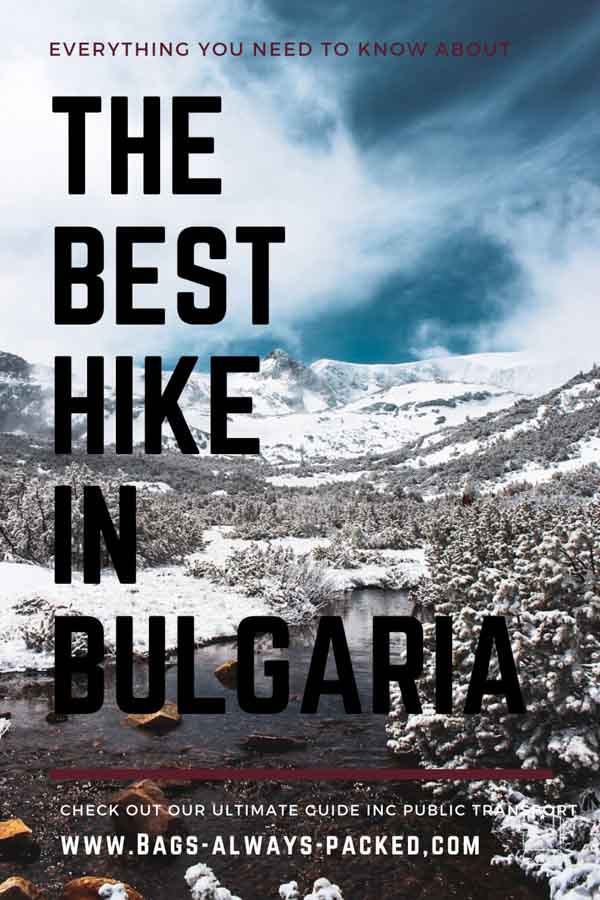 Helpful Resources