Kitchen-less Cooking! 14 Hostel-Friendly, Easy Recipes for Backpackers on a Budget
How many times do you find yourself in a hostel with no kitchen but an expensive restaurant on-site, wishing you could cook for yourself?
Or, on a long-distance bus or train, not wanting to pay exorbitant prices for rest-stop meals?
How about when you want a good meal, but just don't want to battle for space in the crowded hostel kitchen?
To me, this happens quite frequently. Particularly, in countries that are generally very affordable, yet jack up all the prices in the areas surrounding hostels and hotels. Sometimes I don't want to pay the prices and sometimes, I just genuinely don't want to eat the food (I'm looking at you meaty countries!).
Over the years I have developed solutions to this very problem and compiled for you a few of my favourite vegetarian, backpacker recipes, no kitchen needed!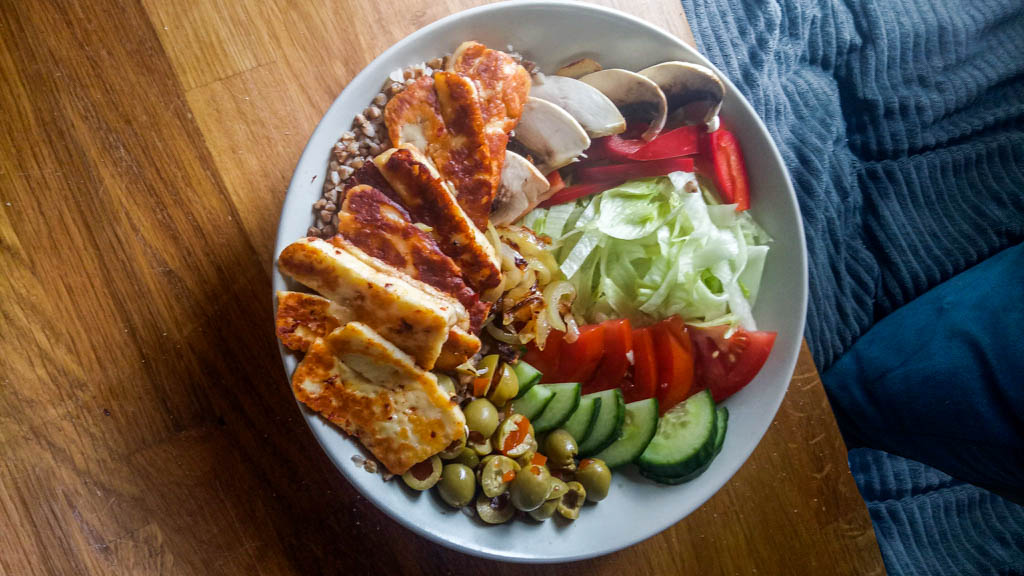 Bags Always Packed is a reader-supported site which means some of the links on this page may be affiliates. I spend a lot of time researching these hotels, tours and products and only recommend those which I would use myself. Booking your trip through my links is a great way for you to support my work for free, as I will earn a small commission at no extra cost to you. ♡
Quick Summary
If you're just here for some quick inspiration, here is a list of my favourite hostel food ideas you can make without cooking. Try them as is or adapt and make your own!
| | | | |
| --- | --- | --- | --- |
| 🥘 Laziest Meal: | Instant mash with canned veggies | ❌ No Kitchen Required: | 3 Bean Salad |
| 🤤 Tastiest Backpacker Dinner: | Mi Goreng Noodles | 🥨 Best Snack: | Crackers and Veggies |
1. Basic Utensils You Should Always Travel With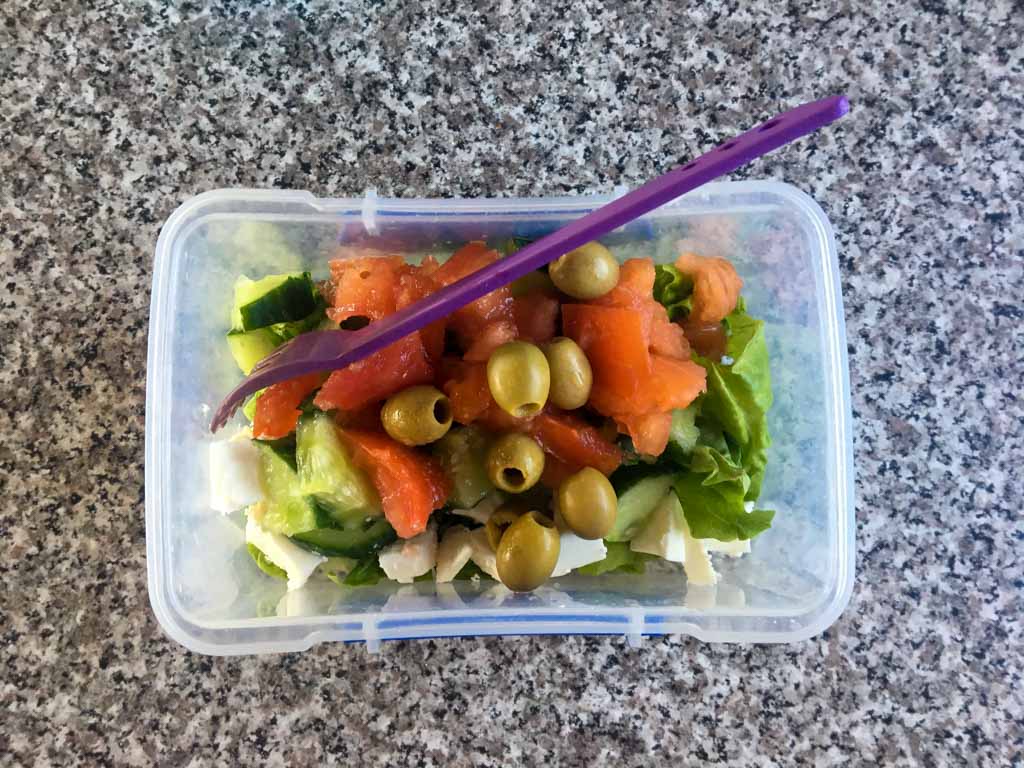 Firstly, before we get started with the hostel recipes for backpackers, there are a few things you should always carry with you to make it super easy to prepare your own food, regardless of the facilities available to you.
Here are the basic utensils that I never travel without and you will always find super helpful:
A sturdy Tupperware container (with a lid) – Use for leftovers or a bowl!
Re-usable knife/fork/spoon set – buy plastic not metal so you can take it on planes
Salt and pepper sachets (picked up from Mcdonald's)
Tube or sachets of mayonnaise and/or mustard
If you don't have these, I would highly recommend investing, as these items are extremely useful whilst backpacking.
And, if you want to be seriously prepared wherever you go, you can even pack a portable backpacking stove and pot!
2. Easy Hostel Meal Ideas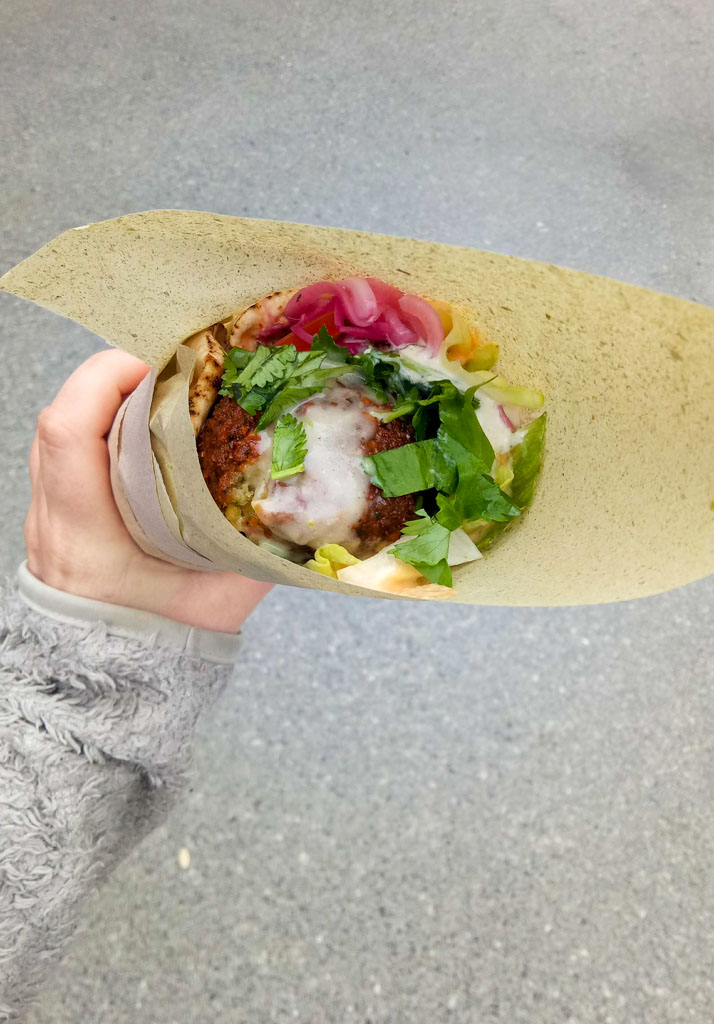 Alright, now you have your utensils sorted, let's get stuck into the hostel meals for you to try!
2.1 Mi Goreng / Instant Noodles:
Yes, you can easily eat instant noodles plain and boring as designed, but for a fully balanced (and delicious) meal. Try this amped-up version.
Generally, you will have access to boiling water in a hostel, even if it's supposed to be for coffee or you have to ask the restaurant, it's pretty rare for them to refuse you. Instant noodles can be super boring, but there are a couple of tricks I use to spice them up a bit…
First, the spices! If you can't find vegetarian noodles/flavour you like/you want a change. Throw away the flavouring packet and buy your own. A small bag of mixed vegetable flavouring, curry powder or powdered soup will only set you back a few cents but can make a huge difference.

Next, add vegetables. These can either be fresh raw vegetables like spinach, peppers, carrots etc OR buy a small bag of frozen veggies, which will cook in the boiling water with the noodles.
Lastly, protein. Crack a raw egg into the boiling water and watch it poach!
2.2 Instant oatmeal
Again, simple yet overlooked. Simply a packet, in a container, with boiling water.
Add some fruit and yoghurt from the grocery store to add some flare and you've got a delicious, filling, and cheap breakfast or lunch.
2.3 Sandwiches
My favourite old faithful! Who doesn't love a good sandwich? Buy some yummy bread, cheese and vegetables to take along on your journey.
You can pre-make one for a day out or make it fresh on the fly wherever you may be.
I often travel with a small tube of mayonnaise, mustard, cream cheese or dip to add a bit of flavour.
2.4 Mash Potato with Beans + Vegetables
Another simple food base that can be made with boiling water. Instant mash! Incredibly cheap, easily packable, and goes a looooong way.

Grab a few different canned vegetables, maybe some chickpeas or beans, use the vegetable flavouring you picked up for the noodles and BAMN, another fully nutritious, balanced meal for next to nothing.
2.5 Greek-ish, Garden Salad
Through together any raw vegetables you like and keep on using the same ingredients you bought for your sandwiches yet again!
Lettuce, tomato, cucumber, cheese, and olives, roughly cut into your container, add some salt and pepper (sourced from Mcdonald's), a couple of drops of mustard and give it a shake.
TOP TIP: If I am adding olives, I ways look for a jar where the olives are preserved in a herb and oil mixture, this way, you get both a salad dressing and ingredient all in one! Instant, delicious salad.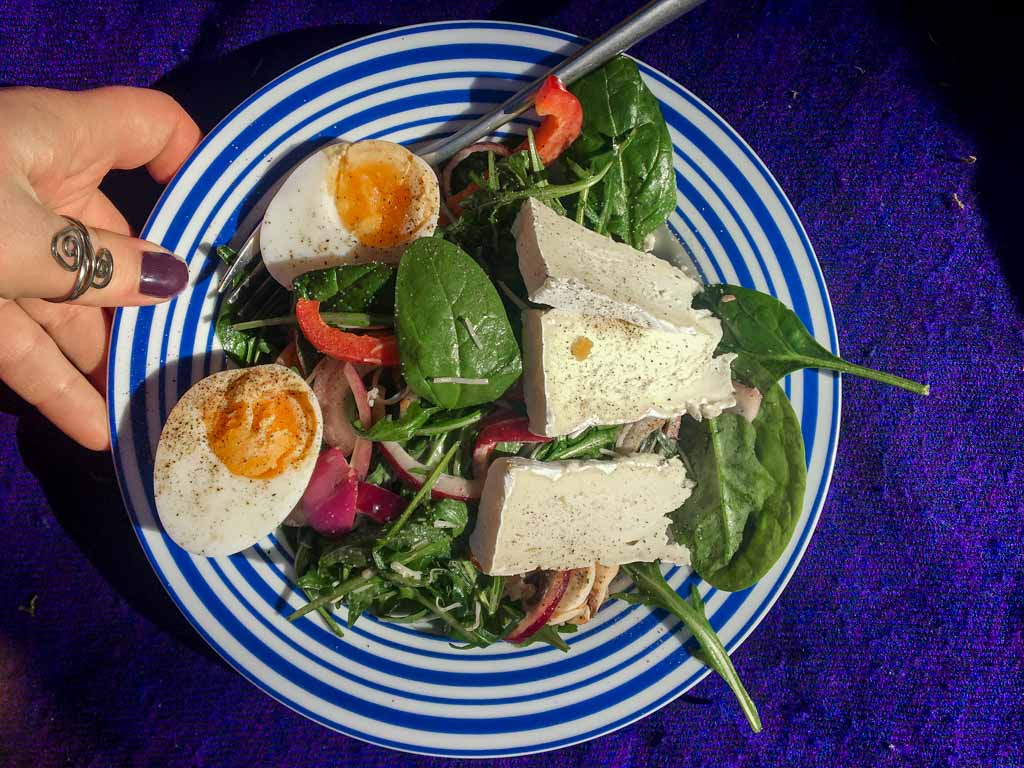 2.6 Three Bean salad
Kidney beans, green beans, garbanzo beans, a lot of garlic, a drop of mustard, oil (if available) and mix. It's as simple as that!
Use any combination of beans you prefer, and add any additions you may think of.
Now you have another million combinations of meals!
2.7 Summer Canned Salad
This one is a little more strange but I tried it out in Fiji when all I had access to were a few canned vegetables and I actually really enjoyed it!
I used canned corn, chickpeas, green peas and fresh pineapple. A little bit of salt and pepper to balance out the sweet if you like and you have a light and sweet, canned summer dinner.
2.8 Easy Juicy, 4 Ingredient Salad
Another variation on the salad above that I have been loving recently is simple fresh chopped tomatoes, canned corn, chickpeas, and feta cheese. Delicious!
2.9 Leftovers
I cannot forget to mention the cold leftovers. I often do this when I'm taking an overnight bus/train/plane and don't know when I will get the chance to eat.
Making a meal the night before that I know will also be good cold is perfect to pop in a container and take with you.
Pesto pasta is probably my favourite suggestion although this can be done with practically any vegetable dish.
2.10 Grocery Store Finds
Whilst technically not a recipe, never forget to look around in grocery stores. Often you can find pre-made meals such as salads, pasta, sandwiches and sushi that can all be eaten on the go.
Sometimes, they even have a pre-made hot meal section, this will always be cheaper than eating at tourist restaurants and you might even discover a new favourite local snack.
3. Snacks to Make Without Cooking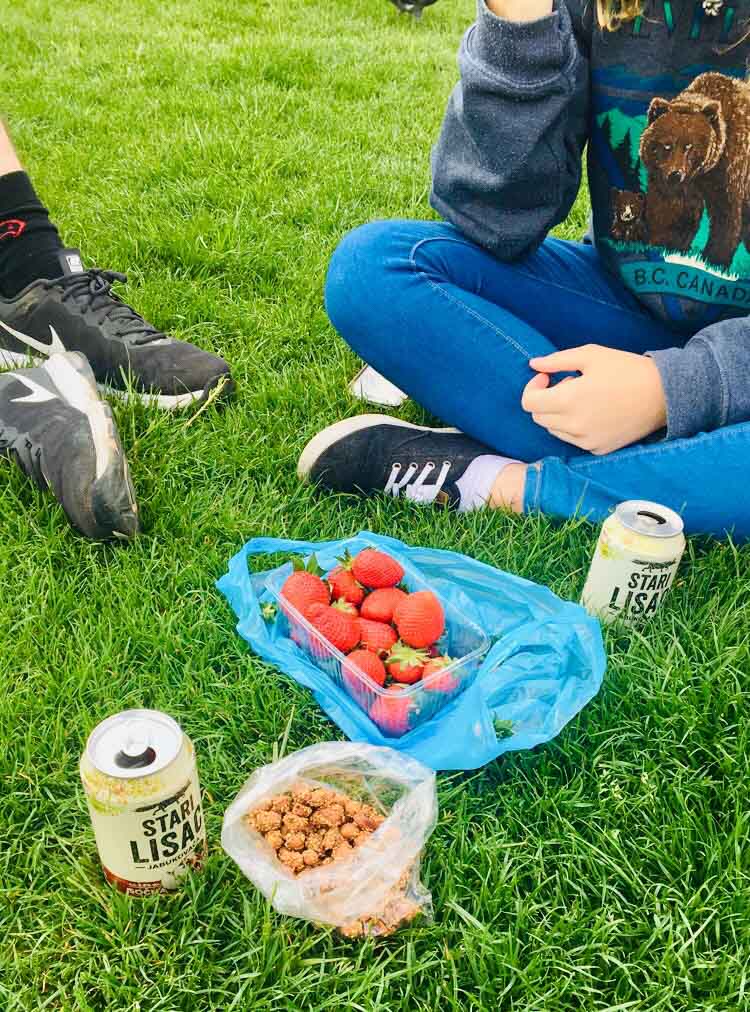 Alright so above you've seen all my bigger meals, some of which require a little bit of preparation. If you are looking for healthy and delicious snacks to eat on the go, have a look at the fillers below.
3.1 Boiled eggs
It's really common to find pre-boiled single eggs for sale in grocery stores all over Asia, but it's even cheaper to boil them yourself!
A versatile snack that keeps for days can be eaten alone or added to practically any other non-cook meal you're inventing.
I found this particularly helpful on the Trans-Siberian railway, as I could boil a lot of eggs before departure, then eat them on bread for breakfast, in sandwiches for lunch and add them to my instant noodle dinner. 
3.2 Vegetable Crackers
An easy yet deliciously filling snack, using the same ingredients you bought for your sandwich!
Mayonnaise, Mustard, and Cucumber is a current favourite of mine but the combinations are endless.
Tomato, cheese and pepper or simple crackers and dip are also always a good bet.
3.3 Fruit and Nuts (Fresh or Pre Mixed)
Buy a ton of fruit for snacking on long journeys, without feeling guilty.
It's generally cheaper to buy nuts like peanuts separately from bags of dried raisins, rather than buying pre-mixed fruit and nuts.
Again, get experimental and try adding it to your meals.
3.4 Bread and dip
This one got me through my first backpacking trip in Europe, way back when I was just 18. Go to the grocery store (or bakery if you're feeling fancy), and buy yourself a loaf of bread or baguette.

It can be plain or something a little more exciting such as cheese or herb bread, but whichever you buy, choose the more artisanal-looking types. Not just the classic sliced bread.
Then, head to the deli section and pick up a dip of your choice! Usually, there are plenty to choose from with varying prices. And since dips have expiry dates, there is almost always one or two on special.

If you can't find anything you like here, head to the corn chip aisle and pick up some salsa instead.
Then just rip your bread and dip it in your dip whenever you get hungry on your journey for a delicious snack!
FAQs About Hostel Food Ideas without Cooking
What are some easy hostel food ideas you can make without cooking?
Salads, instant noodles, and instant mashed potatoes combined with canned vegetables and boiled eggs are all good options for easy hostel meals you can make without cooking.
Can you make your own food in hostels?
Yes! Most (but not all) hostels have kitchens for their guests to use to cook their own meals. If this is something you want to do, make sure to check the listing before booking.
What vegetarian meals are easy to cook in hostels?
Pesto pasta is my favourite vegetarian meal to cook in hostels because it can be eaten hot or cold so you can easily take leftovers to eat the next day.
Which are good snacks for travelling?
Boiled eggs, cheese, vegetables and crackers, bread and dip are all great snacks to take while travelling for long distances.
---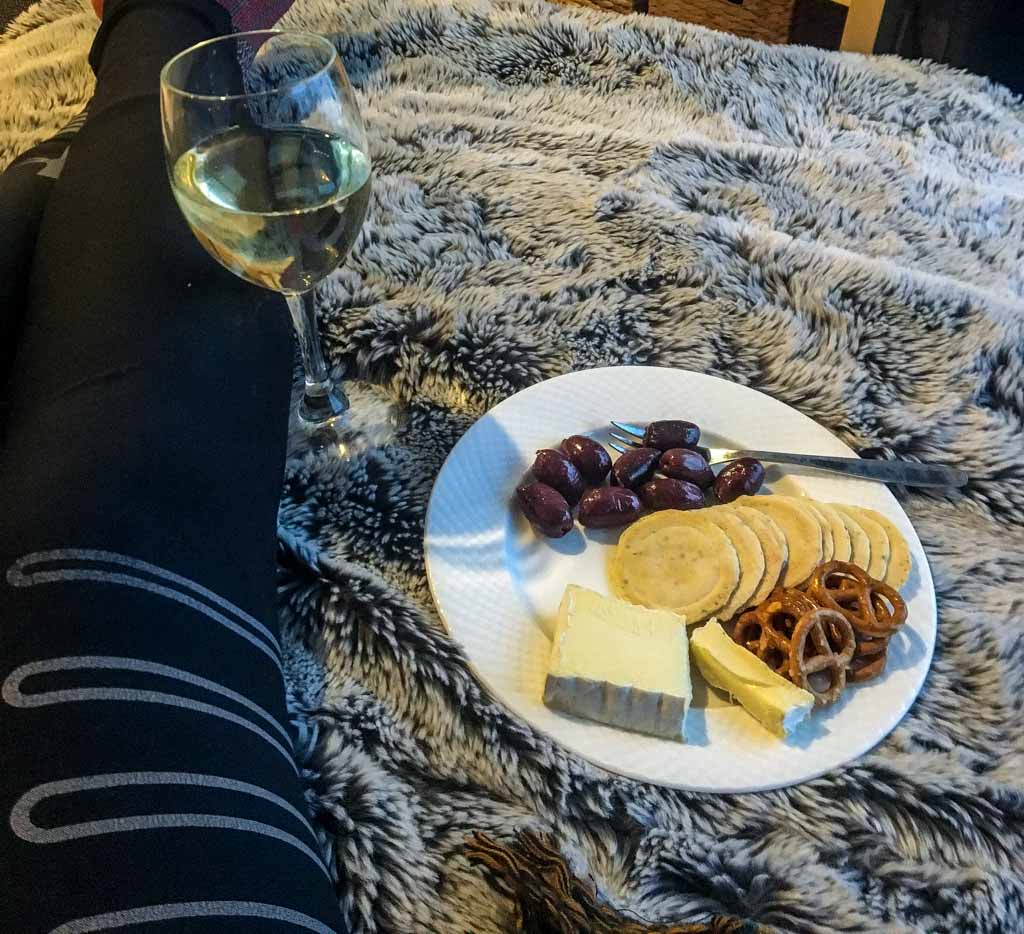 If you take anything away from this post, it should be to BE FLEXIBLE and GET CREATIVE. With your personal container, plastic cutlery and a little imagination. There's really no need for you to spend $$$ at pricy tourist restaurants.
I would love to hear any of your suggestions of no-fuss, no-cook meals that would be great for travelling.
Let me know in the comments below if you have tried any of these or even if you have any suggestions to make them better!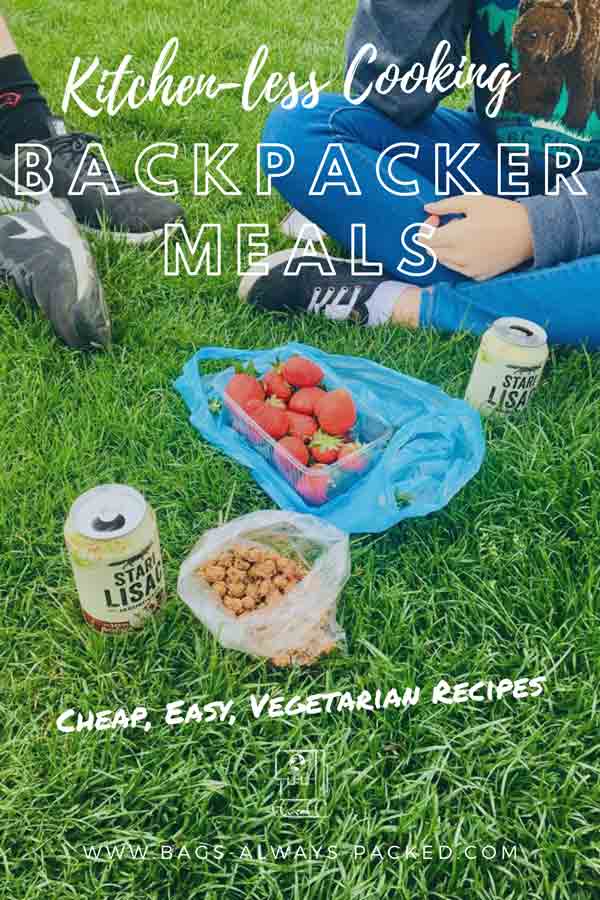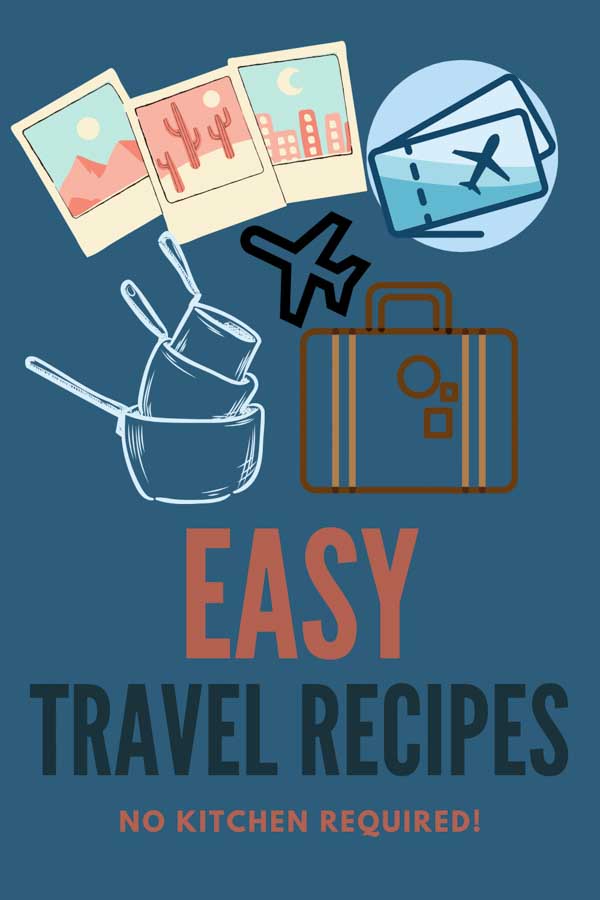 Helpful Resources