How to Hike to Everest Base Camp → Cost, Difficulty & Map
Hiking to Everest Base Camp is the ultimate goal for many hikers around the world for good reason. This iconic trek takes you through a magical valley surrounded by some of the tallest peaks, leading to the mountaineer's living room at the foot of the highest summit on the globe.
I completed the trek to Everest Base Camp (EBC for short) solo and unguided in 2016. At the time, I couldn't afford and did not want to pay thousands of dollars to join a tour group for this once-in-a-lifetime experience, so I figured out all the permits and took all the steps needed to complete the hike on my own.
While many of the logistics remain the same, as of 2023, Nepalese laws now require you to be accompanied by a guide when hiking in the Himalayas. So to help you navigate this exciting expedition, I have updated my guide to include all the information you need in order to plan your own trip including permits, routes, accommodation, insurance and dangers of the trip.
So you want to trek​​ through the majestic Himalayas to see the tallest mountain on earth but don't want to spend thousands on a tour, this guide should be your bible! And if you are looking for a tour group, don't worry, I have some recommendations for you too. Here's how to hike to Everest Base Camp…
Bags Always Packed is a reader-supported site which means some of the links on this page may be affiliates. I spend a lot of time researching these hotels, tours and products and only recommend those which I would use myself. Booking your trip through my links is a great way for you to support my work for free, as I will earn a small commission at no extra cost to you. ♡
Quick Summary
For those of you who just want a quick overview of the main info in this post, here is a very brief summary. Scroll down or use the table of contents above to skip right to the info you're looking for!
| | |
| --- | --- |
| 📍 Base Camp Elevation: | 5,364 metres (17,598 ft) |
| ⛰️ Distance: | 130 km (81 miles) |
| 🗺️ Length: | 10-14 days |
| 🥾 Best Tour: | 14 Day Everest Base Camp Tour |
| 💲 Average Cost: | US$1,000 per person |
| 🛏️ Accommodation: | Tea Houses (~$10 per night) |
1. New Regulations for Solo Trekkers in the Nepalese Himalayas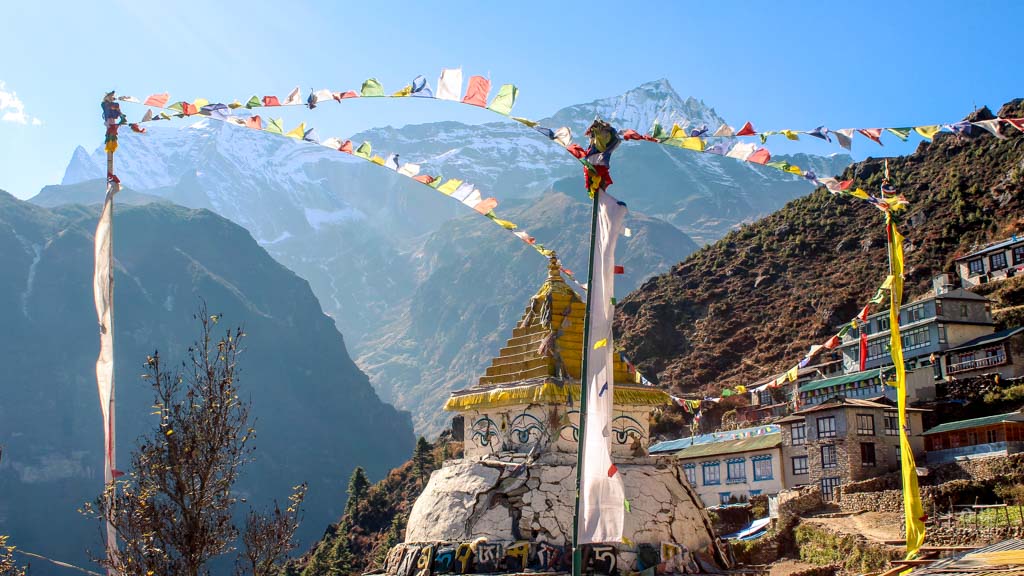 As I just mentioned, as of 2023, all hikes in the Nepalese Himalayas are required to be accompanied by a certified guide.
While those who were already opting for a fully guided tour remain unaffected by this change, solo hikers like myself may be thinking that the days of being open to all possibilities are long gone… If you identify with the latter you're in luck, as there may be a loophole!
This new rule is being imposed by the Nepal Tourism Board and is supposed to apply to any region where the TIMS Card (Trekking Information Management System) is required – more on that later.
While you are (and always have been) required to carry a TIMS card when hiking the EBC, the local association in the EBC region has gone against the Nepal Tourism Board and said that solo hikers can continue to trek in the Everest region without a guide.
Officially the fines for being caught hiking in the area without a guide can be up to 12,000 rupees (US$145), it's unclear if and how you would be caught by anyone other than the local authorities (who have said they are ignoring the tourism boards' restrictions).
At the end of the day, it's up to you whether or not you take the risk but keep in mind that this is an ongoing conversation between the boards and rules may change at any moment.
The need to hire a guide doesn't make the trek any less accessible to those on a budget. Private guides can be hired for as little as US$30 per day, a cost that can be split between you and your friends to make it more affordable.
2. Difficulty of the Everest Base Camp Trek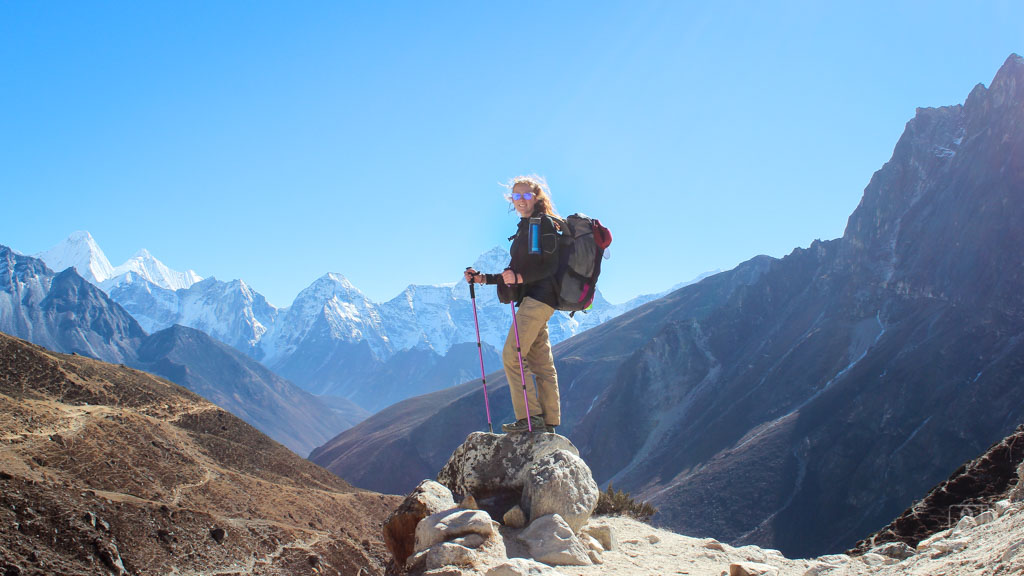 Contrary to popular belief, you do not have to be a marathon runner or an experienced mountaineer to complete the EBC trek. In fact, one of my favourite parts about this hike is the huge mix of people you find in the villages. I even met someone in a cafe in Namche Bazaar who had summited Everest 7 times!
For most people, a moderate level of fitness with good mental preparation is sufficient. It is definitely advised that you train yourself to walk long distances with weight in preparation for taking on the hike however, if you are relatively fit your body will adapt to this quite quickly once you find yourself taking those first steps into the mountains.
Looking back I realise that I didn't have nearly as much experience in the mountains as I do now and this hike was perhaps the door that led to my deep love for dramatic landscapes and looming peaks.
It was my first ever multi-day hike and I didn't do any special training to prepare for the trip besides research. Granted I was just 21 years old at the time, but you might be surprised just how resilient your body can be at any age.
Altitude is likely to be the biggest physical difficulty you will face but this too can be overcome with knowledge and mental strength. Don't get me wrong, the hiking itself can be hours of never-ending vertical at times which makes you question your sanity, but this just makes your bed that much more rewarding at the end of the day!
The condition of the trail is amazing, with wide even paths and clear sign-posting so other than a couple of large elevation gain days, the hike is not technical in the slightest.
3. Planning Your Hike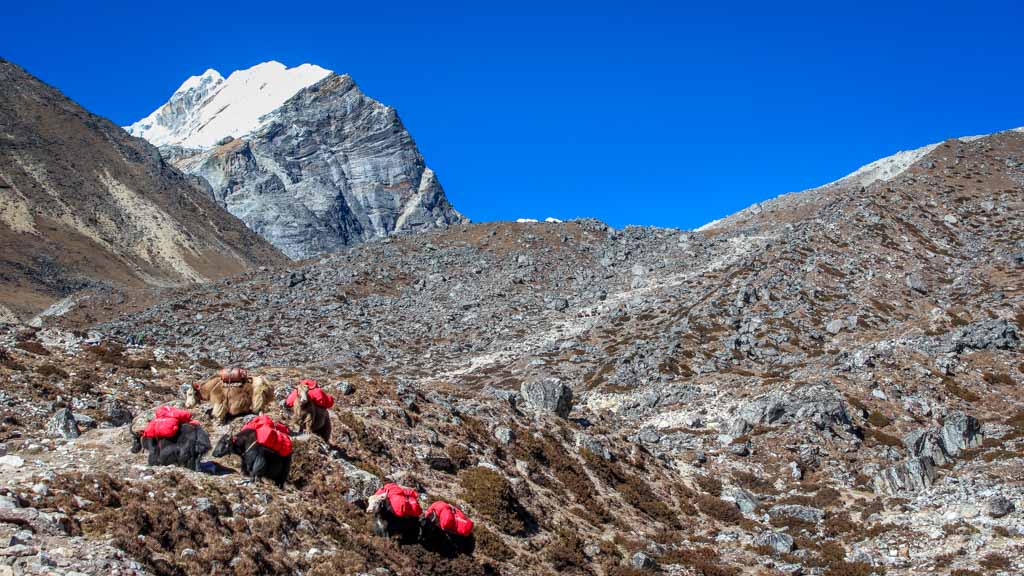 As I just mentioned, whether you're going with a group, a guide or solo, the best training you can do is actually mental preparation. Knowing what to expect will make your hike thousands of times easier as you can listen to your body and adjust according to the day.
Different Routes to Everest Base Camp 
The hike to Everest Base Camp itself is very straight forward. With hundreds of trekkers completing it every day it would be pretty difficult to get lost here. That being said, after you reach base camp there are a number of alternative trails you can take to return to Lukla (the starting point for the hike).
The first decision you need to make is which route you will take. For most people, this is largely dependent on how much time you have and your level of experience.
Here is a quick list of some of the most common routes in the Everest region:
Lukla – EBC – Lukla
Lukla – EBC – Gokyo Lakes – Lukla
Lukla – EBC – 3 passes – Lukla
If you want even more of a challenge, some people decide to skip the flight to Lukla and hike in from Bupsadanda, adding an additional 1-2 days by jeep and 1 more hiking day to your trek. I'll talk more about that in the "Getting to Everest Base Camp" section below.
While there is only one main route from Lukla to EBC, there are countless tea houses and villages along the way meaning you can build your own itinerary to accommodate your own timeframe and physical abilities.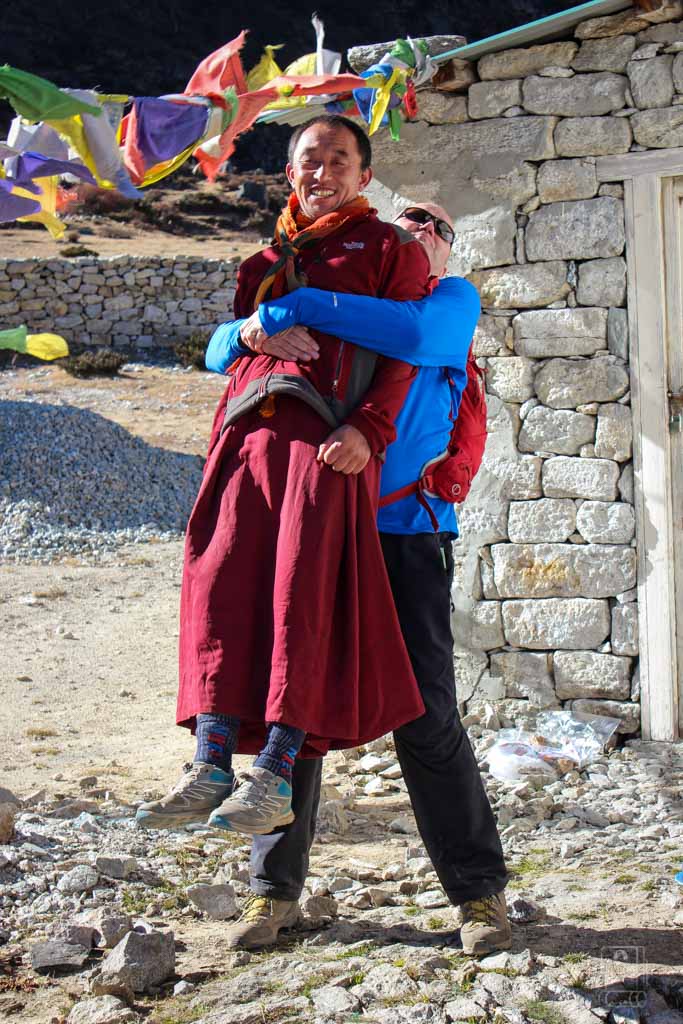 I have given you a great itinerary below, but I also recommend you buy a guidebook, look at the map and study the routes. Roughly plan your route and timeframe based on the information you find and your personal situation. I used "Trekking in Nepal, Everest" by Partha S Banergee and it was a lifesaver. 
TOP TIP: If you are hiking alone, be prepared to be flexible. You never know who you will meet along the way and the adventures that could be waiting to be discovered if you allow for them.
I originally decided on taking 20 days to do Lukla to EBC and back via the Gokyo lakes. However, on day 2 of my hike I ended up meeting a group of friends and joined them for an incredible trip off the main trail which included partying with Serpas, having tea with monks and seeing a whole different side of the Himalayas than most travellers don't get to experience. (Don't worry, I still made it to EBC as well!).
Common Everest Base Camp Trek Itinerary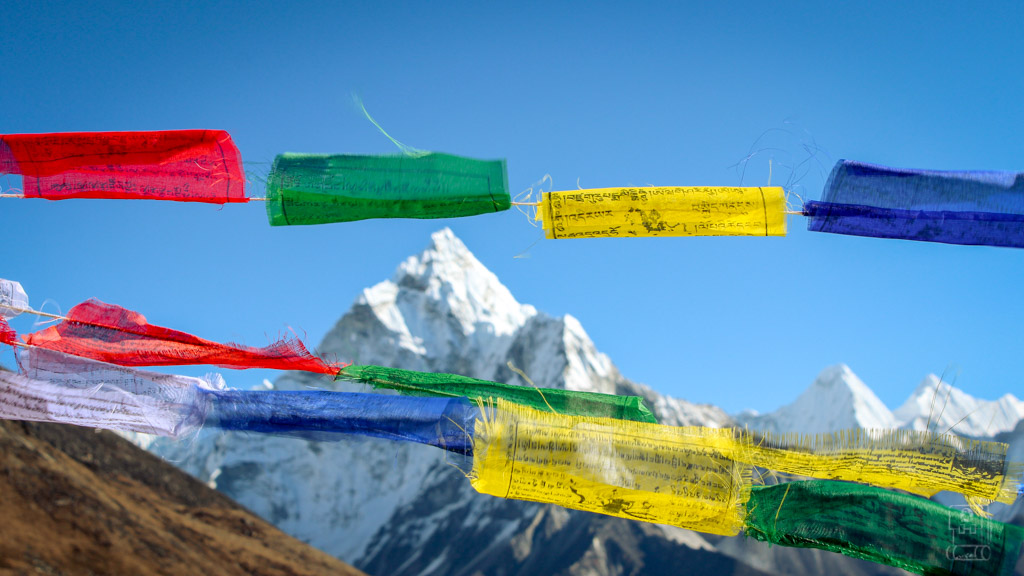 There are so many different tea houses and small villages along the trail that nearly everyone's journey will look a little different.
It's worth keeping in mind that some locations are more special than others, making them well worth including in your itinerary, but ultimately it comes down to personal preference in when and where you rest your head each night.
NOTE: To minimise the risk of altitude sickness, you shouldn't gain more than 500 m (1,640 ft) in elevation per day once you are above 3,000 m (10,000 ft). You can hike higher than this throughout the day but you must return down to the 500m mark to sleep.
To help you out, here is a sample itinerary of a very common Everest Base Camp itinerary that you are welcome to follow, flying into Lukla on day 1 and out on day 13.
Note that the approximate hiking time given here is very conservative. I actually did a lot of these in half the time (but I know I was hiking quickly).
| | Start | End | Elevation Change | Distance | Hiking Time |
| --- | --- | --- | --- | --- | --- |
| Day 1: | Lukla – 2,860m | Phakding – 2,610m | + 250 | 6.2 km | ~ 3 hrs |
| Day 2: | Phakding – 2,610m | Namche Bazaar – 3,440 m | + 830m | 7.4 km | ~ 6 hrs |
| Day 3: | Rest day in Namche Bazaar | – | 0 | – | – |
| Day 4: | Namche Bazaar – 3,440 m | Tengboche – 3,860 m | + 420m | 5.9 km | ~ 5 hrs |
| Day 5: | Tengboche – 3,860 m | Dingboche – 4,410 | + 550m | 9.1 km | ~ 6 hrs |
| Day 6: | Rest day in Dingboche | – | 0 | – | – |
| Day 7: | Dingboche – 4,410 | Lobuche – 4,940 m | + 530m | 6.6 km | ~ 5 hrs |
| Day 8: | Lobuche – 4,940 m | Gorakshep – 5,164 m+ Kala Patar sunset | + 224m | 4.5 km to Gorakshep + 3.7 km return to Kala Patar | ~ 3 hrs to Gorakshep ~3 hrs return to Kala Patar |
| Day 9: | Gorakshep – 5,164 m | EBC – Pheriche – 4,371 m | – 793m | 7 km return to EBC + 9.6 km to Pheriche | ~ 4 hrs return to EBC)~ 5 hrs to Pheriche |
| Day 10: | Pheriche – 4,371 m | Tengboche – 3,860 m | – 511m | 8.9 km | ~ 5 hrs |
| Day 11: | Tengboche – 3,860 m | Namche Bazaar – 3,440 m | – 420 m | 9.6 km | ~ 4 hrs |
| Day 12: | Namche Bazaar – 3,440 m | Lukla – 2,860 m | – 580 m | 16 km | ~ 7 hrs |
| Day 13: | Fly out of Lukla | | | | |
This is very similar to the route I ended up taking (minus the side trip to party with sherpas and monks) and I think it's a great route to allow for both acclimatization and maximum efficiency.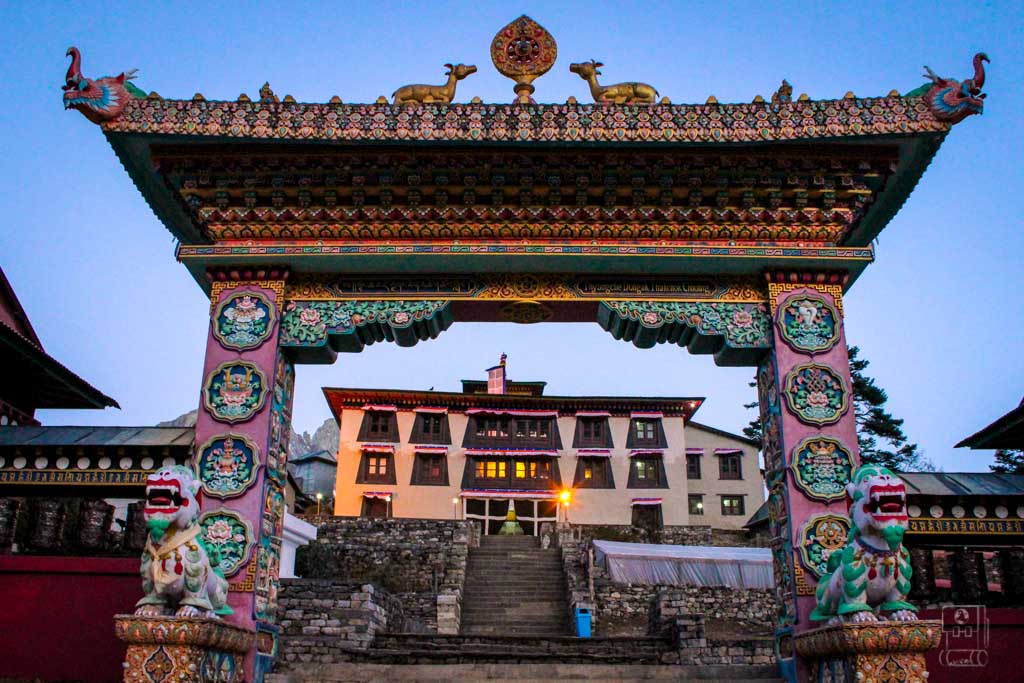 You will have plenty of time in Gorakshep to do both Kala Patar and EBC. The way I have arranged it you would summit Kala Patar to watch the sunset (one of the most amazing sunsets I have ever seen), and then get up early to be the first one at Everest Base Camp the following day.
As you will notice, the decent is pretty quick. Most people find that you can walk much quicker and further on the return journey as you have acclimatised for higher elevations.
However, if you want to add an extra day to your trip to make the decent days a little shorter, you could add in a night at Tukla. If you choose this option, just know that you won't be losing much altitude here so even though it's a longer day, you might be better off pushing further to release some of the pressure.
Length of the Everest Base Camp Trek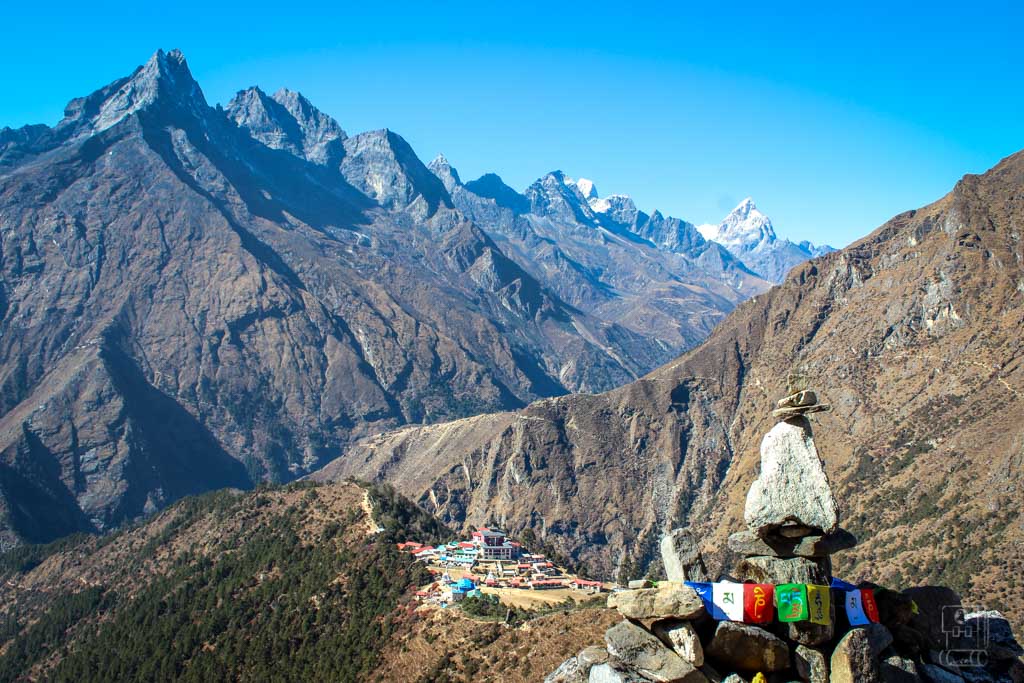 With a total distance of around 130 km (81 miles), hiking to Everest Base Camp is no small feat!
The minimum length of time you need to hike from Lukla to EBC and back is around 10 days, but I would not recommend that if you are not experienced and acclimatised.
13-14 days is a good amount of time to allow to complete the most basic route in a comfortable way.
I would never recommend completing the return trip (Lukla-EBC-Lukla) in any less than 12 days as you need time to acclimate and rest throughout the trek. The most common reason people have to turn back is because they are pushing themselves too hard.
Give yourself at least 2 rest days on the ascent to give your body the best chance at acclimatising.
Elevation of Everest Base Camp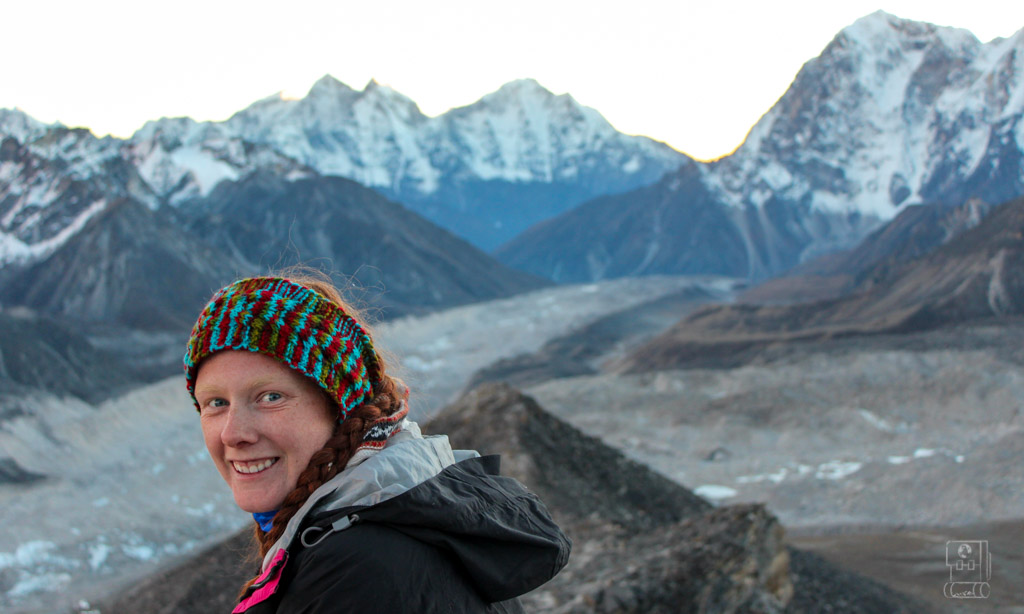 The elevation of Everest Base Camp itself is 5,364 metres (17,598 ft). However, most people will go even higher than this during their trek as it is very popular to include the nearby Kala Patthar peak which is actually 5,644 meters (18,519 ft).
Starting at 2,860 m (9,383 ft) in Lukla, this means the total elevation gain during the hike to Everest Base Camp is 2,504 m (8215 ft) or 2,784 m (9,133 ft) if you include Kala Patthar (which I highly recommend you do).
Given that you shouldn't gain more than 500m (1,640 ft) in elevation per day once you are above 3,000m (10,000 ft), you can see why it takes so long to travel this distance.
Best Time to Hike to Everest Base Camp
If you have any experience with mountains at all, you will probably know that weather can be unpredictable, especially when surrounded by peaks so high that they have their own weather systems.
That being said, if you want an amazing experience in the Everest Base Camp region, the best time of year to hike to Everest Base Camp is between September and November. During this time you will find the most stable weather but also peak crowds.
Mid September – December
The best time to hike to Everest Base Camp is in the peak dry season months from mid-September to December.
I hiked in early November and had clear blue skies for every day of my 20-day trek while the temperatures dropped below freezing at night.
This is also the most popular time of year to hike to expect a busy, vibrant atmosphere on the trails. If you are hoping to see camps set up at Base Camp, there is a climbing window at the beginning of October so plan your trip around then to coincide with mountaineers.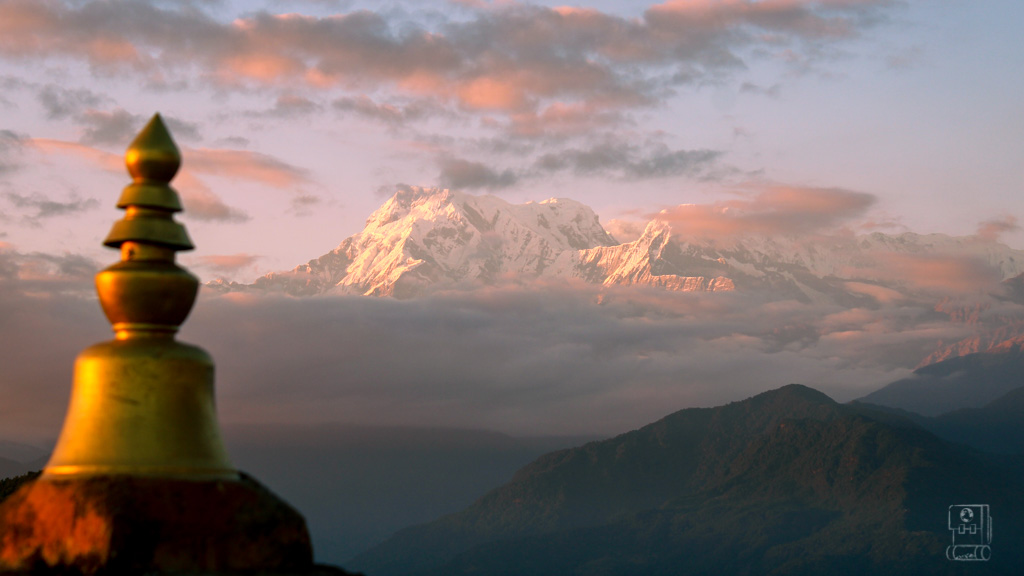 January – Mid March
Cold, snowy and empty trails. It's not impossible to hike to Everest Base Camp during this time and in fact, you may even have super clear skies due to the low temperatures (-20°C /-4°F). However, you are unlikely to meet many people on the trails and some tea houses may be closed.
Mid March – Mid May
Another good time to go hiking in the Himalayas, this dry period is very popular for trekking to EBC as the temperatures are not too cold and there are a number of good days for clear visibility. If you are hoping to see tents set up at Everest Base Camp, this is when you should aim to visit as mountaineers spend time acclimatising between summit attempts.
June – Early September
This is the rainy season and the worst time to hike to EBC. The trails will be muddy, washed out and full of leaches while the clouds hang low in the valley obstructing your view of the mountains. The chance of landslides is also quite high making it a more dangerous time to travel.
4. Permits Needed for Hiking to Everest Base Camp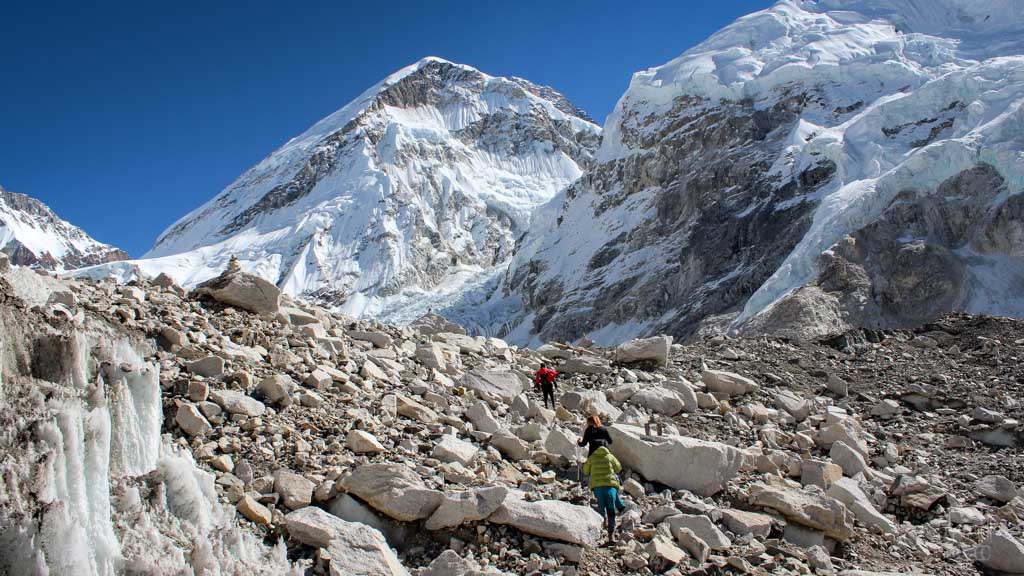 Even though you aren't paying a company to take you along, you will still need to register as a hiker, pay fees and purchase a permit.
You will need to get a TIMS card (2,000 rupees / US$15) and the Sagarmatha National Park ticket (3,000 Rupees / USD$23).
The best place to do this is at the National Tourist Board office in Kathmandu. Getting the national park ticket here allows you to skip the queues at the entrance to the park full of people yet to buy it.
You will need to take along the following to fill in all the forms:
2 passport photos
Copy of your passport
Emergency Contact
Insurance details
TOP TIP: Your permit will be stamped at various checkpoints along the trek so make sure you keep it handy.
5. Travel Insurance for Everest Base Camp Trek
Do your research here. You 100% want travel insurance in case you do find yourself in an unfortunate situation, as those helicopters are pricy man!
Make sure you read all the fine print to confirm you will actually be covered in this region and activity as many policies won't cover you over a certain altitude or if you are not with a certified company. This is something you don't want to find out after the fact.
I have a whole article about how to choose the right travel insurance for your trip here, but to give you some quick pointers, here are some things to confirm before purchasing.
Does your insurance cover trekking
Are you restricted to a certain altitude
Are you required to travel with a registered guide to be covered
Does your insurance cover air transport if needed
Is there a return ticket requirement for validating your insurance
6. How to Get to Everest Base Camp
Arriving in Kathmandu
First things first… get yourself to Kathmandu, Nepal. I like to use Kiwi to find the cheapest flights to my destination and find cool stopovers on the way.
If you have forgotten to bring anything with you, you will find it here. The tourist mecca of Thamel has everything you could dream of and more.
Be careful though, most things you buy will almost certainly be a fake knockoff, so ensure you check the quality of the product (make sure it will last the length of the trek).
Flights to Lukla
The most common way to begin this trek is by flying to Lukla from Kathmandu and this flight is an adventure on its own!
A tiny plane with just 12 passengers will take you on a scenic 1-hour long flight, arriving in the mountains via the most dangerous airport in the world.
In order to book your magic ticket onto this exhilarating ride, you can find flights on Kiwi as we did for the flights to Nepal, or just pop into any of the many tour agents in the streets of Kathmandu.
The flight should cost you around $220 USD each way and the only variation on this tends to be the commission added by the agency. Because of this, the price is not really bargainable and fairly consistent between the agents.
I recommend you book as early as possible if you're heading to Nepal for the peak hiking season. But if you are looking on Kiwi and still don't see any flights for your dates, don't stress. It seems they sometimes don't release the flights for booking until a little closer to the dates.
TOP TIP: Make sure to sit on the left-hand side for views you can only dream of.
I also recommend you only buy a one-way ticket for the first flight of the day or check the terms to see if your return flight is changeable.
This is important as the weather in the Himalayas is ever changing and this flight only takes off in perfect conditions. If there are clouds encasing either Kathmandu or Lukla, the planes won't fly.
This is also why you must buy an early time. Frequently, the first couple of flights for the day might get out before flying for the remainder of the day is cancelled. Also, if all flights are cancelled for sequential days, you want to be highest on the list for when the weather clears up.
So if you happen to be one of the unlucky ones and your departure is delayed by a few days, you will be happy to know that you didn't buy that return ticket in advance. When you are on your way down and a couple of days from Lukla, this is when you book your flight back to civilization.
There are a few agents to choose from in Namche Bazaar where you can purchase your return ticket.
Remember to have cash in Nepalese Rupees or USD as although there are a couple of ATMs in the mountains, they aren't always working or stocked with cash.
7. Accommodation on Everest Base Camp Trek
Staying in tea houses is the best option for spending your nights in the mountains. They are extremely cheap, warm and your best bet at socialising.
Most tea houses cost between 100-1300 rupees ($1 – $10 USD) depending on the altitude and your bargaining skills. That being said, there is rarely a shortage of guests in the smaller villages so guest house owners aren't as likely to appreciate bargaining.
The cost of a bed is kept so low by the assumption that you will also eat there. The menus are fairly standard from house to house and if you are really on a tight budget there is generally at least one option for each meal less than 700 rupees (US$5).
Extras such as showers, laundry and wifi can now be found at nearly all Guest houses. They cannot guarantee the quality of the internet or the heat of the water however they can charge what the market will bear. As with everything in the mountains, the higher you go the higher the cost.
My advice is to take this opportunity to disconnect for a while and truly get into the spirit of trekking. No one cares if you're dirty, you're all in the same boat and going to just dusty as soon as you step onto the track the next day. Baby wipe showers are the way to go.
TOP TIP: Tea houses can fill up, especially as you get closer to Everest. If you don't have a guide to book your spots for you, leave early each day to beat the herd.
The walk will be much more pleasant if you're not constantly getting stuck behind a loud bunch of groups and when you arrive in your chosen village, you will have time to look around and find your preferred room and price.
8. Food on the Everest Base Camp Trek
As I mentioned previously, it's assumed that you will eat your meals at the Tea Houses in which you stay and this is why the price of your bed is so low.
TOP TIP: In order to keep your costs down, carry your own snacks, chocolate and tea bags. Cups of boiling water can be purchased at half the price of a cup of tea, you will thank me later for that one.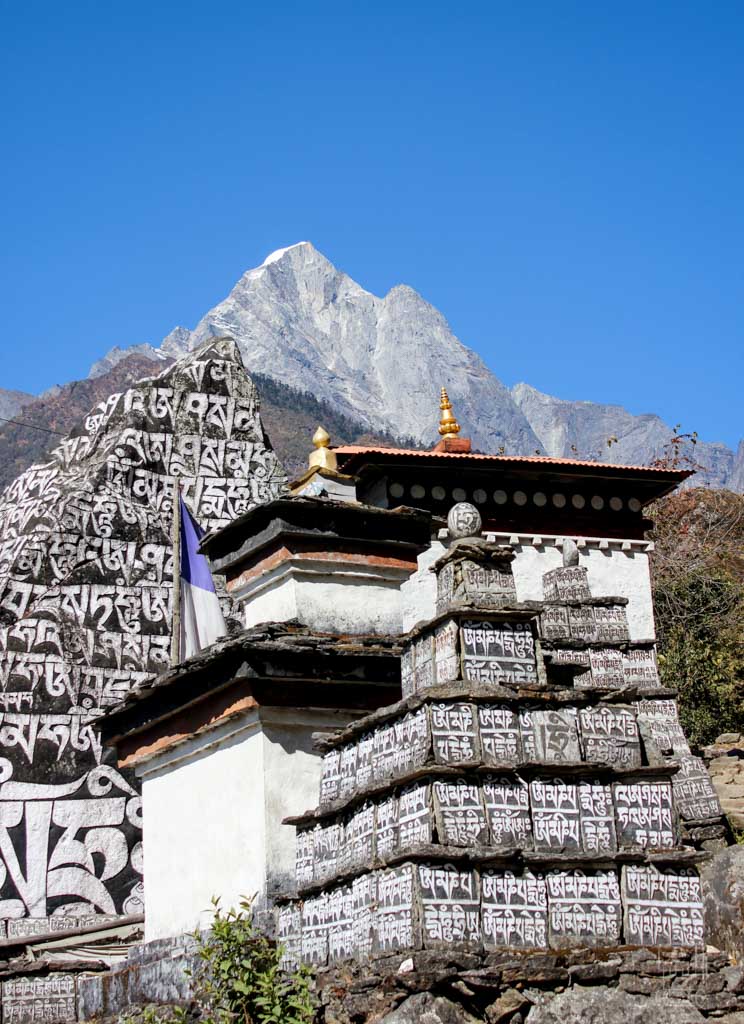 You will obviously not be able to carry your water for your entire trek and the water along the way is not advisable to drink. Most people choose to buy enough bottled water at the guest houses to last them the day's hike however when added up this will be expensive and is terrible for the environment.
Some people buy water purification tablets to clean their water as they require it. This, however, takes time and usually leaves an unpleasant taste. I took along my trusty steed the Lifestraw and can highly recommend it for this as well as for general travelling.
The Lifestraw is a water-purifying straw, that filters out micro bacteria as you drink. I have used this bottle to drink regular tap water all around the world including in remote developing countries and have never been sick.
I would highly recommend purchasing one at home to bring along on your trek, reducing plastic waste and saving you those precious dollar dollar bills.
Note that water is not readily available along the path between villages so I carried two 1-litre Nalgene bottles and swapped the life straw between them with the Lifestraw universal adapter kit.
9. Cost of hiking to Everest Base Camp
The cost of hiking to Everest Base Camp can vary widely depending on how you choose to complete your trek.
Below I have given the costs for one person to hike in the most common way to EBC including flying to Lukla and hiring a private guide, with all the prices in US dollars.
Permits – $38
Flights to Lukla – $440
Guide ($30 x 12 days) – $360
Guest Houses (~$8 x 12 days) – $96
Food (~$15 x 12 days) – $180
Total = $1,114 USD
This total is quite a lot more than I paid a few years above but this is mainly because of the added cost of guides. If travelling solo, it may actually be more cost-efficient to join a group tour these days. Check out the next sections for the ones I recommend!
Of course, as I have already discussed, the cost of your guide can be split between your group, so if hiking with 3 friends that already reduces the price to $90 per person.
In addition, you may want to add a porter to your team which costs around $20 per day, and your additional travel insurance expenses which is essential for trekking to Everest Base Camp.
10. Best Tours for Everest Base Camp Trek
Whether all of these logistics sound a little too much to handle, or you simply want to share your experience with a group of like-minded trekkers, below I have created a list of the best tours to Everest Base Camp.
All of the tours include flights from Kathmandu to Lukla and I've grouped them by route while offering a range of lengths so you can easily pick the right one for you.
Everest Base Camp Only Route

Everest Base Camp & Gokyo Lakes
Everest Base Camp, Gokyo Lakes & 3 Passes
11. Gear list and packing
So obviously if you are carrying your life in your pack for 2 weeks you're going to want to keep it light. Keep in mind that the higher altitude you go, the heavier your pack will feel.
My pack weighed in at 12kg including 2 liters of water. I now know this was quite heavy considering I wasn't carrying a tent or stove but I don't think I could have taken anything out, only invested in more lightweight items.
Pack the bare minimum of what you need, no one cares that you wear the same clothes over and over again but remember that it will be freezing so pack smart.
Here is my packing list for the trip:
Entertainment:
✔️ Book/s (1-2 as there is a lot of downtime)
✔️ Pack of cards
Equipment:
Snacks:
✔️ Chocolate
✔️ Nuts
✔️ Dried Fruit
✔️ Cliff Bars
✔️ Tea Bags
Toiletries:
✔️ Toothbrush
✔️ Toothpaste
✔️ Deodorant
✔️ Sun Screen
✔️ Baby Wipes
Medication:
✔️ Pain killers
✔️ Anti-inflammatories
✔️ Diarea pills
✔️ Band aids/plasters
✔️ Strapping tape
✔️ Antiseptic cream
✔️ Altitude sickness medication (optional)
12. Safety While Hiking to Everest Base Camp
Altitude Sickness
Research the shit out of the effects of Altitude and become an expert on Altitude sickness symptoms (Acute Mountain Sickness or AMS). For me, it always starts with knots in my stomach before migrating to a splitting headache, but it's not the same for everyone.
Altitude sickness can be slow to show its full effects, if you don't acknowledge the early symptoms, it can progress to fatal overnight, and in case you haven't realised, there isn't much help 5000m up in the mountains.
When in doubt, turn back, getting to base camp isn't worth it if you don't survive to tell the tale.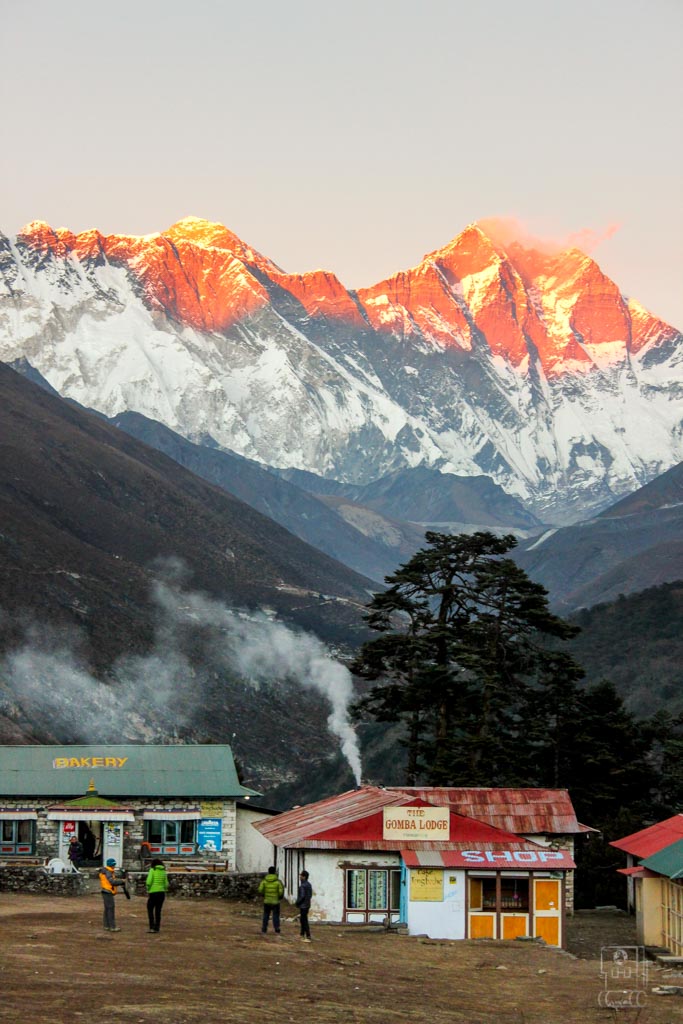 If riding SOLO on this epic journey make sure you trust your own sensibility. This was my main concern when setting out alone. I know that I myself can have incredible determination and drive to reach my goals. I was worried that even though I know and have personally experienced the signs of AMS, my will to succeed would cause me to continue.
Thankfully I didn't have any major problems with altitude in the end but make sure you trust yourself enough to make that call if need be.
Altitude sickness medication:
There is an ongoing debate over altitude medication. Some say you should take it as a preventative measure, however, the medication does not stop altitude sickness it only masks the symptoms.
I personally bought some pills in my pack but did not use them as I wanted to be able to feel and identify the symptoms as early as possible. I was careful about acclimatization and didn't actually begin to feel the effects of altitude until around 4,500m.
I recommend doing your own research to make an educated decision about mountain sickness management that is right for you.
Injury
The trail to Everest Base Camp is quite wide and maintained to be in good condition most of the year. While the trail itself is not technically difficult, that is not to say that you can't injure yourself at any time.
Make sure to carry a basic first aid kit on you at all times and take note of the Nepalese emergency number (100) should you need to call for help.
You should also keep your travel insurance details including policy number and phone number on hand in case someone else needs to find it for you.
Wildlife
While there are black bears and wolves in the Himalayas, you don't have to worry about wildlife on the Everest Base Camp trail as the area is so highly trafficked by people that animals stay away.
In fact, if any animal were to be a problem it would actually be the yak which carries gear up and down the mountain passes. The yaks are generally guided in herds by sherpas and often take up the whole trail in narrow sections and on bridges.
While they will never intentionally hurt you, it's best to stay out of their way while they pass by.
13. Things to Know about the Hike to Everest Base Camp
We've covered nearly everything there is to know about the Everest Base Camp trek so far but here are the last few tips I can give you so you are 100% prepared.
ATMs – There are only a couple of ATMs on the whole trek located in Lukla and Namche Bazaar. While they do exist, these ATMs are not reliable as they often run out of money, and also have hefty fees for withdrawals.
Cash – Bring along enough cash (Nepalese rupees or USD) to cover all your expenses plus some extra for unexpected costs. You will not be able to pay by card at all after you have left Kathmandu and you will need to pay for meals, accommodation, wifi, showers, laundry, souvenirs and tips during your trip.
Showers – Showers are readily available at most tea houses these days but they cost extra and are not always hot. If you want a hot shower, make sure to arrive early and shower in the early afternoon for the best chance. 
Charging Electronics – Most of the tea houses have limited space for charging and this also costs extra. Ports are generally located in the main dining rooms of the tea house or behind the reception but it is not secure. It's best to bring a solar-powered battery pack to keep everything topped up.
Wifi – The entire route to EBC has cellphone towers so if you have a local SIM card you will be able to access calls and 3G data. If you are relying on wifi, you will be pleased to know that nowadays pretty much every guest house also has Wi-Fi access available for purchase. Free wifi is also available at the Starbucks in Lukla and the Namche Bazaar bakery.
Tipping – It is customary to tip your guides and porters during your EBC trek but not to the same extent as you may be used to if you are from the US. If you have taken a tour, tipping 10% of the cost of your tour in total is a normal amount and they will split this between their team. If hiring your own team, $10-15 per day for guides and $5-$10 per day for porters is appreciated.
FAQs About Hiking to Everest Base Camp
Can you hike to Everest Base Camp without a guide? 
Yes, you can still hike to EBC without a guide. Since 2023 it has been required by the Nepal Tourism Board that all hikers in the Everest region be accompanied by a registered guide. However, the local regional authority disagrees with the tourism board and allows trekkers to hike without a guide. 
How long is the hike to Everest Base Camp?
The traditional hike to Everest Base Camp from Lukla and back is 130 km (81 miles) and takes 10-14 days depending on where you stop along the way. 
What is the elevation of the Everest Base Camp trek? 
Everest Base Camp is located at 5,364 metres (17,598 ft) however most people include the neighbouring peak of Kala Pattar which exceeds EBC at a height of 5,644 meters (18,519 ft).
Can you stay at Everest Base Camp itself? 
Yes, you can camp at Everest Base Camp if you book a specific tour that includes this option. You cannot sleep at Everest Base Camp if you travel without a tour. 
So now that you're all prepared, get excited and go! Allow for the spontaneity and enjoy every moment of it.
This epic adventure led me to some of the most unique experiences of my life. After starting off my trek entirely alone, I got adopted by the kindest group of Europeans and visited a remote community project, got blessed by a lama, partied with sherpas, meditated with monks, hung out with mountaineers and survived the most dangerous flight in the world(twice), all in the shadow of the highest mountain on earth.
I hope this guide was helpful in giving you all the information you need to plan and book your own trip. If I've missed anything or you just want to share your own experience, feel free to chat with me in the comments below!
Remember to book in advance in order to secure the best prices and don't forget your travel insurance!

Happy hiking,
Kate
---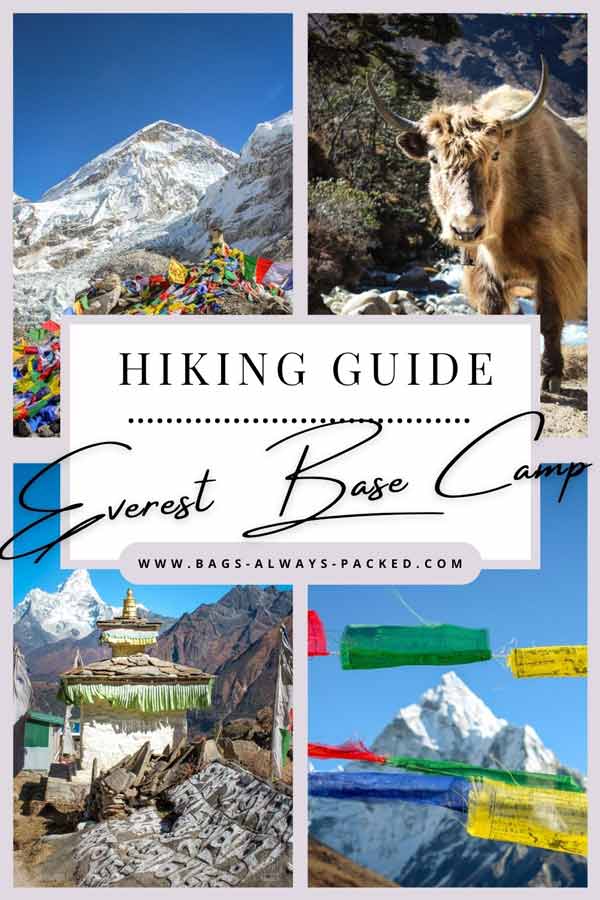 Related Posts:
Helpful Resources