'Eua, Tonga → 8 Things to Know Before Visiting!
If you're looking for an off-the-beaten-path island to explore, or simply want to enjoy the cheapest vacation possible in Tonga, 'Eua (pronounced "awa") is the perfect destination for you.
This volcanic island is the oldest island in Tonga and is covered in palm trees with a prime marine habitat, making it an incredible holiday destination.
I spent a month travelling all over Tonga but 'Eua was one of my first spots for the chance to swim with humpback whales.
Being one of the less popular choices for tourists in Tonga, there isn't a lot of information online about how to visit 'Eua, Tonga. That's why I put together this ultimate guide which covers absolutely everything you need to know before planning a trip.
I've gone through how to get there, where to stay, things to do, and more so that you will be fully prepared, so let's go!
Bags Always Packed is a reader-supported site which means some of the links on this page may be affiliates. I spend a lot of time researching these hotels, tours and products and only recommend those which I would use myself. Booking your trip through my links is a great way for you to support my work for free, as I will earn a small commission at no extra cost to you. ♡
Quick Summary
For anyone who doesn't have time to read this whole guide right now, here is a very quick overview of the main info you might need before visiting 'Eua, Tonga. But make sure to bookmark this page so you don't miss out on all the juicy tips I have given you!
| | |
| --- | --- |
| 📷 Main Town: | 'Ohonua |
| 📍 Location: | Southern Tonga, South Pacific |
| ✈️ Direct Flights: | From Tongatapu |
| 🐳 Best Activity: | Swimming with Whales |
| 🛏️ Top Hotel: | Blue Water Retreat |
| 🚢 Ferry from Tonga: | 1.5 hours |
1. 'Eua, Tonga Map
To give you a quick overview of where 'Eua is located and what kinds of attractions it has to offer, check out my map of Tonga above.
I've added all the major attractions plus restaurants and accommodation so you can easily find everything you need during your stay.
2. How to get to 'Eua from Tonga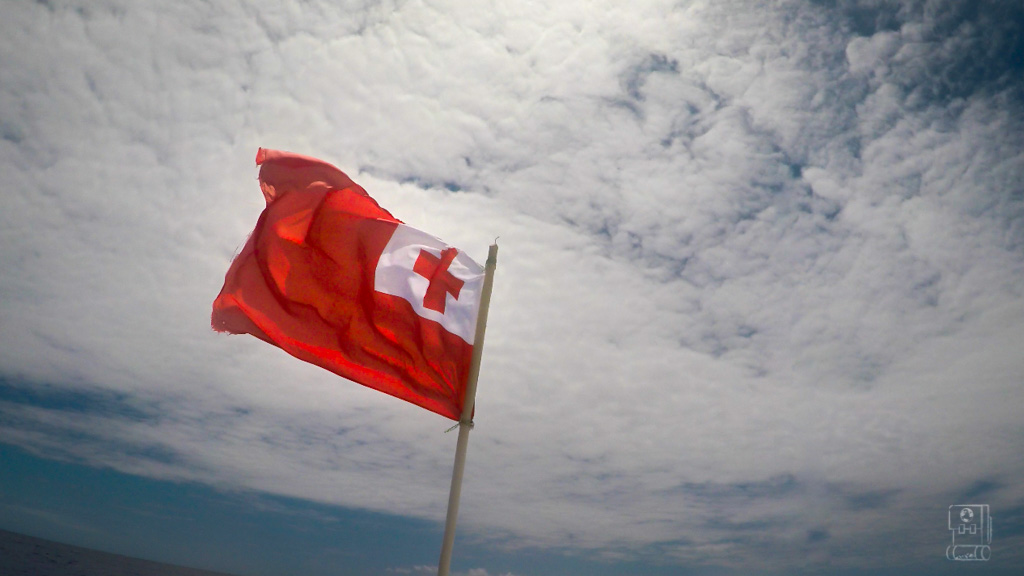 To get to 'Eua you must take either a 7-minute flight or a 1.5-hour ferry from Tongatapu, the main island of Tonga.
Luckily for you, 'Eau is also the easiest outer island of Tonga to reach so you don't have to worry too much about the journey.
If you're coming from overseas, International flights from Syndey, Australia, Auckland, NZ and Nadi, Fiji arrive at the Fua'amotu airport on Tongatapu which is the main way to enter the country.
Flights to 'Eua
Lulutai Airlines (formally Real Tonga) runs one of the shortest flights in the world between Tongatapu and 'Eua with a duration of under 10 minutes.
Tickets generally cost around $100 TOP / US$45 and flights run daily from Tuesday to Saturday.
Note that even though they are the national (and only) carrier of Tonga, things are done in a little more relaxed way here. Their Facebook page shows the most up-to-date information with daily schedules and updates regarding cancellations posted much more frequently than on their actual website.
Also, since you will be flying in an incredibly small plane, adverse weather will really affect the route and flights can be cancelled at very short notice.
To book, you can try their website or Kiwi (my preferred way to find flights), but if nothing seems available, make sure to give them a call directly as it doesn't seem that much is online at the moment.
'Eua Ferry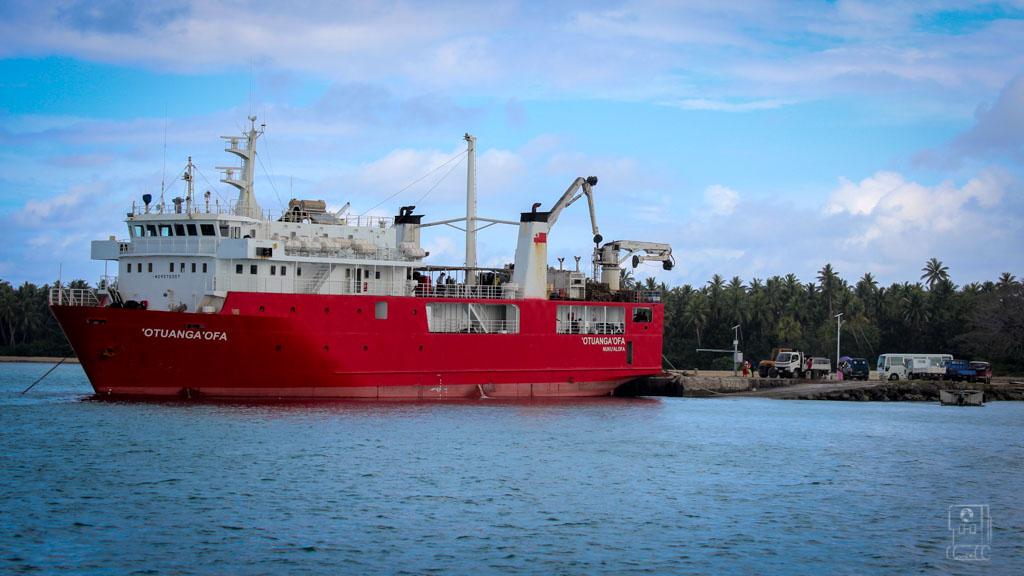 As an alternative to the expensive 7-minute flight, to get to 'Eua, you have two ferry options.
The car-carrying, slow ferries (MV 'Onemato and MV Alaimoana) cost $20 TOP (US$8) and take around 2.5 hours to make the crossing. There's minimal seating on both these boats but The MV 'Onemato is larger yet completely open, while the MV Alaimoana is smaller with indoor seating.
Alternatively, you can pay a little more and opt for the fast, passenger-only ferry for $30 TOP (US$13). It's called MV Maui and has both indoor and outdoor seating, taking around 1 hour to get to 'Eua.
NOTE: Be aware that neither of the ferries go every day and the timetable is somewhat sporadic. Check the Facebook page for schedules online, or head to the wharf or tourist info centre on Tongatapu ahead of time.
Make sure you spare a couple of extra days for your return if you must make a deadline for another flight!
Other than the unreliable schedule, the ride is pretty enjoyable. Due to high winds and the fact that I sat on the highest level of the oldest boat, my trip to 'Eua was quite rocky on the water.
But, I saw both flying fish and humpback whales breaching on my journey while floating by turquoise blue waters surrounding oasis-like, palm-fringed, sandy islands. So I was quite content with the longer duration but you decide what's best for you!
3. Swimming with Humpback Whales in 'Eua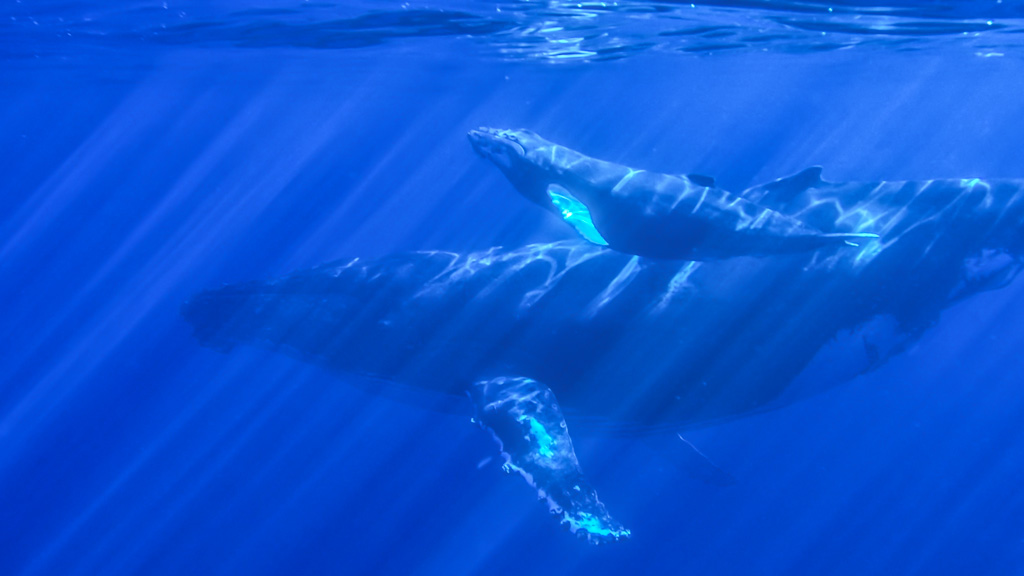 One of the main reasons I came to 'Eua was for the whale swim. While most people head to the northern island group of Vava'u, whose warm waters are famed for being a whale hotspot, due to it being very late in the season and this being my first port of call in Tonga, I chose to waste no time and do it here instead.
Confusing information online tells different tales about the length of the winter whale season, and adding my lack of prior knowledge about Tongan geography, I wasn't really sure about my chances.
But it turns out that although these beautiful creatures spend months hanging out in the north each year, they must still pass by the southern island groups such as 'Eua on their way to and from Antarctica, so there are still plenty of opportunities to swim with whales in 'Eua too!
Whale Season in 'Eua, Tonga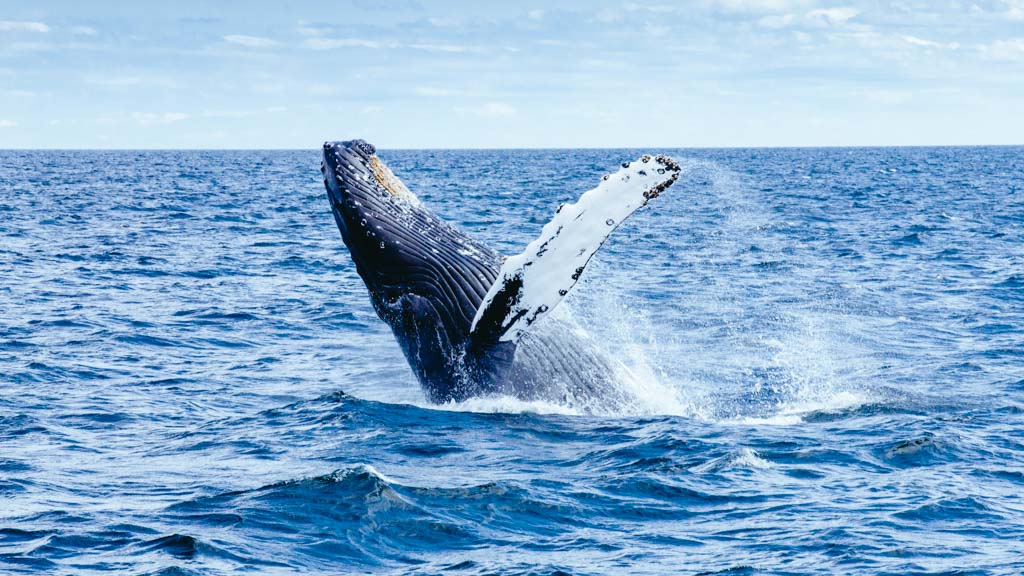 Officially, the whale season in Tonga runs from June to October with the peak periods being August and September. However, the whales usually have one last stopover in the waters surrounding 'Eua before they make the long commute to the Antarctic oceans.
Luckily for us, this means that the whale season in 'Eua extends until the start of November.
If you are planning a trip towards the end of the season, by the beginning of September the majority of the whales have left Vava'u, and begun to travel south, so booking a trip to 'Eua is actually your best chance at seeing them.
I went on October 29th and was fortunate enough to swim with plenty of adult and baby humpback whales as well as dolphins and sharks!
Booking a Whale Swim Tour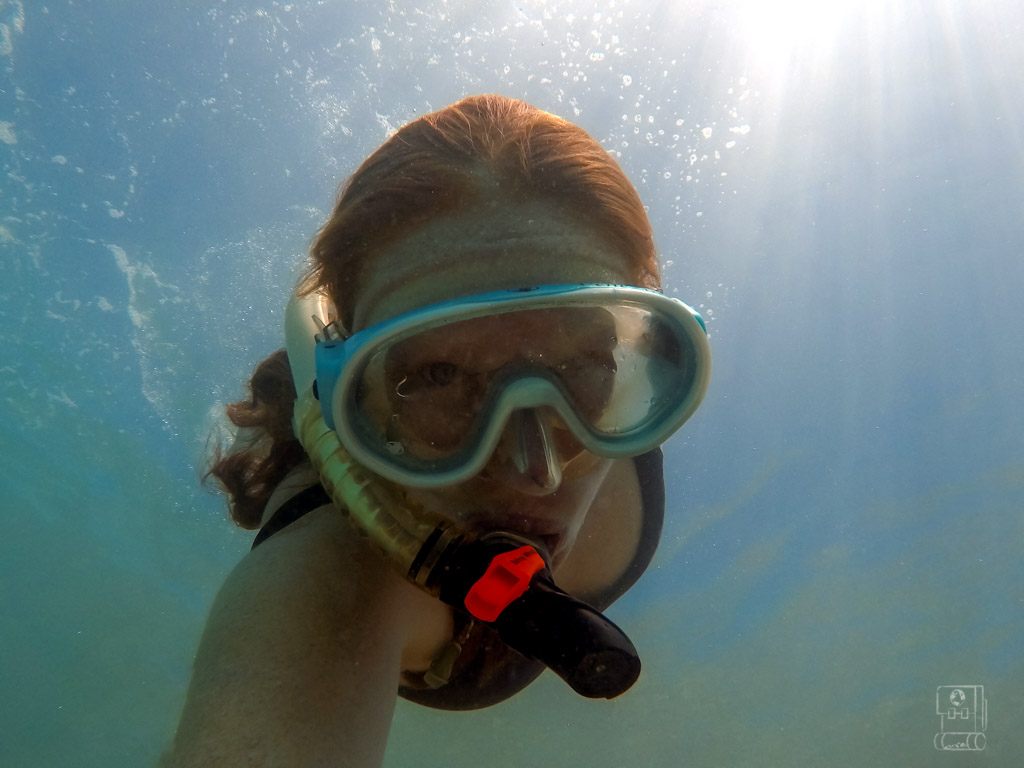 There are only a handful of accredited whale swimming tour operators in 'Eua which means that you are likely to have the spot all to yourselves. An added advantage that I didn't even know of at first!
That being said, it's important to book your spot in advance if you are going during the peak season because this is the most popular reason for tourism in Tonga.
As I was travelling so late in the season and didn't know if it was even possible to see whales anymore, I was fortunate to book on-site the day before heading out, but I don't recommend doing this unless you are unsure.
In the end, I went with Kiko's Whales Tours (also known as Falakiko Falemaka) who was actually the owner of our guesthouse and has been operating whale tours for over 15 years.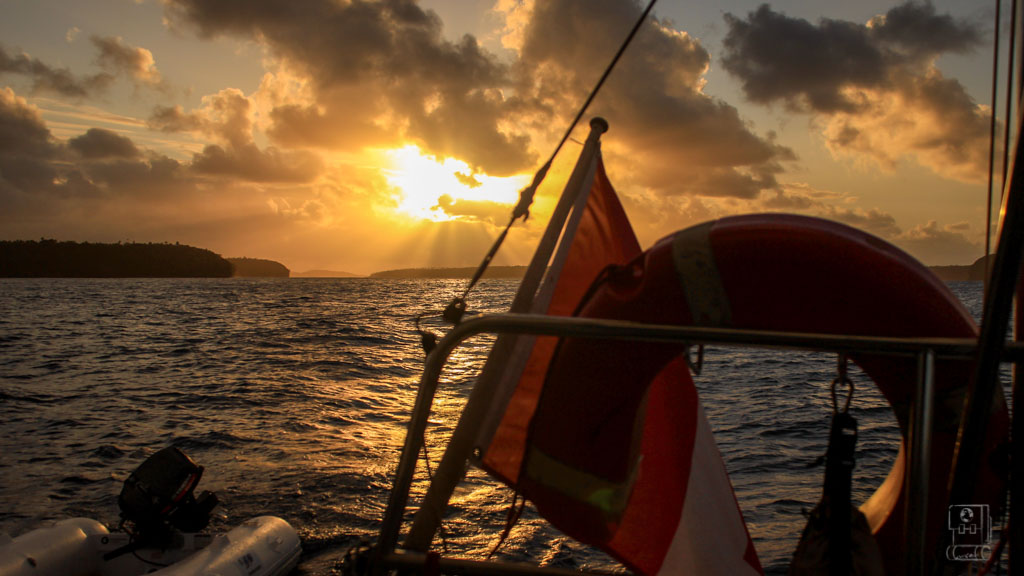 I was sceptical about our chances of seeing humpbacks given it was already October 29th, but Kiko was positive that we could still see and swim with the whales. He offered us a deal that if we didn't swim we wouldn't have to pay for the trip, and even promised to stay out all day if that's what it took!
Thankfully it didn't take too long at all and I had an absolutely amazing time on the trip accompanied by a Chilean biologist who told us everything we wanted to know about these beautiful creatures as well as keeping us safe in the water.
If you want to swim with the whales on 'Eua, I highly recommend Kiko's whale trips. Not only is he one of the longest-running whale swim operators on the island, but his genuine love of nature and hilarious personality will keep you smiling all day.
Even for someone who doesn't like to spend their money freely, this experience was easily worth its $300 TOP (US$125) price tag and is in fact much more affordable than anything you will find in Vava'u.
What to Expect Swimming with Whales in 'Eua
After packing everything into the van and picking up the local Chilean biologist as our guide, we boarded Kiko's fishing boat and out we went. His boat has space for just 8 passengers so you're guaranteed to have an intimate experience with the whales which is something I loved!
It took a couple of attempts to catch up to the playful mammals, but this just allowed us to see the amazing display as they breached, jumped and played above the water from above.
After stopping at the first spot, our first entry wasn't exactly successful either.
We took way too long to get in the water since all three of us were feeling a little nervous, and by the time we were in the whale was long gone. What we did see when we put our masks underwater was a large grey shark swimming towards us… exactly the opposite of what we needed to calm those nerves.
However, after a rocky start, the rest of the day went swimmingly (pun intended). Just as Kiko was busy explaining that if we turn the engine off and simply float, sometimes they swim below us, we began to hear the incredible songs of the male humpback.
These sounds can be heard up to 100km away underwater but I never realized how clearly it could be heard by a measly human above water! And as we peered over the edge, sure enough, an enormous dark shadow swam right below us and we went right in this time.
Throughout the day we swam with mothers, calves, and their escorts as well as solo males still searching for a mate and the most friendly dolphins you've ever seen.
Their songs, vibrated through the water as we swam as fast as we could, failing to keep up with their slow-motion movements. Making sure to stay clear of their giant tails as they came to the surface to breach while marvelling at the sheer size of even the babies is something I will never forget!
Given it's normal to be nervous and a little frazzled the first time you swim with these huge animals, I recommend booking 2 or more swim days. This will give you a chance to regroup after your first experience and go into the second day more confident, knowing exactly what to expect.
4. 'Eua Island Accommodation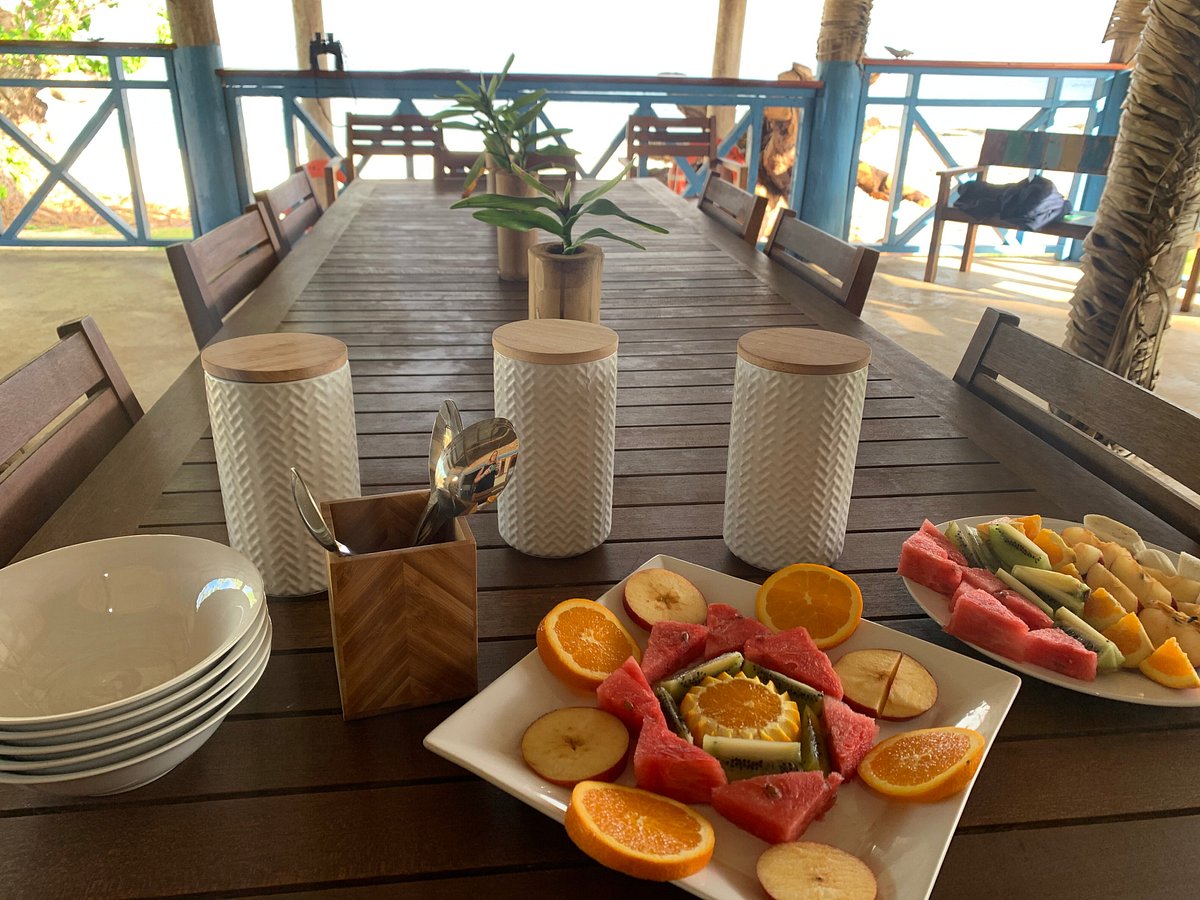 After some very hard years of travel restrictions plus the most recent tsunami, most of 'Eua's limited accommodation options took quite the blow.
When I visited there were already limited choices but today, many of those have closed permanently as they could not recover from such a devastating situation.
That being said, here are all the hotels on 'Eua that I could find are still functioning (to the best of my knowledge).
Blue Water Retreat – If you're looking for the highest quality stay, Blue Water Retreat is the answer. Located close to Tufuvai Beach, this resort offers individual bungalows with modern furnishings and personal decks where you can watch whales swim by. This hotel offers all kinds of tours and has a great restaurant onsite.
Alakoka Tahi Moana Guest House (Kiko's Guesthouse) – As you may have read in my section on whale swimming, this is where I stayed in 'Eua, with the man the myth, the legendary fisherman himself, Kiko.
Located a 10-minute walk from a beach, close to food stores, and within walkable distance from town, here you have everything you need including a kitchen, pool table, and tour guide. When you stay with Kiko, you really do get a unique homestay experience, yet with the comfort of having your own space.
Seta's Guest House – For those of you who would prefer a holiday home all to yourself, this 2-bedroom home in 'Eua is perfect. Seta's is located Just 3 3-minute walk from the beach with all the facilities you need to enjoy your stay, including the option to have groceries delivered to you by the hosts.
Clairlene's Airbnb – If you need a little more space, this 3-bedroom house is equally as great. Equipped with everything you need including free wifi, a washing machine, and a bakery onsite, you can even see whales from the front porch!
My Experience as a Solo Traveler in 'Eua
Finding a room, as a solo budget traveller here is generally a little more expensive than on the mainland as there are no dorm rooms.
As neither I nor the two Swedish girls who I had arrived with had pre-booked anything, we headed to the 'Ministry of Tourism' to find out about our options. To find it, take a right off the boat and as you come into the main part of the town, walk to the end of the first street on your right.
The lovely man there gave us a price sheet and explained the locations and facilities at each of the guest houses and resorts on the island. He even drove us around to a few different options before we decided on Kiko's.
Somewhere along the way we collected a fourth solo traveller looking for a room and decided to take a 'family room'. For around $120 TOP (US$50) per night for a double and two single beds, we figured this was our cheapest option if we shared.
In the end, I'm so glad I went budget hunting as we had the most amazing stay with Kiko and his family due to their incredible hospitality, warmth, and overall desire for you to have a great time.
You can really tell that they love showing off their island and will do everything in their power for you to discover it yourself. Kiko, his wife, and his 10 children (not joking) made us feel extremely welcomed and I truthfully learned a lot about Tongan culture from them.
Nights spent playing pool turned into furious tournaments between father and sons (all masters of the game). Sunday youth church with Noah and Moana had us marvelling at their voices and Kiko's hilariously, sarcastic, sense of humour in broken English had us either confused over his sincerity or dying of laughter (or often, both).
5. 'Eua, Tonga Things to Do Other than Whale Swims
While the whales were the main reason I went to 'Eua myself, there is so much more incredible nature to explore here.
Being the oldest island in Tonga and made entirely from volcanic materials, this island has a super unique landscape. With jagged cliffs, lush jungles and pristine beaches all blending into one.
5.1 Take a 4WD Tour of 'Eua Island, Tonga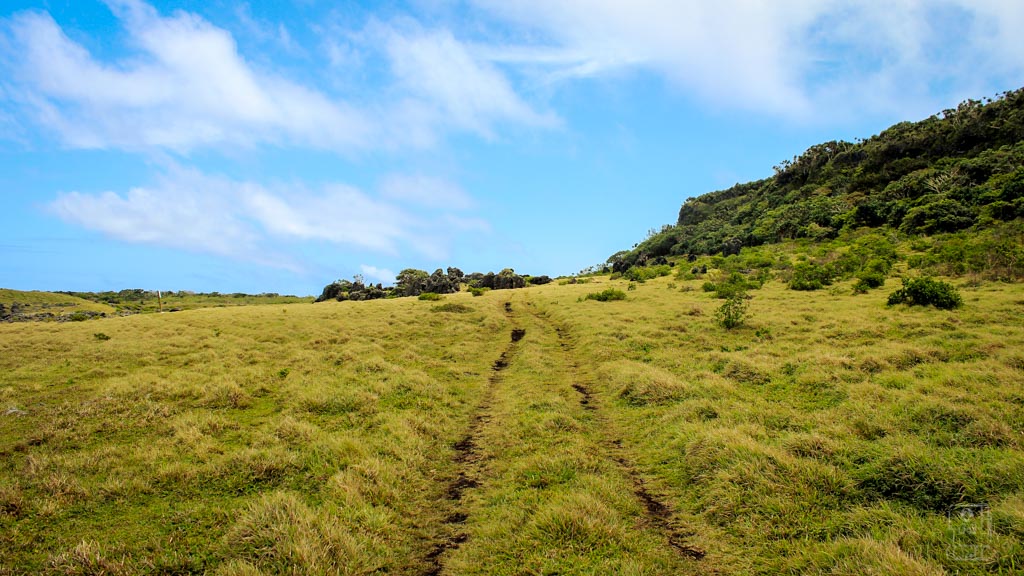 The absolute best way to see the island of 'Eua is to take a 4WD tour. Most accommodations on the island either offer their own tour or will add you to someone else's upon request.
I went again with Kiko on his "land tour" and saw everything on this list in one day. While it is the second biggest island in the country, it's still pretty small so we were able to see everything there is to see!
These tours are pretty informal and no matter who you choose to go with you will have a very similar itinerary and price. That being said, there is nowhere you can pre-book online so you're best contacting your accommodation directly or asking upon arrival.
NOTE: Many of these places are very remote and require a 4WD and local knowledge to locate. Even if you are tempted to go alone, I don't recommend this as it's practically impossible and the tours are very affordable.
5.2 Visit 'Eua National Park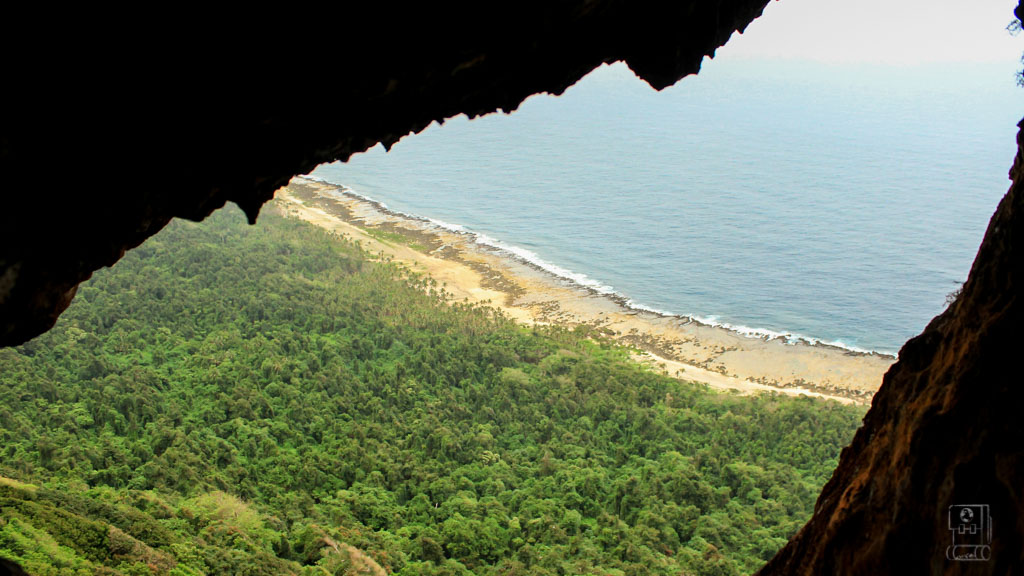 'Eua National Park protects the country's oldest rainforest and is located on the central east coast of 'Eua.
Although it's pretty simple when compared to other national parks you may be used to, 'Eua National Park is an incredible area with ancient trees covered in vines, lush greenery and even the colourful red shining parrot, the only place in the world you can see this beautiful species.
There's a handful of hikes you can do inside the national park including Lokupo and Lau lookouts as well as Rats Cave.
Rats Cave
One morning after breakfast in 'Eua, Kiko announced that he wanted to take us to the Rat Cave, he promptly called over one of his sons and we all jumped in the car without question.
After winding our way through the muddy back roads of the national park, through bumpy potholes and seemingly non-navigational turns, we arrived at a viewpoint.
With views above the jungle out to the ocean and framed on either side by sheer cliffs, it surprised us to see Kiko's son point to a tiny hole in the rock, a couple of hundred meters above the ground and say "That's where we're going."
Sure enough, another 50 meters up the path was an even smaller hole and a sign to the "Rat Cave".
"It's called the rat cave because you have to crawl on the ground to get through, like a rat."
He was right! It was a bit of a squeeze (don't wear your best clothes) but then we arrived on the other side, a cave high up on the cliffside overlooking the ocean!
I'm fairly sure this would be unreachable without a local's knowledge as even with our local Kiko leading the way, we still nearly got lost on the drive. So definitely take a knowledgeable guide!
5.3 See the Big Tree & Smoking Hole on a Forest Plantation Hike
The forest plantation hike is found in the centre of 'Eua, in dense tropical forests with incredible trees that will make you feel like Tarzan.
On land, this is probably the most commonly visited attraction. "The big 'Ovava tree" is said to be the inspiration for the tree of life in the movie Avatar!
Whether or not this is true, the ginormous tree is certainly impressive and definitely worth a visit. Surrounded by dense jungle, take a walk through its trunks and climb its vines to fully appreciate its sheer size and magnitude. And of course, you can get some pretty epic pictures!
Another stop on the Forest Plantation hike is the Hafu Pool. Hafu pool is one of the main natural springs on 'Eua and has a special place in folklaw. As you walk around the area you will find a stream with a number of small waterfalls and beautiful sounds of nature.
Lastly, ask your guide to take you to the smoking hole (Ana Ahu). A tall waterfall flows down into the bottomless cave and as you peer down this long dark tube, you can see mist rising from the unknown making it look like the hole is smoking.
Again, surrounded by jungle and a steep slippery walk down, it's a little bit of an adventure to get to, but a cool experience nonetheless and probably the best of 'Eua, Tonga's Waterfalls.
5.4 Explore Laku Fa'anga Cliffs, Rock Garden and Land Bridge amongst Wild Horses
Heading to the southern tip of 'Eua you will experience a huge contrast to the heavily forested area of the national park.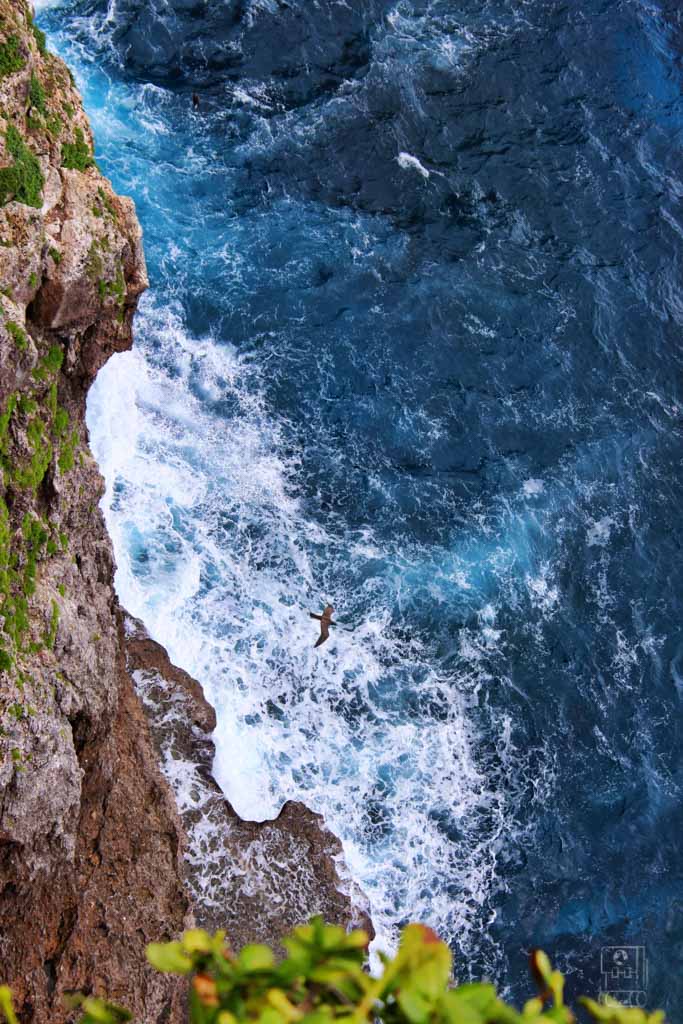 After we passed through a gate, we were told to look out for wild horses! While they were of course introduced at some point in history and someone somewhere probably owns them, these horses are practically wild, having been left alone to live as they please for many many years.
But the horses aren't the main attraction, here you will find a more barren field with some rock pillars here and there. To be honest the actual rocks in the "rock garden" weren't that exciting but the view from the top of the cliffs was something else!
Peering over the edge we saw ocean birds and their nests, different types of trees, clinging to the rock and of course the beautiful raging coastline.
Walking with the cliffs on your right, take the little dirt path into the jungle and turn left at the sign. Follow this path along until you come to the view of the land bridge (Li'Angahuo 'a Maui Arch) framing the ocean. Well worth the walk.
5.5 Relax on 'Eua's Beaches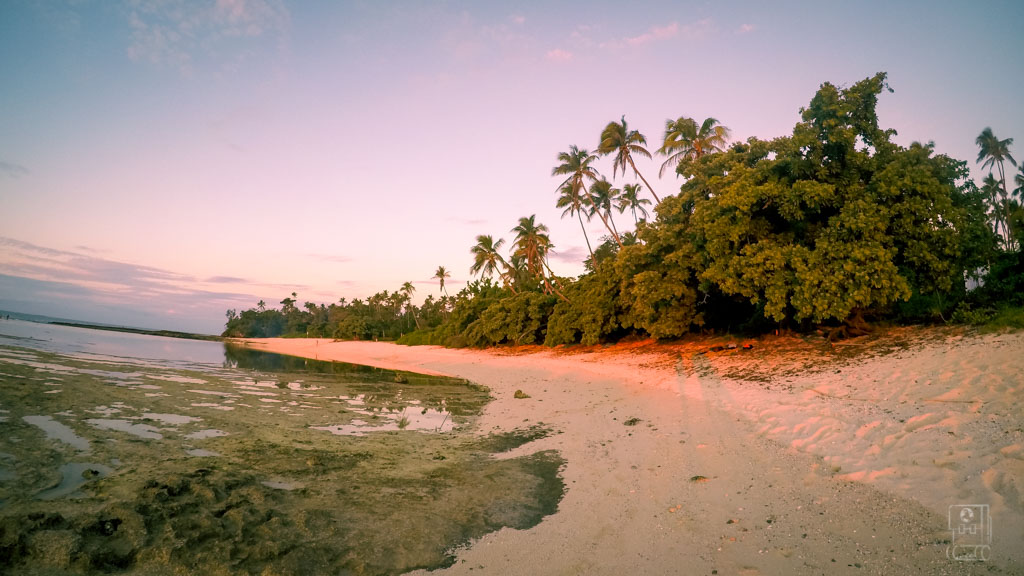 Unlike many other Tongan islands, there are limited beaches on the coast of 'Eua. Being a volcanic island, much of the coastline is understandably harsh cliffs.
That being said, there are still plenty of sandy beaches for you to enjoy a sunset or a swim, you may just need to organise help getting there.
Here are some of the best beaches in 'Eua:
5.6 Visit the Island's Viewpoints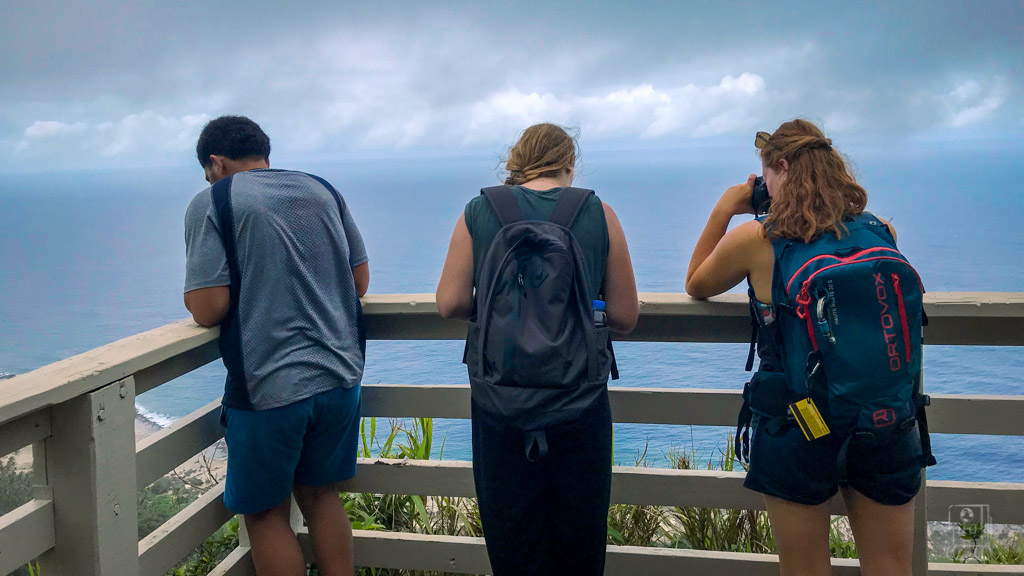 If there's something this island has no shortage of, it's incredible views of the oceans from dramatic cliffs!
I've already mentioned many of 'Eua's lookouts but to help you pick the best one for your sunset, I've compiled a list for you here.
Lokupo lookout
Laua lookout
5.7 Enjoy a Sunday Service at Church
Joining a church service at least once during your visit to Tonga is something you should not miss, even if you aren't religious.
Sunday is the perfect time to go to church as it is the main service of the week and a day that is dedicated to worship by law.
When we told Kiko we would like to attend church he arranged for his children to take us with them. While we sat at the back and didn't understand a word, the minister made sure to make us feel included by addressing us directly during the sermon.
The best part was the incredible singing. Somehow it seemed like every single Tongan in the building was blessed with an amazing voice and it felt as though I was listening to Moana in surround sound!
5.8 Go Underwater at one of the Scuba Dive Sites of 'Eua
World-renowned as being an incredible scuba diving destination, Tonga has plenty of spots for divers to check off their bucket list.
One of those is Cathedral Cave which is located off the north coast of 'Eua. Officially the largest underwater cave in the South Pacific, this incredible cave is 30m (96 ft) deep and 100m (328 ft) wide inside.
You can also see sharks, whales, turtles and countless fish and coral species in many spots around the island.
Deep Blue Diving is the only scuba diving company that departs directly from 'Eua as it is based out of Ovava Tree Lodge. They offer PADI intro dives as well as two tank dives for the more experienced.
If you prefer to try freediving and spearfishing, you can go with Blue Water Explorer from Tongatapu. They are the only freediving company around and can take you to a number of unique spots.
5.9 Try Whale Watching in 'Eua, Tonga
I know I said this list is supposed to be things to do other than swimming with whales, and it is!
For some people, getting into the open ocean with these incredibly ginormous animals can be quite intimidating (believe me, I was nervous myself). But luckily, observing whales from above the boat can be just as exciting!
The whales here are super playful and frequently breach very close to the boats. Plus their amazing calls can also be heard super clearly above the water.
Most of the tour operators that offer whale swimming are happy to take you along as a whale watcher, however, they will usually charge very similar prices for whale watching as for whale swimming.
Alternatively, you can also try whale watching in 'Eua from the shore. Head to Lokupo lookout or Laua lookout in 'Eua National Park where you can see the main migration path of the whales.
5.10 Rockclimb in an Amazing Location
If you're an experienced climbing fanatic, this one is for you! I am and I absolutely was at the time I was in Tonga, but unfortunately, I was travelling alone so I was unable to experience the incredible limestone cliffs at Fangatave Beach.
There are a range of climbs here with grades from 17 to 30 (5.9 – 5.13) and over 70 routes on the island. Fangatave Beach is the most developed sport crag but there are also climbs in "the Lost Walls" and Laku Fa'anga.
I found a great Facebook group with up-to-date information, and you can also find topos on the crag.com.
While you need to provide all your own gear and knowledge as well as pay a registration fee to climb on the island, Ovava Lodge and Blue Water Retreat can help you with transfers to the beach.
6. Getting Around 'Eua, Tonga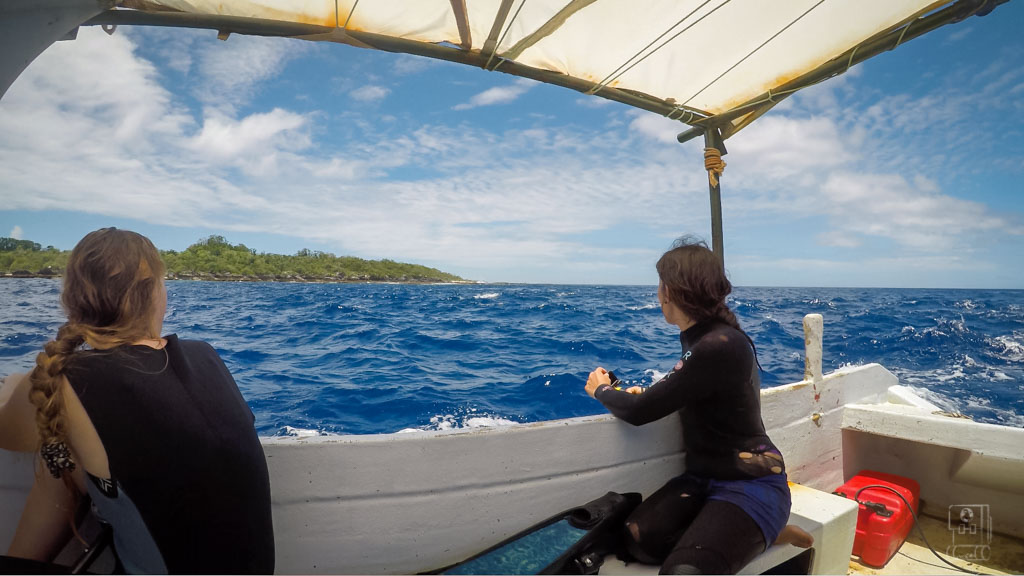 As I mentioned before, the best way to get around 'Eua is with transfers or tours organised by your accommodation.
There is only one main road that makes a loop around the island, passing through around 15 different villages along the way.
Most of the attractions are only accessible by 4WD and you must travel through very rough terrain and jungles so it really isn't a good idea for anyone to attempt alone if they don't know the area.
Although Seta Homestay does offer car rentals, this remote island doesn't lend itself to creating reliable modes of transport. So you are better off renting a bike to get around the main villages and then take transfers to the further afield destinations.
Bike rentals are available all over the island and most accommodations will have something for you to use for around $20 TOP ($8.50) per day. You can cycle all of the main roads fairly safely as there are not many people driving around here!
7. When to Visit 'Eua, Tonga
With very different wet and dry seasons, it's important to pick the best time of year to visit 'Eua.
The best time to visit 'Eua, Tonga, is August or September. At this time you should still have dry, warm weather for the majority of your visit, and the whales will be at peak numbers as they begin migrating south for winter.
The whale season in 'Eua extends until the beginning of November here so you have a larger window to experience their magic than in the north of the country. But don't leave it too late as the wet weather begins setting in at this time too, with the risk of cyclones increasing towards the new year.
And don't worry about the warmth, as temperatures in 'Eua range from around 25-30°C (77-86°F) during the day throughout the whole year!
8. 'Eua, Tonga Travel Tips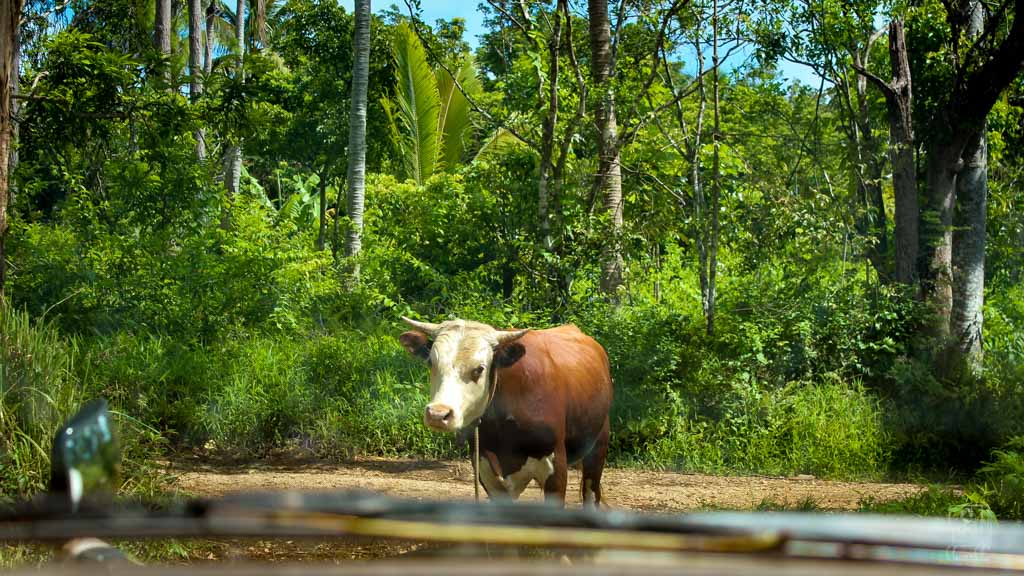 I know I have already given you plenty of travel tips for 'Eua, Tonga, but there are just a few more topics that I want to touch on so you are fully prepared for this epic adventure!
Wifi
Wifi=non existent.
Okay some guesthouses offer wifi but you really can't rely on it to work in such a remote location. So enjoy your time to disconnect with the online world and enjoy the peacefulness of this laid-back island.
If you desperately need access to the internet for any reason, make sure you buy a sim card from Tongatapu and set it up with a data plan, otherwise, you're going to be mostly out of luck! Both TCC and Digicel can help you out, or you can organize an eSim online in advance.
Food
Most of the guest houses/resorts on the island provide meals at a cost. Kiko's offers free toast for breakfast and a choice of lunch and dinners from $15 – $20 TOP (US$6 – 9) each. Vegetarian options are available, plus they always cook a full traditional meal on Sundays.
There isn't really anything else in the way of restaurants on the island, there are little "takeaways" with bready snacks however outside of your accommodation, there is only really cooking.
If you decide to self-cater, firstly, ensure that you have access to a kitchen at your guesthouse. Secondly, it would probably be best to bring ingredients with you from the mainland.
Shops here are much smaller and less equipped than you will find in Tongatapu and there is no fresh market of sorts. We sure did some creative cooking throughout our time in 'Eua!
Money
There is one bank with an attached ATM on the island, located on the main street of the town.
However, the bright green BSP building definitely runs on island time. You can't count on it being open for any regular times but you can count on the staff taking at least a 1.5-hour lunch break in the middle of the day.
TOP TIP: My advice would be to take out sufficient cash on the mainland for your trip. That way if you need a backup, the bank is there, but I probably wouldn't want to rely solely on it.
FAQs About 'Eua Island, Tonga
How long should I spend in 'Eua, Tonga? 
Generally, 3-4 days is enough on 'Eua, unless you want to really explore the national park in detail and hike every single trail. (Which I quite easily could have done.) Enjoy the adventure that finds you on 'Eua. This unassuming place with work its magic 
Was 'Eua affected by the 2022 Tsunami?
Yes, 'Eua was affected by the 15m tsunami waves that were a result of the underwater volcanic eruption in 2022. Some of the island's limited infrastructure was damaged and rebuilding has been slow.
How do you pronounce 'Eua?
'Eua is pronounced like "awa". It really isn't too difficult once you get passed the randomly placed apostrophe before the name.
Where is 'Eua Located?
'Eua, Tonga is located in the South Pacific Ocean, 40km (15 miles) southeast of Tongatapu, Tonga's main island.
Wow, I hope you have as much of an amazing time as I did exploring the forgotten island of 'Eua. Being just that little bit off the beaten path opens the doors to so many more authentic experiences with both the local people and the incredible nature that the island boasts.
Remember that there are limited resources on 'Eua (including hotels and tours), so make sure to book as far in advance as possible to secure your chosen spots.
And to find out all the other juicy tips I have about the rest of the beautiful islands here, check out my complete Tongan Travel guide.
Lastly, be sure to leave me a comment if you found this guide useful, or if you have any further questions, I would be happy to answer them!
Happy Travels, 
Kate
---
Related Posts:
Helpful Resources