How to Get a French Working Holiday Visa, in Australia – FAST!
Unfortunately, there's no express option for processing a French working holiday visa and the overly elaborate process doesn't make it any easier. Alas, follow my steps to get your visa in the most timely fashion.
I got mine in less than a week because I was able to plan ahead and be prepared to achieve the fastest processing time possible!
Quick Summary
At first glance, applying for a working holiday visa (vacances travail) for France seems like a very complicated process. Welcome to France!
In reality, as with many different French democratic processes, obtaining a working holiday visa for France as an Australian is actually quite simple if you follow the steps below.
| | | | |
| --- | --- | --- | --- |
| 📆 Period of Validation: | 1 year | 💲Cost: | €99 |
| 🕓 Processing Time: | 3 days – 2 weeks | 🗣️ Interview: | In-person at Sydney Consulate |
Step 1: Book your appointment!
According to the official websites, this is supposed to be the last step when you're ready to apply however as appointments usually book out a month in advance, book this first!
You'll have plenty of time to organise the rest of the application once you have this deadline. Remember that the only place you can currently apply in Australia is the French consular in Sydney and you must do this in person.
Also, remember that you have to enter France within 3 months of getting your visa.
Booking the appointment is free, so even if you're not 100% sure you'll be going straight away, it's worth booking in and cancelling later if you must.
Step 2: Decide on an entry date & book some accommodation
This can be a bit of a stumbling block for some people as there are no real guidelines for how you are supposed to provide an address if you don't yet have a visa organised to move to a new country.
I booked just one week's worth of refundable accommodation in a hostel in order to have an address for my application.
Once you have this, you can begin your application. After receiving the visa, I immediately cancelled the hostel as I was already working on finding an apartment to rent.
Step 3: Complete your application form online and print your receipt.
For the online form, you will just need the usual details such as passport numbers and contact info, plus your chosen entry day and details of your accommodation in France.
You don't actually have to enter France on the date specified however your accommodation and proof of entry must match it.
Step 4: Finalise your bookings, pay for travel insurance & gather your documents
You will need printouts of the following: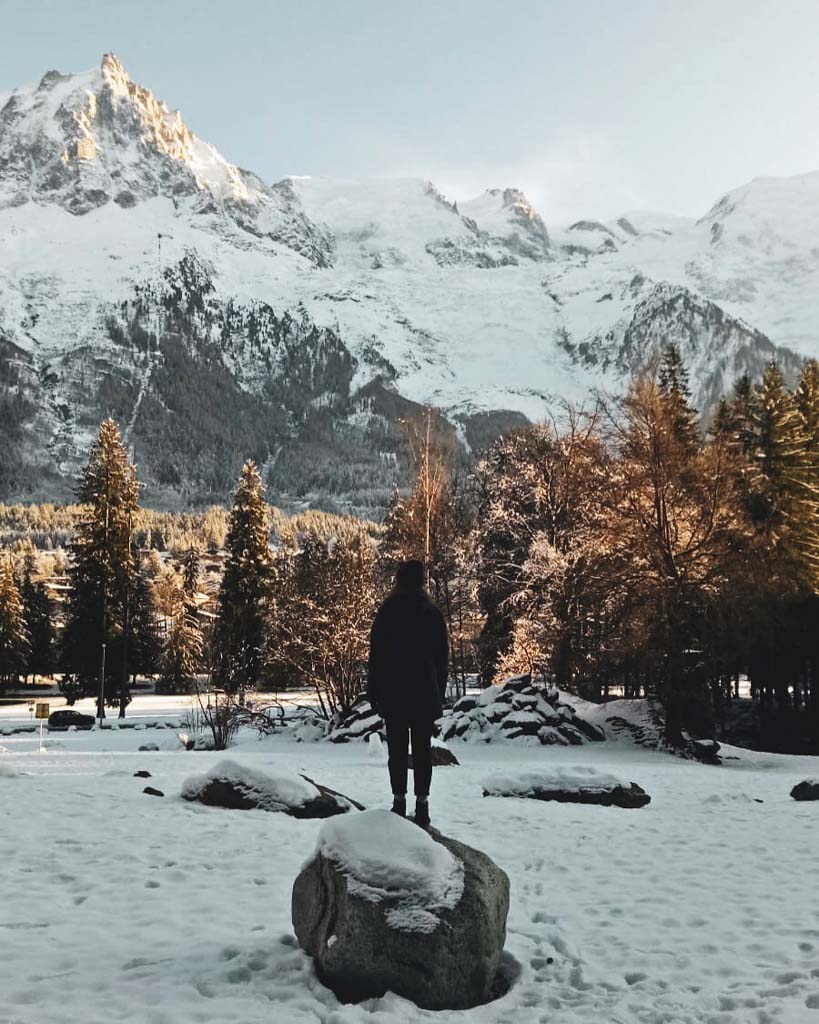 Entry ticket to France across a non-shengan border. This can simply be a bus ticket from London.
Exit ticket OR signed affidavit promising to leave France before the end of your visa.
Federal Police check certificate + photocopy (they will certify it with the original)
1 year of travel insurance coving repatriation and a minimum of $50,000 in hospital fees. (Read Below if you don't intend to stay for the full year)
Last 3 months' bank statements with a balance of $5,000 AUD. Must have your full name printed on it.
Proof of accommodation. (Your booking confirmation will do)
Photocopies of your passport
Passport photo
Pre-paid express, registered mail satchel for returning your passport if you don't intend to pick it up yourself.
The list of requirements mentions a medical certificate "if the bilateral agreement requires it" but nowhere on the Internet tells you if it does or not.
For Australians, you do not need this. If you are an international residing in Australia, you will have to contact your own embassy to find out and also supply proof of legal residency status in Australia.
Travel Insurance
If you don't intend of staying the full year or simply want the option to be more flexible in extending your travel insurance as I did. I recommend Fast Cover!
Their flexible policies allow you to extend your cover whilst already overseas, as well as having a 14-day change of mind window.

This means that after purchasing your policy if you change your mind within 14 days, you are allowed to cancel with a full refund, no questions asked.
For my purposes, I purchased the policy the day before I flew to Sydney for my visa appointment. This meant I had at least 2 weeks for the visa to process and then be able to safely cancel and change my policy to my intended length of 11 months. Use my Fast Cover link for $5 off!
Check out my post on How to Choose the Best Travel Insurance for your Trip!
Step 5: Attend your appointment in Sydney!
Take all your documents, pay the money, have your photo taken and have it all over within 2 mins!
The "interview" is more of a double-check of your documents. They took my application, checked all the information with the documents I provided, stamped all my pages of tickets, insurance and proof as accurate, and told me to wait for the mail!
TIP TIP: If you're in a rush, try telling them you will be leaving Australia on an earlier date.
As my entry ticket was from London on the 18th, the lady asked me when I was actually going to be leaving Australia (ie when I would need my passport back) and when I told her the earlier date, she wrote it in big letters at the top of my application.
I can't guarantee this will work however, the consular representative told me that it shouldn't take longer than two weeks to process.
If you have all your documents in order and manage to book your appointment early, the process is actually a lot more simple than the lack of available information makes it out to be.
How long does a French Visa take to process?
Despite the fact that all my research told me I was in a high-demand period of the year (November), my visa only took 2 days to process + 1 day to receive in interstate mail.
I actually received my passport back in the mail before the online visa process tracking information was even updated with the approval date!

The official website says that receiving a French Working Holiday Visa could take anywhere between 10 days-2 months however I believe this is possibly the very worst-case scenario. The lady who checked all my documents at the French Consulate told me it doesn't take longer than 2 weeks.
FAQs about the French Working Holiday Visa
What are the requirements for getting a working holiday visa for France?
You have a valid passport from a participating country, be between 18-35 years old, and have $5,000 AUD in savings plus travel insurance to cover a 1-year stay
Do Australians need a visa to work in France?
Yes, Australians must hold a valid work permit and Visa to legally work in France.
What jobs can you do on a working holiday visa in France?
You can work nearly any job in France while holding a valid working holiday visa
Does my French working holiday visa need to be activated when I enter the country?
No. You must enter France through a non-shenanigan border so they will inspect your passport, but you do not need to do anything special to activate your visa. It is valid for 1 year from the date specified in your passport.
Pack your bags and go! If you're reading this post, France is probably calling your name right now!
---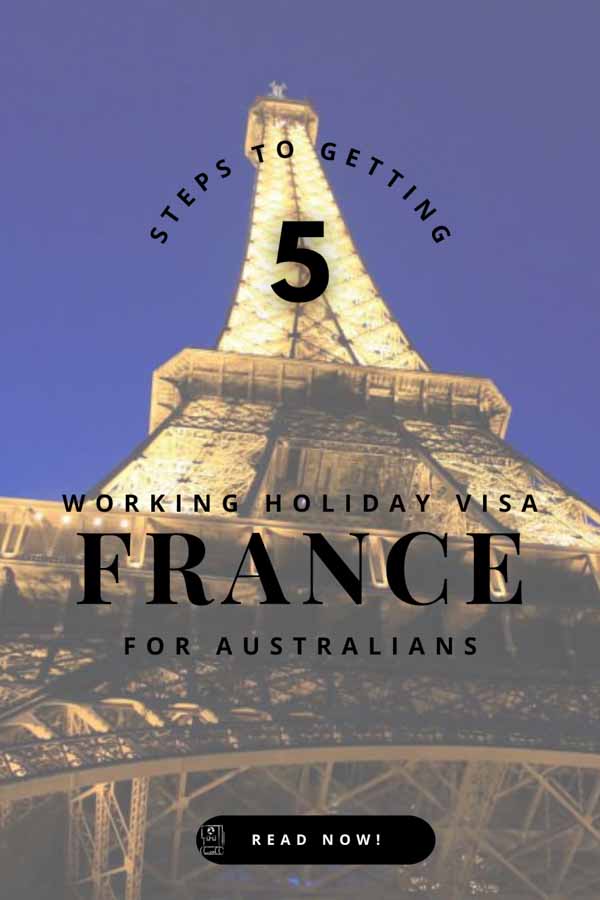 Related Posts:
Helpful Resources
Bags Always Packed is a reader-supported site which means some of the links on this page may be affiliates. I spend a lot of time researching these hotels, tours and products and only recommend those which I would use myself. Booking your trip through my links is a great way for you to support my work for free, as I will earn a small commission at no extra cost to you. ♡