How to Find Cheap Flights – Travel Hacks for Any Destination
The most expensive cost of travelling is generally the flights. Yes, getting to and from your destination is important, but it doesn't have to cost an arm and a leg!
Over the past 6 years, I have developed a foolproof method to help you save money traveling and I'm going to teach you how to find cheap flights to anywhere in the world!
Whether you are heading off for a quick holiday, backpacking Europe or are a long-term traveller, check out these insider tips and tricks to find cheap flights.
Domestic, international or long-haul, I have you covered… Let's go!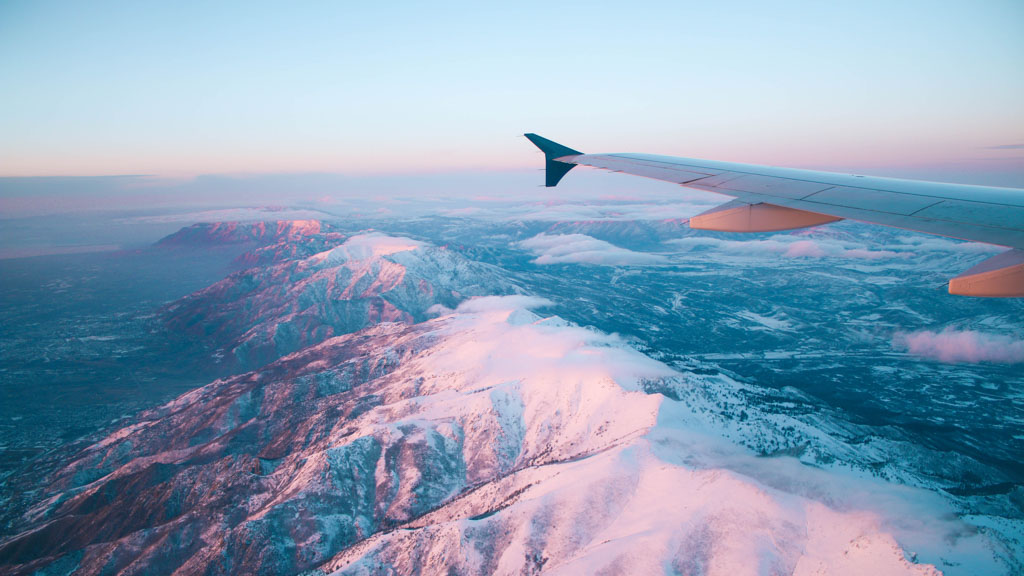 Bags Always Packed is a reader-supported site which means some of the links on this page may be affiliates. I spend a lot of time researching these hotels, tours and products and only recommend those which I would use myself. Booking your trip through my links is a great way for you to support my work for free, as I will earn a small commission at no extra cost to you. ♡
Quick Summary
For anyone who doesn't want to read the whole post, here is a quick rundown of the best tools to help you find the cheapest flights for your destination.
| | | | |
| --- | --- | --- | --- |
| 💲 For the Cheapest Flights: | Skyscanner | 🌎 For Multi-Stop Trips: | Kiwi |
| 📅 When to Book: | Mid Week | ✈️ Top Tip: | Look at all possible routes |
1. Tips for Finding Cheap Flights
Before we dive into my method for finding cheap flights to any destination, here are some general tips and tricks you should consider when beginning your search.
1.1 Be flexible
Flexibility is key if you want to find the absolute cheapest route from one destination to another.
Even if your holiday time is strictly confined to certain time frame, still try to be as flexible as possible.
Be flexible in times, days, dates, months and destinations! Flight prices won't bend for you, so you need to mould your trip around them!
1.2 Avoid Holidays
It's a well-known fact that airlines hike up their prices when it comes time for public and school holidays.
If you can, avoid flying at these times like the plague!
Of course, if you're a teacher or have kids, this might be your only option when it comes to taking a holiday. If this is the case, consider taking a day off to leave for your trip before the rush. Even if you live in a country that fines you for taking your kids out of school, if you are going on an expensive trip like Disney World, it may still be cheaper for you in the end!
Check flight prices for the day before and after school holidays and you will more than likely find prices are significantly reduced.
If taking a whole day off isn't feasible, think about leaving early or simply flying overnight after work, often, even these flights are much cheaper than the beginning of the holidays.
1.3 Fly in the off Season
If you are heading off to begin a multi-month adventure, this is quite easy to facilitate and could save you hundreds!
December and January are undoubtedly the MOST EXPENSIVE months to fly. As most of the world have their holiday periods spread out over these months, try to already be at your destination before the month of December.
If you travel like me, I generally have one or two expensive long-haul flights to cover each trip, no matter the duration. These flights can be expensive, but can also be where you save the most money.
As there is a lot of demand for both summer and winter travel, try setting off for your trip in spring or autumn. Flight prices in off-seasons will be dramatically more affordable, there are fewer tourists and still thousands of things to enjoy!
1.4 Book Mid Week
When you ask anyone how to find cheap flights, it's commonly said that booking your flights during the week is cheaper. This is because it's rumoured that airlines often release their sales on Tuesdays and Wednesdays and you have to be quick when there is a limited number of seats!
Although this doesn't always apply, it's always worth checking all of your options!
Whilst a lot of the time it is cheaper to book flights on Tuesdays/Wednesdays, when most people are at work and demand is low, you should still search on other days to compare and watch for trends.
And in terms of what day you should actually fly, there's a common myth that it's always cheapest to fly on weekdays. While this is common, it's not always true.
If you are flying one of the highly trafficked routes as we will discuss later on, you may find more options and thus more competition on weekends, thus cheaper prices.
1.5 Watch Flight Trends
Watching flight prices over multiple days and weeks is a secret that many people overlook! When I say "watch" flight prices, I mean manually searching the different flight options you are considering each day.
Don't rely solely on price alerts sent out by search engines.
Don't ask me why, but airlines and third-party websites often fluctuate their prices for the exact same flights, not only week to week but also, day to day!
If you can, start doing your flight research for long-distance flights at least a few weeks before you wish to book them.
When I was in Ghana, as I had to book an exit flight to be granted my visa, I partially pre-booked my flights home but still had to purchase the last leg of my flight, Malaysia-Melbourne.
Whilst enjoying the last country of my (first) gap year, I noticed a huge discrepancy in prices and found a pattern. For the same flight, I saw that when I searched on Tuesdays and Thursdays the flight was around $250, the rest of the week, it skyrocketed to over $600. This was for the exact same flight, on the same date, time and airline.
This pattern continued almost to the hour over the next 3 weeks and I was able to use it to my advantage by eventually booking when prices were low and then watched the price rise again soon after.
This isn't to say that it's always Tuesdays and Thursdays but try and check prices consistently to see if there is a pattern you can use to your advantage.
1.6. Don't Leave it Too Late
When to actually press purchase and buy your ticket can be a gamble. Most people think that the further in advance you purchase your tickets the cheaper they are. This is not true.
Generally, flights are released around 8 months in advance, and they are usually released at an average or even high price, which is then altered in the lead-up to the flight.
Yes, it can pay to start researching early, but a major part of how to find cheap flights is not to get too impulsive!
Once you have a general idea of the normal flight prices for your route, keep your eye out for deals. If the flight you want is suddenly a few hundred dollars cheaper than normal, or you see a special offer, for sure, jump on that money saver!
But, if you've been watching prices for months and they haven't fluctuated too much, don't leave it too late. The cheapest time to buy flights (disregarding sales) is normally 1 month – 2 weeks before your trip.
After the 1-month mark, prices don't generally go down dramatically, and almost always start climbing after the 2-week mark.
The exception to this is peak holiday periods. When flights are in high demand such as Christmas, New Year and summer holidays, prices will go up as they get closer. So if you're planning to fly at these times, look at booking these as soon as you find a relatively acceptable price point as they rarely go on sale.
1.7 Booking Cheap Flights Through Third-Party Booking Websites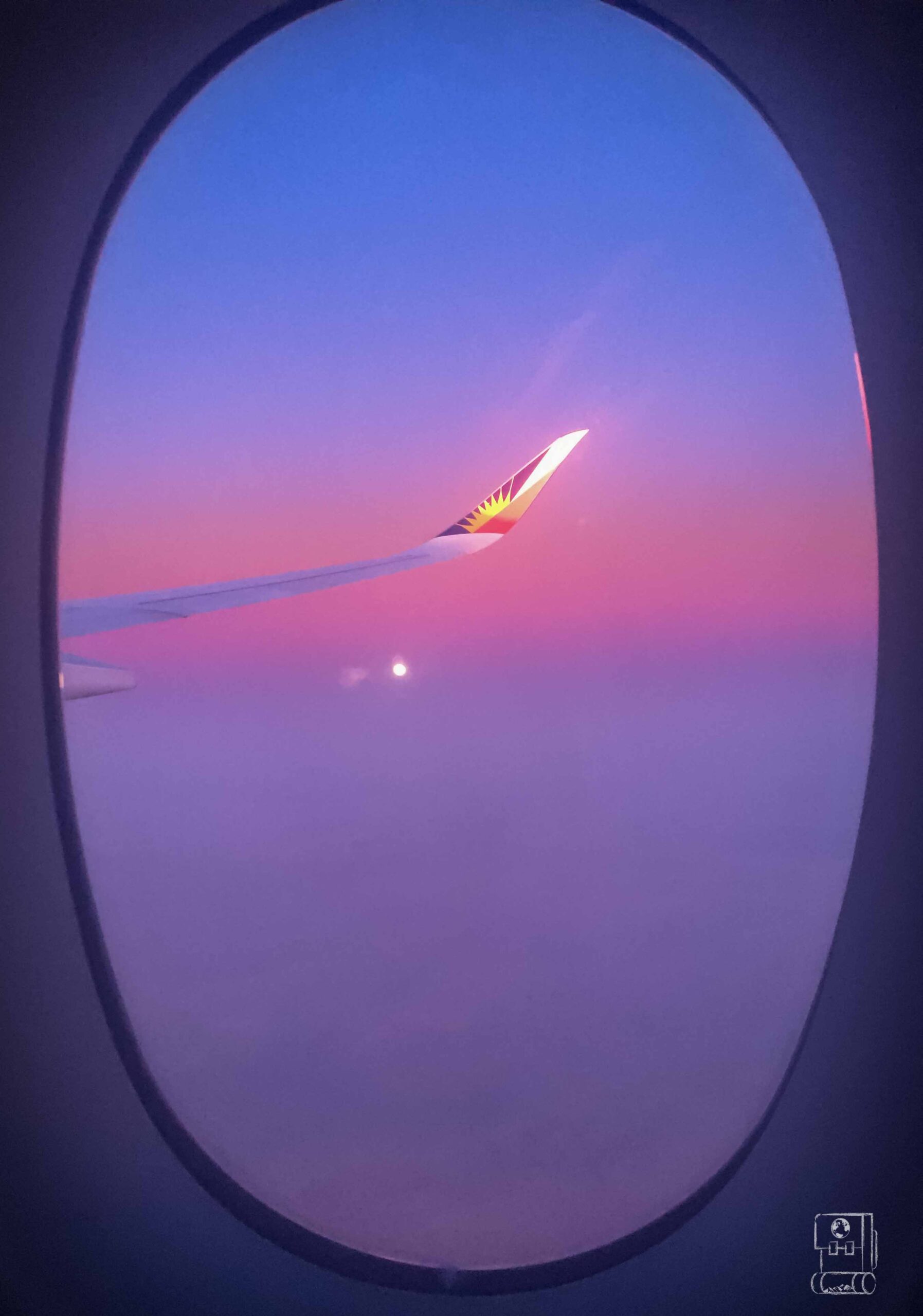 Booking through third-party websites is a highly debated topic in the travel world BUT they can save you a lot of money in the long run!

Whether you use them or not is all down to personal preference but it's always a good idea to check and see if it could be worth it.
If the price difference is minimal, I always try to book through the airline website themselves, this way if you need to make changes at all, it will be much easier to deal directly with the airline.
For me, I book a lot of flights quite last minute (the closest call being at the airport 2 hours before departure) with a very low chance of needing to make changes so I often have no problem using 3rd parties.
Most of the time, issues with tickets bought through these websites only arise if you want to cancel or change them. If you're booking just a few weeks in advance and aren't likely to change anything in the meantime, go for it and save that cash!
Before booking through a third-party website, here are some things to check:
Check the ticket's terms and conditions
Find out if you have the ability for cancellations or changes and the charges associated with this
See if baggage is included and if it's sufficient. If you will be charged extra for this, sometimes it's cheaper to go direct.
Make sure food and entertainment are included if this is important to you.
TOP TIP: Mostly, after purchasing from a 3rd party, it will take around 24 hours to be issued with your ticket number. After receiving this, you can log usually into the official website using this number or call customer service to add extras such as baggage.
NOTE: On the rare occasion, 3rd party website tickets may literally be "bare bones", meaning if you need checked luggage, it's not even available for purchase without a ticket upgrade. Again, if you're certain you won't need any extras, these tickets are great money-saving options but can catch you out if you aren't aware of the inability to add luggage for example.
2. How to Research and Find Cheap Flights
If you want to find cheap flights and book the absolute best flights possible, you can't rely on just one source. You need to compare a number of different websites, destinations, dates and times. As well as this, give yourself time to find the best ones.
Luckily for you, over the years I have narrowed down the steps and have developed a handy procedure to find the best flights, every time!
2.1 Broad Search with Kiwi.com
My first step is to head to Kiwi.com and conduct a broad search. My favourite thing about Kiwi is how it lets you search to and from multiple locations at the same time.
Rather than having to spend time conducting multiple different flight combinations search, simply pop in the desired city, region, country or continent and let Kiwi do the work!
If there are extra airports nearby, a "tip" will pop up below the search bar, suggesting which airports to add.
Set your departure dates. Choose "anytime" if you are flexible, or type in a month or date range if restricted by holidays.
Order the results by "cheapest" and choose the destination. Add any filters which are important to you on the left-hand side, such as countries to avoid, carriers, times etc.
If you entered "anytime" as the departure date, this page will show you the cheapest flights between locations for the next year.
Next, click on the departure date box to see prices by day and month to narrow down to the cheapest months to fly, within your personal circumstances.
Before leaving Kiwi, check out alternative transport options. This is another thing unique to the site which is a super handy feature….
2.2 Consider Alternative Transport to Cheap Flights
If you are heading somewhere without an airport or flying to or from a location with multiple airports within a reasonable vicinity (like Europe) consider flying into the cheapest airport, and then travelling overland.
Kiwi can even do the searching for this too! I use Kiwi to easily find out which connections are available, checking if they will save me money whilst I decide on my flights. But after I have found a good route, I generally use BusBud or Flixbus to book my bus tickets as they provide more accurate times.
For example, if I wanted to fly from Melbourne to Paris next week, my cheapest option would be to fly to Germany, and then take 2 buses to Paris.
Now you have found the cheapest airport to fly into will be Munich (in this example). Search for flights only, from Melbourne to Munich and select the cheapest dates and choose a flight!
If you're happy with your flights and prices, congratulations, feel free to stop here!
Kiwi does an amazing job of scouring the internet to find the best prices and transport combination options. But if you are like me and always want a second option, head over to Skyscanner and keep reading…
2.3 Search with Skyscanner
After I have found the cheapest locations to fly between, taking into consideration overland connection options, I head to Skyscanner.
Now that you've done all the hard research and you're an expert on how to find cheap flights using Kiwi, simply search for the flight you want on Sky Scanner.
Here, we are trying to find the cheapest date and booking website to purchase your flight.
Skyscanner allows you to search for a specific date or month, as well as searching for the cheapest month overall. If you don't have specific dates already, you probably have an idea of what month you would like to fly, so select this.
This will bring you to a price overview for the month you chose. Although these prices are a great guideline, they aren't 100% accurate so find the cheapest date for a flight that suits you and view your options by clicking "show flights".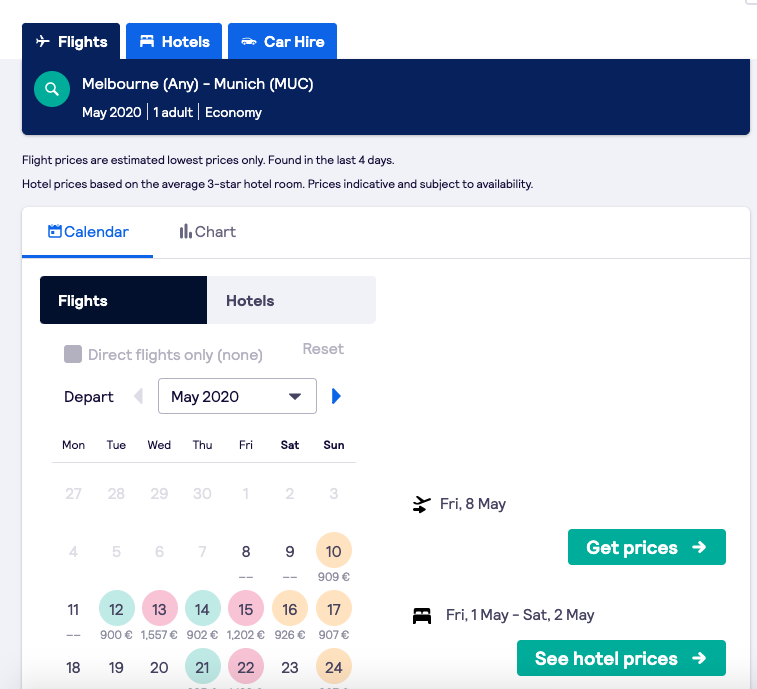 One of the best features that Skyscanner uses to help you get the cheapest fare, is its automatic tips.
If you search for a specific date, but departing a day earlier/later or from a different airport is significantly cheaper, it will let you know you!
2.4 Compare, Compare, Compare
Continuing to use the example above, I want to fly from Melbourne to Paris but have discovered that it's cheaper to fly into Munich then take a bus if I want to travel this month.
Sky Scanner has helped me find the cheapest date to travel is Sunday the 31st but I want to do one final comparison.
Head back to Kiwi and check flight prices for the same locations and dates to find the absolute cheapest.
As you can see below, the exact same flight combination from our example is €32 cheaper through a sky scanner search.
The reason you should research and compare both for your specific date is that one is not always cheaper than the other. I use both Kiwi and Skyscanner to book my flights depending on which one has lower prices on the day I book.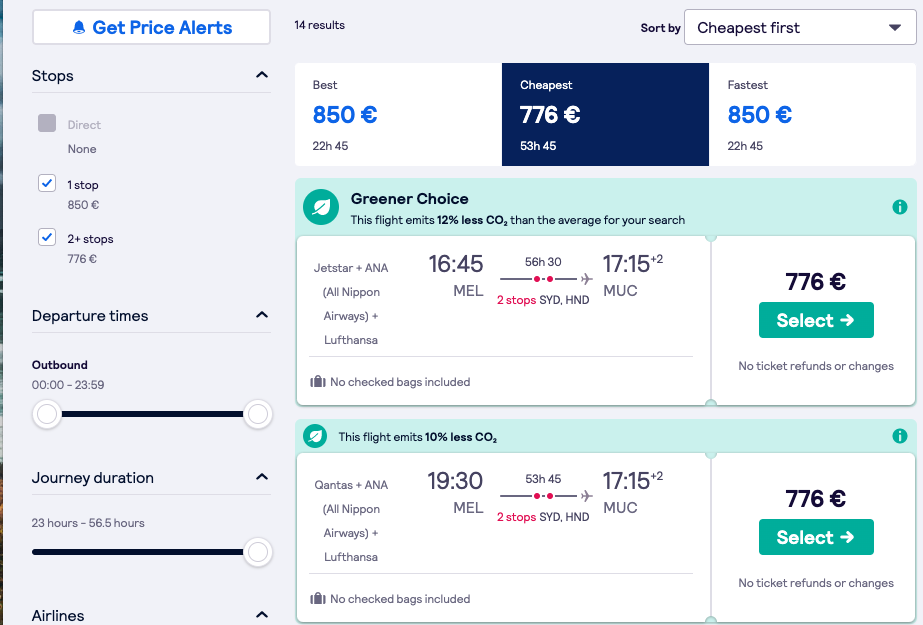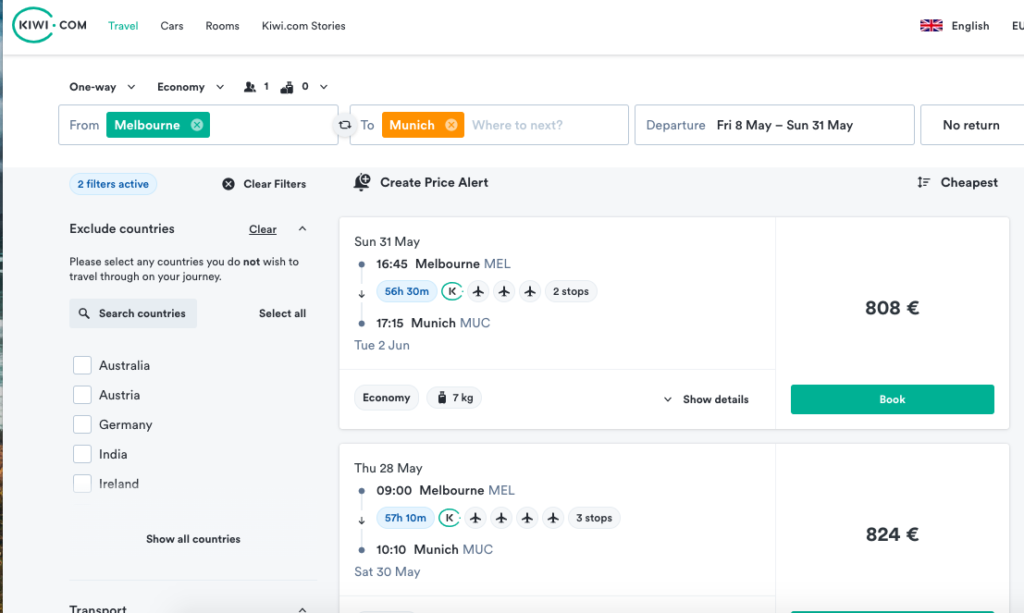 3. Using Travel Agents for Cheap Flights
Although travel agents are great for saving you the effort of doing the steps above yourself, they rarely actually save you much money.
I almost never purchase flights through travel agents as I am fully comfortable finding the best deals and cheapest options myself, as well as dealing with any issues which may arise during my trip.
The exception for this is when specific travel agents are having a sale on the flights I want.
As well as searching flights on Sky Scanner and Kiwi, I occasionally do a quick flight comparison on larger travel agency websites. Most of the time, I find the flights are considerably more expensive here but sometimes, I spot a deal!
When travelling to Pakistan, I found the flights I wanted through Kiwi.com, but with a self-transfer layover. Whilst normally this is fine for me, I wanted to be able to head out into Abu Dhabi during my 12-hour layover, leaving my checked bags in transit.
If I booked directly through the airline's website, my only option which included the long layover was to self-transfer, meaning I would have to collect my checked luggage and take it with me for the day. After searching Flight Centre, I managed to find the same price for fully connecting flights with a long lay over and checked bags!
Similarly, when flying Melbourne-London in the peak season (December), I managed to find a sale on the STA Travel website by chance and saved at least $200.
Travel agent sites are some of the only websites not searched via travel search engines such as sky scanner and kiwi, so although I don't watch these flights often, I always do a quick check when it comes close to booking to make sure I don't miss out!
4. How to Find Cheap Flights for Long-Term Travel
Regardless of if you are heading off to explore one continent or multiple, you want to fly on the most highly trafficked route.
High traffic = lots of competition and lower prices.
To take an example from my own travels, when I want to spend a few months exploring Europe, most of the time, the cheapest flights from Australia will be to London.
As Heathrow Airport is an international hub, this is the most frequented flight route from Australia to Europe. This means there are multiple airlines flying the same route and with high competition come lower prices.
Even if I don't particularly wish to visit London on that trip, I can then book ongoing travel overland (train/bus) or on a local budget airline to where I would like to visit.
Similarly, if I was flying into North America, I would look into flying to LAX, South America I would search for Santiago or Buenos Aires, and in Asia; Honk Kong, Malaysia or Singapore.
The same concept applies to anywhere you are flying from, try and fly between international hubs as much as possible.
This isn't to say you shouldn't also check other countries prices, you may find a lucky deal or a smaller margin of difference.
4.1 Don't Book "Around the World" Fares
Whilst these look attractive in the beginning, they are super restrictive and often cost you way more than sourcing flights yourself!
Depending on the company you use to book, you will be restricted by the number of destinations, continents and directions, not to mention airlines.
When on long term travel, plans change frequently… it's nearly impossible to have this much planed to the T before departure.
My advice is always not to over-plan, but if you are someone who likes guidelines, you can always choose some framework flights to purchase before your departure. Using the tips in this article, you will probably end up saving yourself thousands!
If you are setting off on your trip of a lifetime, anywhere from a few months to a few years, you will be looking at buying 1 or 2 extra-long haul flights depending on where you're from and your travel style.
How to Find Cheap Flights for Multiple Continents
Following on from my advice above, when you are planning a longer trip across multiple continents, you want to avoid crossing back on yourself as much as possible.
An efficient trip makes a cheap trip.
Decide on your direction of travel, do you want to travel away from your home and take one long flight back at the end? Or, would you prefer to begin with a long flight to a faraway land, and travel back towards home?
Either direction you choose, it's most important to have a direction if you want to be cost effective.
When choosing your route, you don't have to have it all figured out from the beginning, but try and make your long flight to or from a larger international hub as mentioned before. This is one of my biggest tips for how to find cheap flights when you are crossing a large distance.
To take another example of my travels, a couple of years ago I set off on a trip that took me from Australia, through the Pacific Islands, across Asia and ended in Europe.
When I headed off, I didn't know if my trip would end in Europe or North America, but either way, my direction was north and ultimately to end up in one of these highly popular continents.
I knew I wanted to visit some Pacific Island nations and so it made sense for me to travel away from home and vaguely north.
4.2 Sign Up for Domestic Airline Email Alerts
Once you have your long-haul international flights booked, sign up for budget airline email newsletters for the continents you will be travelling. This is particularly helpful when you want to cover a large distance across a continent.
Always be on the alert for sales and special offers, and be ready to pounce!
I did this when traveling through Patagonia in South America. As I spent a few months covering all the interesting places in both Chile and Argentina whilst I zig-zagged my way down the continent, I knew I would prefer to fly, rather than backtrack across land once I was ready to head north.
Within a few weeks of following Sky Airlines, I jumped on an Easter sale and got a flight for less than the 35-hour bus ride would have cost me!
Keep an eye on these budget airlines:
Frequently Asked Questions about How to Find Cheap Flights
Which website is best for finding cheap flights?
Kiwi and Skyscanner are the two best websites to find and compare prices for cheap flights.
What day should I book my flights for the best deals?
Booking mid week flights is often the cheapest prices you will find, but also when searching for tickets, the best deals tend to pop up on Tuesdays and Wednesdays.
How do I find cheap international flights?
To find cheap international flights, be flexible with the dates you fly and also the destination. Try to choose high-traffic routes, even if it's not direct to your chosen destination. You can always take overland transport to get there.
What's the best way to get cheap last minuite flight tickets?
To get cheap last-minute flights, compare all the different available flights, and book through 3rd party websites as there's a minimal chance you will need to change dates which is usually where the problems arise.
Helpful Resources