Postavarul Peak – Tampa Mountain, Brasov Hike
One of the first things you see when you arrive in Brasov is the "Hollywood" like sign, looming over everything below from Tampa Mountain. If you're anything like me, you will want to get to that sign, ASAP.
Luckily for us, some smart humans created not one but 2 hiking trails AND a cable car to easily whisk us up the mountain in a matter of minutes.
If you know me, you'll know that I always want more when it comes to both travel and hiking. Because of this, I discovered another, lesser-known hike that can turn your morning walk up Tampa mountain into a whole day affair!
Starting at a nearby mountain called Poiana Brasov, you will walk via the incredible views from Postavarul Peak before returning to Brasov via Tampa Mountain.
In this post, I will give you all the info you need to get to the top of Tampa Mountain, no matter which option you choose. If you're interested in experiencing the incredible views from the Brasov sign, as well as the neighbouring peak of Postavarul, why not make a day of it and complete them both in one loop?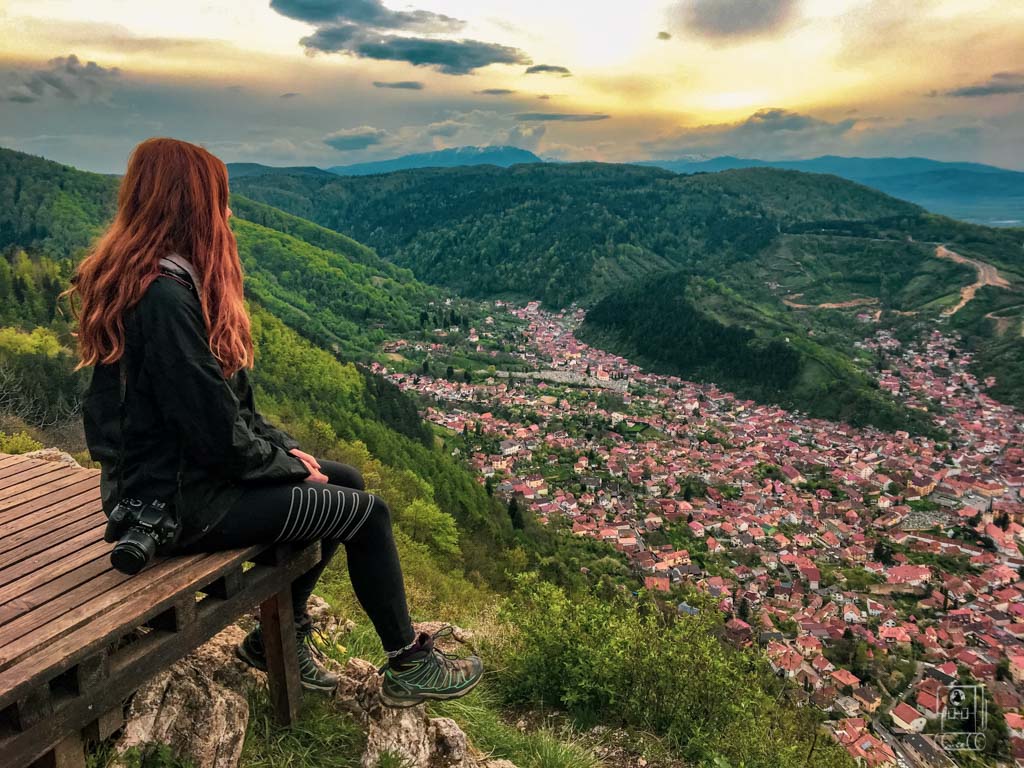 Bags Always Packed is a reader-supported site which means some of the links on this page may be affiliates. I spend a lot of time researching these hotels, tours and products and only recommend those which I would use myself. Booking your trip through my links is a great way for you to support my work for free, as I will earn a small commission at no extra cost to you. ♡
Quick Summary
There are a few different routes you can take to get to the Brasov sign on Mt Tampa.
For those who want a direct way up to simply snap a picture with little effort, take the Tampa Cable Car straight to the top.
If you want a simple (but steep hike) choose either Serpentine Road or Gabony's Steps from town. But if you want to turn your hike into a full loop, start from Postavarul Peak!
| | | | |
| --- | --- | --- | --- |
| 🚡 Cable Car: | Tampa Cable Car | 🏃‍♀️Quickest Hiking Route: | Gabony's Steps |
| 🥾 Easiest Hiking Route: | Serpentine Road | ⛰️ Full-Day Trip: | Postavarul Peak – Mt Tampa Loop |
1. Tampa Mountain Hike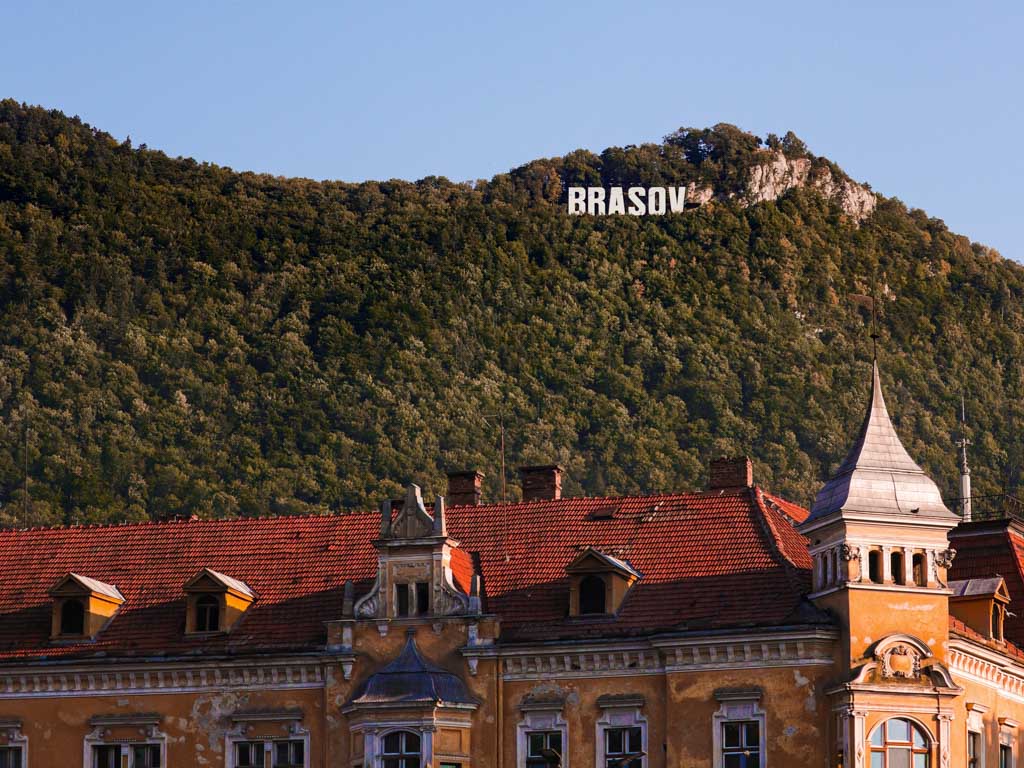 One of the things that make Tampa Mountain so popular is the fact that it is so accessible. The hike starts just 5 minutes from the centre of Brasov and takes less than 1 hour to ascend on foot.
If it's a nice day I highly recommend walking the winding track up Mount Tampa as not only will it get your lungs working, you will be treated to beautiful views of the old, red roofs of the town below, periodically peeking through the trees of the thick forest. Plus, it's free!
From the town, there are two paths that lead up the hill. The Serpentine Road trail is slightly easier than Gabony's Steps which is slightly steeper and a little un-kept, but overall a little quicker. Pick whichever one suits you!
TOP TIP: When you get to the famous Brasov sign, don't make the common mistake of stopping! Continue walking up the path to find the upper viewpoint. This small platform which sits above the sign offers an incredible view over the city and is the perfect spot to watch the sunset! (Just remember a torch for your decent).
2. Tampa Cable Car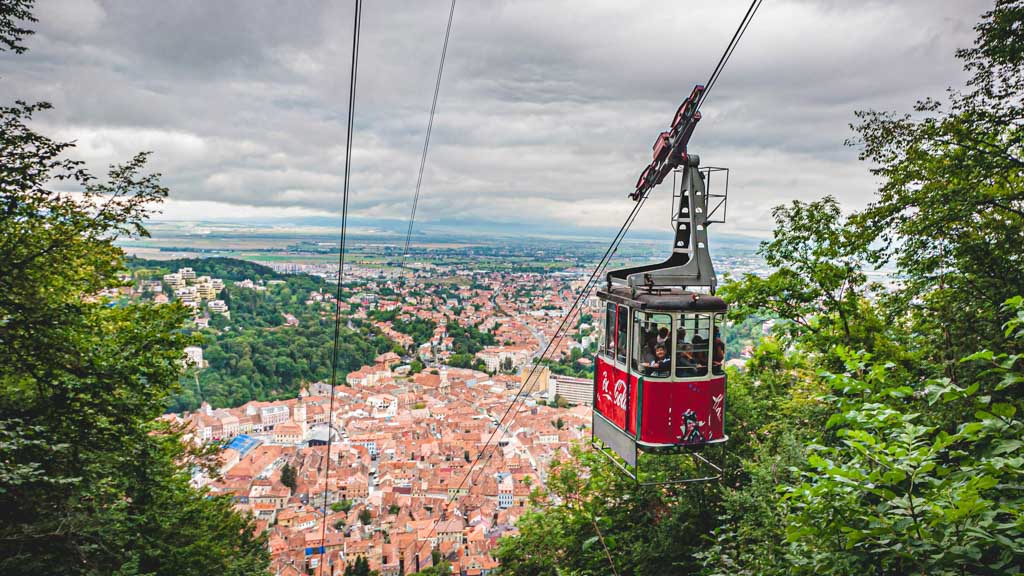 The second option for reaching the top of Mount Tampa is to take the old Gondola. The Tampa Cable Car was actually the first modern cable car in Romania. Although it is old (built in 1971), it's still going strong!
This is also a great option if you want to hike just one way or are short on time. The Tampa cable car tickets cost just 10 lei (€2.50) one way or 18 lei (€3.70) for a return ticket and takes a matter of minutes to reach the top.
From the gondola, there are well-maintained paths that lead around the various viewpoints surrounding the sign but as I mentioned before, the path leading to the upper platform is a little more typical Romania, an un-official looking dirt trail.
Tampa Cable Car Opening Hours
The open hours for Tampa Cable Car can change quite frequently and sometimes depend on the weather but generally speaking, the gondola is open Tuesday-Sunday, 9:30 am – 5 pm (Closed on Mondays).
When you arrive in Brasov, it's a good idea to double-check when it is open at the base of the cable car station as there is a printed timetable posted in the window.
TIP: Visit during the week and stay for sunset for incredible views over the city and fewer crowds
3. Postavarul Peak to Tampa Mountain Loop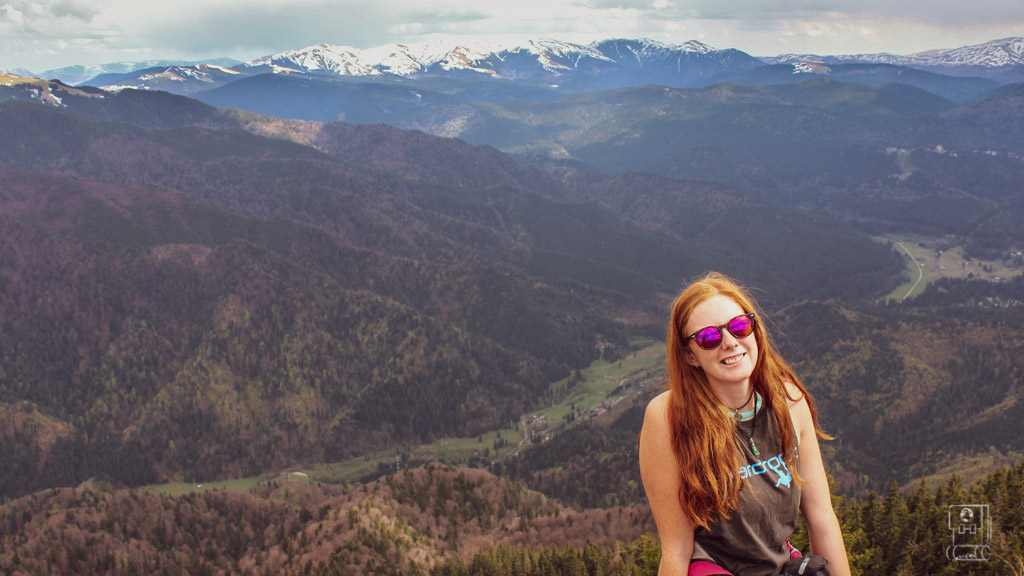 If you're looking for something related to the Tampa Mountain hike but is a little more adventurous or just a way to fill your whole glorious day, why not extend your Tampa hike to the neighboring mountains of Postavaru?
This hike is a little lesser known than the Tampa cable car which means you will find way fewer crowds here. If you want to explore even further into the Romanian Carpathians, jump on this full-day hike with a professional mountain guide.
Postavarul Peak is part of the Carpathians mountains and gives you even more incredible views of its surrounding summits. I actually think this view is even better than the one from the top of Mount Brasov!
This is an easy hiking loop that you could complete in either direction, but since we will rely on public transport to reach the start, (unless you happen to have a way to shuttle your car back) I recommend ending in Brasov. Keep reading to learn all my tips for this off-the-beaten-path hike!
Which direction should you hike?
As this is a loop, there are 2 directions in which you could walk. We chose the easier option and I highly recommend it.
The steepest section of this hike is by far, the path between Brasov town and its sign, high on the hill.
We walked down this section as we didn't want to take the extra time that would need to be added if we were to walk up this section.
The other advantage of completing the loop this way (Postavaru Peak first), is that you have the option of taking the ski resort gondola up the mountain, to cut out a section of the less interesting uphill part.
Lastly, if you are taking public transport to reach the starting point, by doing it in this direction you will use it in the morning and then can walk back at your own pace without worrying about missing a bus.
If you have bad knees and struggle with downhill more than up, I would highly recommend that you reverse this loop. This means you would be hiking up the steepest part as well as up the ski slopes but would afford you the luxury of taking the gondola down the mountain, saving your knees from the unrelentingly long downhill slog.
3.1 Getting to Poiana Brasov Ski Resort (the Start of the Hike)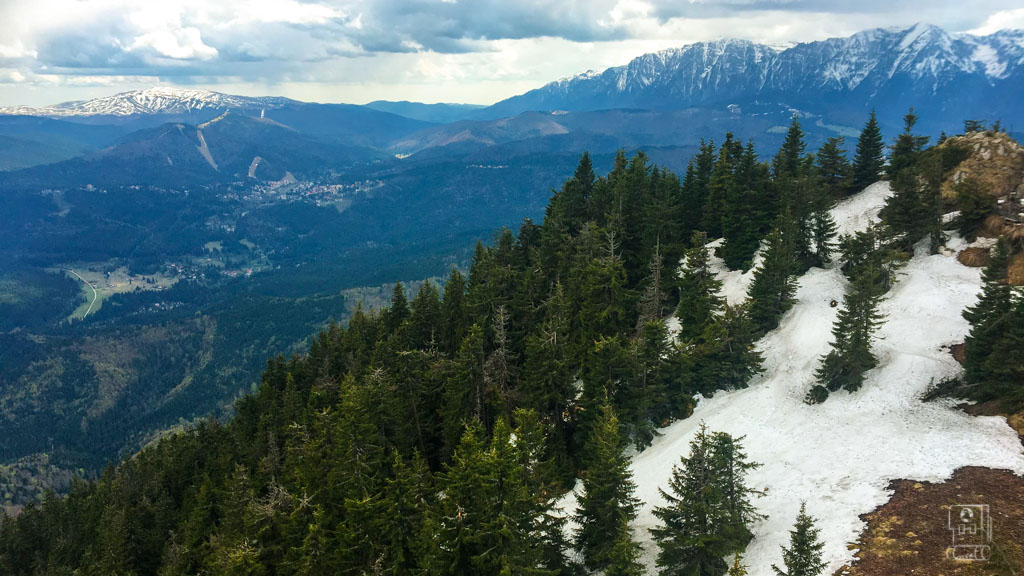 As I mentioned previously, you will need to travel on public transport or organize a shuttle to get to the start of this hike in a neighbouring town. Don't worry, public transport is really easy to understand here and it's only one bus (no need to change lines).
Take a bus from Brasov to the ski town of Poiana Brasov. In peak seasons, the Poiana Express (line 100) leaves from the Brasov train station at 10.05, 11.20, 12.05, 15.35, 16.20, and 17.00 and costs 5 Lei/€1.05
If you are travelling in Spring/Autumn when the express bus isn't running, take line 20 from Livada Postei (Brasov City Centre). This ride will also cost 5 RON / €1.05 and comes quite frequently.
TOP TIP: Make sure to buy your ticket from a kiosk beforehand and validate it onboard.
3.2 Reaching Postavaru Peak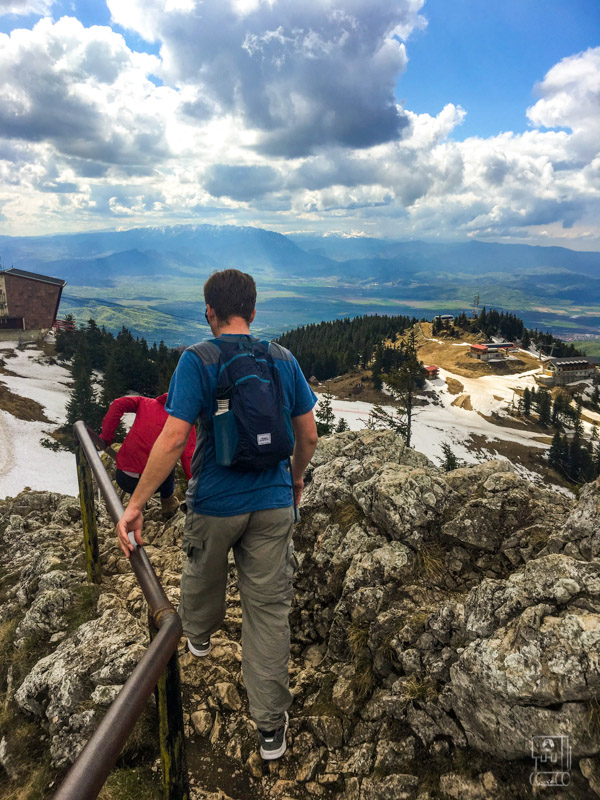 Once you have arrived at Poiana Brasov ski resort, the lift station you want to reach is called Capra Neagra. This is where the hike starts.
Take note that Capra Neagra Cable Car is not the one you see when you get off the bus.
You can choose to follow the path up the mountain, below the gondola. Or to skip this section and take in the epic views from the gondola to the upper part of Postavaru.
I chose to take the gondola in this instance since I've hiked up a lot of ski resorts in my time and to me, this wasn't the most interesting part of the hike.
If you choose to walk, hiking to the top from the village will take 1.5 – 2 hours. But if you choose the gondola, don't worry you've still got the hike back to the city to go!
Check out this video to get a feel for these dramatic mountains!
Gondola Postavaru
As I said above, the Cable Car you want is not the one you see when you get off the bus. So don't be dismayed when this one isn't running.
Facing the slopes you need to head to the right to get to the gondola. If you are already at the base of the first lift there is a small path through the woods which leads to the gondola, if not, simply follow the road around.
The Capra Neagra cable car will take you nearly all the way to the top of Postavaru Peak. After a short 400m hike including a little scrambling on a well-marked path, you will be rewarded with an incredible view from the valley, all the way to the peaks of the surrounding mountain ranges.
The gondola to Postavaru will cost 25 Lei / €5.20 for one trip and you can search for opening times and dates here.
3.3 Hiking to Brasov (Via Mt Tampa)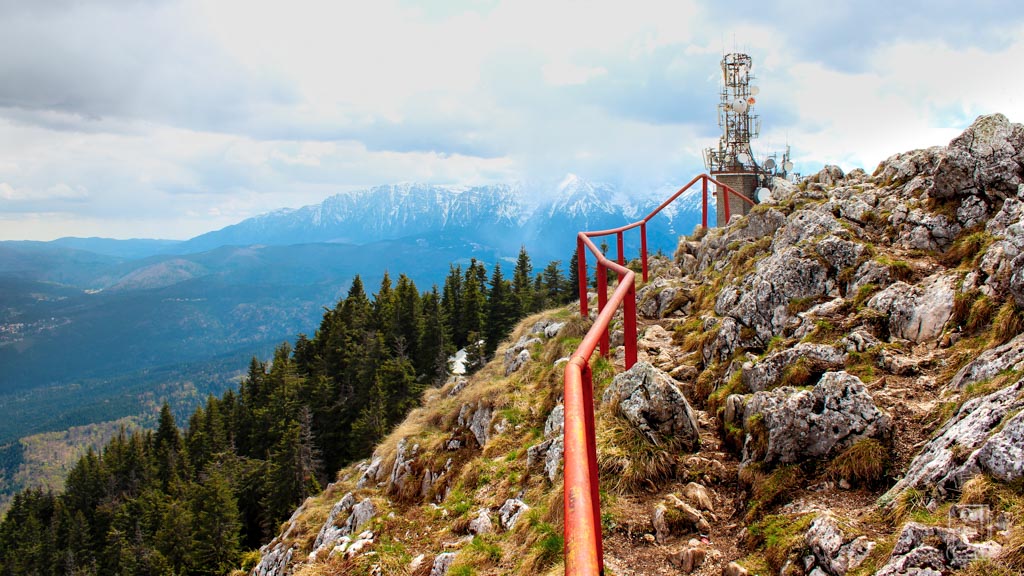 To begin the proper part of your hike, begin walking back down the slopes towards Poiana Brasov until you reach the lake. Here, the ski slopes split, take the blue slope to the right called Sulinar.
Continue to follow the Blue stripe markings on trees as the path splits off, and becomes a narrow hiking/mountain biking trail through the woods.
Crucurul Mare
You may see Crucurul Mare on signs and at points on the map but don't be fooled, Crucurul Mare is not a peak with a view, simply a forested hill, that you will pass over as you follow the trail.
We did not know this when we began our hike and were eagerly awaiting another epic view from an impressive mountaintop.
Needless to say, we were rather confused when our GPS showed we had passed by Crucurul Mare without noticing!
3.4 Mt Tampa (The Brasov Sign)
Hiking from Postavaru Peak to the Brasov sign on Mt Tampa takes 3.5 – 4 hours and although there are quite a lot of ups and downs, this section of the loop isn't too difficult overall.
Just before reaching the top of Mt Tampa, you will arrive at a green picnic area called Saua Tampei Saddle.
Congratulations, you're nearly there! Take any of the muddy paths up the last hill (~20 minutes) to appreciate the panoramic view of Brasov from the top!
Continue to follow the well-worn paths over the top, to the Brasov sign viewpoint. This is one of the best places to watch the sunset if you're happy to brave the descent in the dark.
3.5 Descending to Brasov
Heading back down to town takes around 1 hour via either of the two route options.
Choose either the Serpentine Road (easier) or Gabony's Steps (steeper/ unkept) to descend. Both end in the town of Brasov where you can easily walk back to your accommodation.
We chose Gabony's steps simply because the trail ended quite close to our hostel.
If you've got bad knees or don't quite feel like walking an hour straight downhill, you can always take the Tampa cable car for 10 Lei/ € 2.10. If you are relying on this for your descent, remember to check the operating times for the cable car, the last ride is at 5 pm.
---
Hiking Postavaru – Mount Tampa in Spring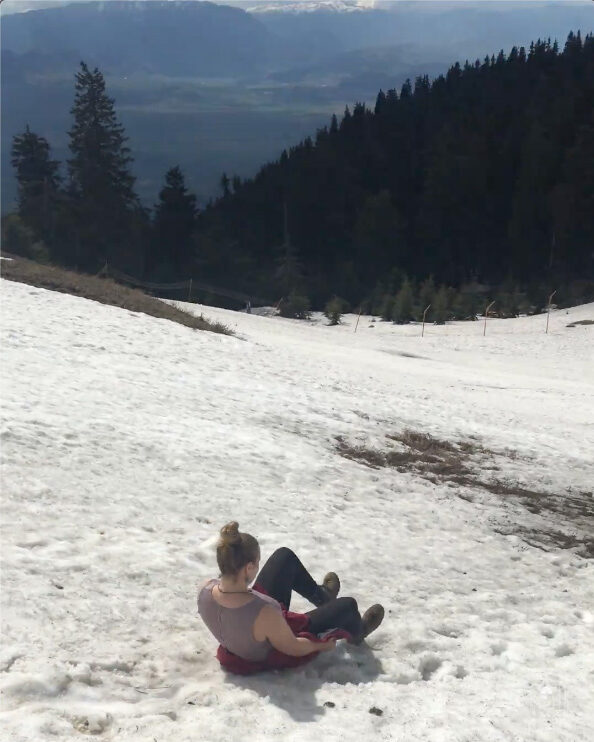 I did this hike at the end of April. Although the weather was quite stormy and unpredictable, the trail itself was great!
Patchy snow remained on the slopes of the ski resort however, there was only a relatively short descent by foot on the snowy slopes.
We actually chose to slide sections on our jackets!
After this, our hike took us into the sheltered woods where next to no snow remained. Tampa peak is sun-facing, thus snow is not an issue in spring.
Be wary that the tracks can be quite muddy due to all the rain in spring so good footwear is essential and take particular care on the steep descent to Brasov.
If you want to complete this hike in winter or at the beginning of spring / late autumn, I suggest taking a mountain guide or trying snowshoeing! (Snowshoeing is super fun, I promise!)
---
Where to Stay Near Mount Tampa In Brasov
If you're looking for a place to stay in a good location, here are my top recommended hotel and hostel options for your stay.
Each one has great reviews and I've found you the best options for all budgets and is close to the start of the hiking trails.
Frequently Asked Questions about the Tampa Mountain Brasov Hike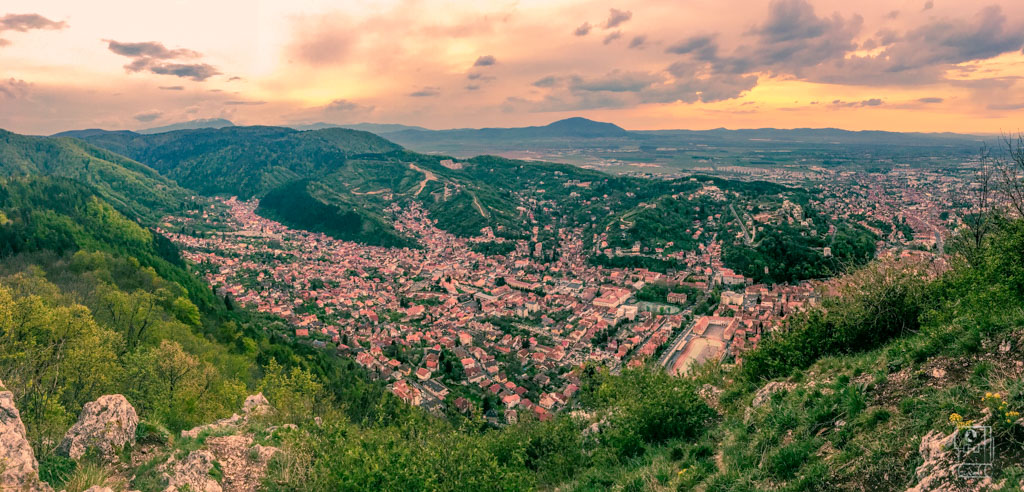 How difficult is the Tampa Mountain Brasov hike?
The hike up Tampa Mountain to Brasov is moderately difficult. While it is a steep ascent and the path could be better maintained, the hike is doable for anyone of normal fitness levels.
What distance is the hike to the Brasov Sign on Tampa Mountain, Romania?
The hiking distance from Brasov town to the Brasov Sign on Mount Tampa is 2.7 km (1.7 miles) and takes around 1 hour to hike.
How high is the Brasov sign in Romania?
The Brasov Sign sits at 960m (3,150ft) which is 422m above the city of Brasov which sits at 538m above sea level.
Can you take a cable car to reach the Hollywood sign in Brasov?
Yes! The Tampa cable car is open 9:30 am-5 pm, Tuesday to Sunday (closed on Mondays), and costs just a few dollars for a return ticket. From the top, it's a short walk to the sign.
---
So there you have it, a few different options to hike to the Brasov sign on Tampa Mountain plus so extra hikes to keep you busy whilst visiting Romania.
If you're looking for somewhere to stay, make sure not to miss my quick hotel guide above to find the best places to stay in Brasov for every budget.
I hope my post helped you get the most out of your day hiking. Leave me a comment if you have visited Brasov and let me know which of the peaks I've talked about was your favourite view. I'd love to know!
Have an amazing time visiting Brasov and hiking Mount Tampa!
Kate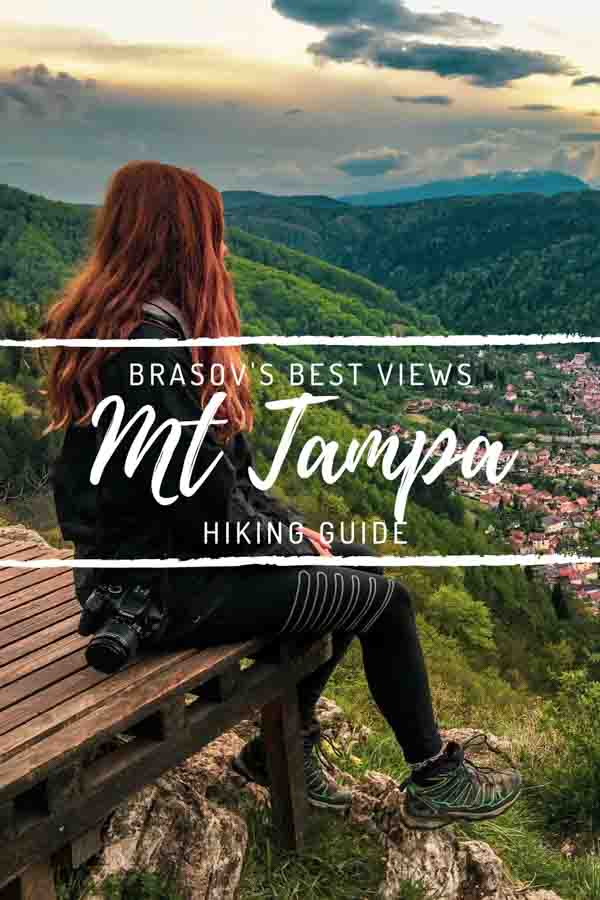 Helpful Resources