An Indian Introduction • What it's Like to Travel India
India, the country that eats curry for breakfast, has Bollywood raves on busses at 6 am and where cows rule the streets.
If you're planning a trip to this crazy country, be prepared to go with the flow and laugh at where it takes you. Travelling to India for the first time defiantly comes with a steep learning curve, a day won't go by without you being totally baffled at least 3 times.
My Experience Travelling India
When I arrived in India I flew into Cochin, a port town in the south of India, and I had no idea what I was getting into.
In typical Kate fashion, I had simply booked a flight and a hostel but was too busy jumping from one adventure to the next to do even a shred of research. I met up with my friend Kelly, knowing full well that she was in the same boat… Let the hysterics of bad planning roll on.
For our first meal in the country, we were directed to a local restaurant on the opposite side of town.
We were specifically recommended to ask for the AC room and order the Thali. At first, we thought we were tougher than needing an AC, hey we are in it for the full Indian experience…
We quickly figured out the bigger benefit of taking the AC room when our food arrived and we had no clue how to eat it. Being served with chapatti, rice, curry, 10 different little silver dishes and no cutlery nor explanation led to a bit of embarrassment.
Luckily we already knew we were meant to eat with our right hand only however, it turns out this is rather difficult, plus we were clueless as to how the food combinations were supposed to be eaten.
Having only one family and the servers watching us attempt to eat was one thing, having a room crammed full of 100 people would have been waaay more intimidating.
So after a few days in India, we managed to make it to Munnar and were ready for a glass of wine or two.
Turns out, alcohol is quite hard to come by in Southern India and in certain states it is contraband altogether!
In Munnar in particular your choices are one hotel that serves beer only for expensive prices or our choice; the single tiny tin liquor store in the town.
This simple wine mission defiantly turned out to be a cultural experience we never knew we would have.
Picture a tiny tin shack, perched precariously on the side of a busy main road, encased in heavy-duty mesh protection with entry via a cattle herding-style queue race.
To be honest we were again a little intimated to arrive and find a 50m line of men piling out of a tightly wound queue dictated by 3m high metal fences. But again hey, we were in it for the full cultural experience and dammit we wanted wine.
Entering the line and proceeding through the cattle grid actually turned out to be quite difficult. As women are seen quite differently there, the men were shocked not only to see us as women attempting to line up for alcohol but Western women!? Surely we must be lost.
This resulted in being continuously turned around and attempted to be assisted out of the gates. Eventually, we made it to the front of the queue, asked for our wine through the 10cmx10cm gap and quickly continued on our way.
Just as we thought we were beginning to get the hang of India, our night bus trip from Bangalore to Hampi turned into a saga of its own.
Our Uber ride to the bus stop in Bangalore begins the story, it arriving 30 mins late adds to the drama.
Now pressed for time we begin driving in the wrong direction, ignoring his GPS he takes a turn for an alleyway… walled in on either side he turns left and right until he comes face to face with a building and a seemingly dead end.
But wait, there is a pedestrian walkway to the side of the building… Reverse and gun it seems to be his approach until we nearly hit a huge truck coming head-on the opposite way.
Eventually after a lot of shouting we made it back onto a 5-lane highway where he realises we have been heading in the wrong direction. This leads to multiple left turns across 5 lanes from the middle of the highway with no indicator, proceeding to stall the car on the wrong side of said highway 3 times.
Eventually, by a ridiculous amount of luck, we make it to the bus office alive, arriving on foot as the driver couldn't find the address.
After being directed onto a bus and making ourselves comfortable for the night, the bus makes multiple stops to collect others. Around an hour into the journey, the driver makes his way around checking all our tickets to discover that we were in fact on the wrong bus.
He assured us that the appropriate bus also just arrived at this stop and pushed us off into the pouring night rain. When we attempted to board the next bus we were rejected again, being told that the first bus was in fact the correct one. By this point, tired, wet and confused, both busses had left us stranded.
Continuing to walk around the road we attempted to find someone who worked there. We managed to ask a couple of officials who simply yelled at us in Hindi and laughed hysterically in our faces, pointed us to wait at the side of the road but seemed uninterested in helping us any further.
Eventually, after climbing on every bus that arrived and producing our ticket we found the right coach.
The bus ride itself was a ride to remember.
The sleeper busses provide everyone with a flat bunk bed, the majority of which run lengthways along the bus, supposedly preventing you from falls when the bus stops… I was placed in the bed across the back of the bus and the driver seemed to take great pleasure in zooming over speed bumps and then slamming on the breaks.
My night included flying vertically up in the air, being pounded against the back wall before gravity collected me returning me back to the rock-hard bed with a thud. Over and Over and Over again, as you can imagine this bus trip resulted in a body of bruises.
The adventures didn't stop there. From then on the trip was continuously full of random encounters, interesting experiences and a whole lot of excitement.
India is defiantly a country where you should dive in head first, ride the wave of confusion and surface with a world of new experiences.
Stay tuned for more tips and stories from my Indian adventure and feel free to leave me any questions you may have in planning for your own trip.
---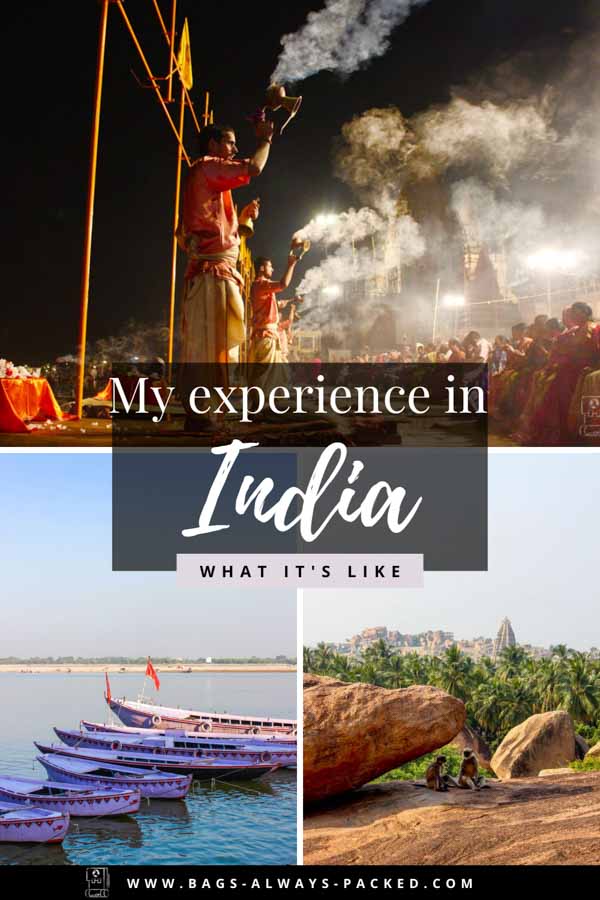 Helpful Resources
Bags Always Packed is a reader-supported site which means some of the links on this page may be affiliates. I spend a lot of time researching these hotels, tours and products and only recommend those which I would use myself. Booking your trip through my links is a great way for you to support my work for free, as I will earn a small commission at no extra cost to you. ♡