Valbone to Theth, Don't Miss This Amazing Albanian Hike!
You may have heard about The Peaks of the Balkans hike. Circling through three countries in the Balkan region of Eastern Europe; Albania, Montenegro and Kosovo, this popular hike is on the bucket list of many hikers!

What a lot of people don't know, is that you can easily complete sections of the Peaks of the Balkans trail as day hikes!
Valbone-Theth is one such section, located in the northern part of Albania. Nestled between mountain peaks, turquoise rivers and lush green forest you will find the small villages of Valbone and Theth, separated by one single mountain pass.
Permits for the full Peaks of the Balkans hike aren't generally available outside of the summer months however, for this section of the hike, no permit is required and it is fully accessible in Spring!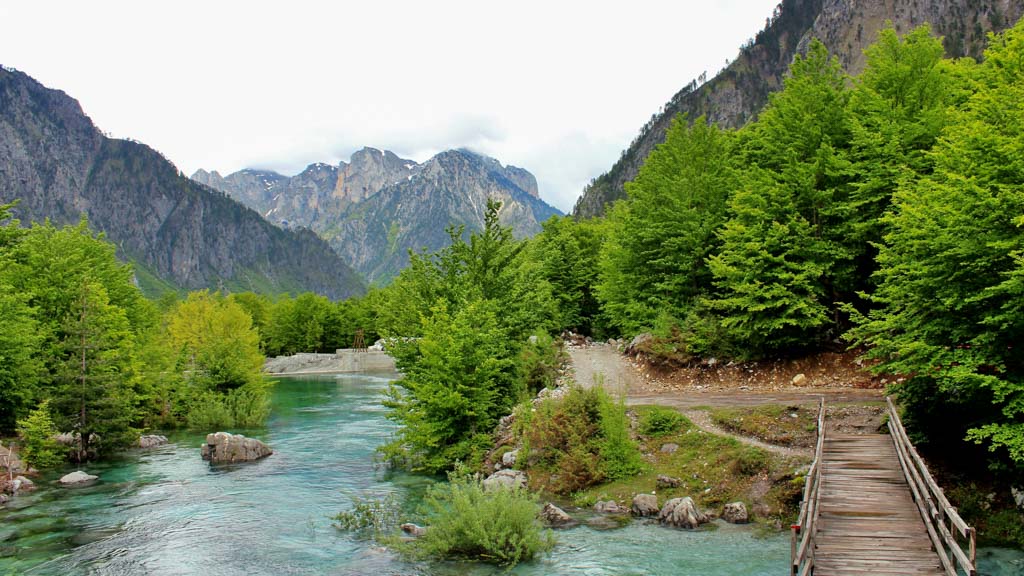 Bags Always Packed is a reader-supported site which means some of the links on this page may be affiliates. I spend a lot of time researching these hotels, tours and products and only recommend those which I would use myself. Booking your trip through my links is a great way for you to support my work for free, as I will earn a small commission at no extra cost to you. ♡
Quick Summary
The hike from Valbone to Theth is one part of the Peaks of the Balkans trek that circles through 3 different countries in Eastern Europe.
You don't need to take a guide to do this hike however if you are inexperienced, or travelling outside of peak summer season when you may encounter snow, it's strongly recommended.
To get to the beginning of the hike, you can either go directly from Tiriana or stop by the town of Shkoder for a few days first if you have the time (I highly recommend this!).
Either way, you will need to book a transfer to Komani Lake, where you will take a ferry across to Valbone. The hike over the pass from Valbone to Theth takes 1 day, and then you will need to organise a second transfer to get back to civilisation.
1. How to Get to the hike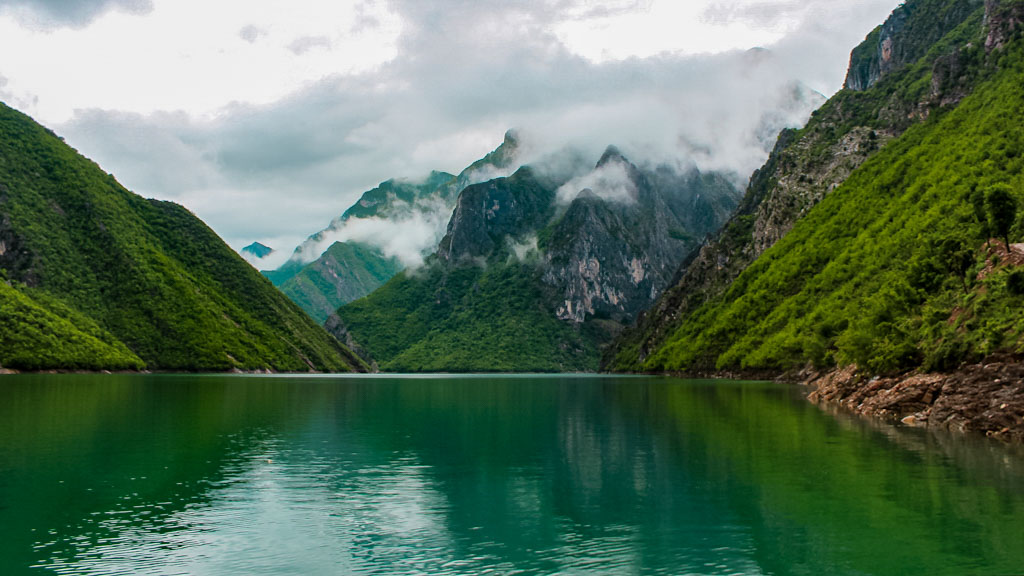 Getting to the trailhead of this hike is half the adventure. Of course, you can take a private transfer or find a minibus to take you all the way to the town of Valbone, but that's not the most exciting way!
Make sure not to miss the ferry ride up Lake Komani, 2 hours of towering cliffs and lush green forest as you float down the bright turquoise water.
I'm going to take you through the journey step by step, but firstly, get yourself to Albania! I like to use Kiwi to find cheap flights. When you arrive in Albania you will fly into the capital, Tirana. You can take a transfer from here directly to the lake if you choose but I strongly recommend visiting Shkoder on the way!
Below you will find all the steps you will need to take to complete the hike, but if you want someone else to deal with the logistics for you, I highly recommend booking a self-guided hike. It will be practically the same as what I did myself, however, all of the transfers and accommodation booking will be done for you. I would 100% have chosen this option if it was available when I did the hike!
Where to Stay in Tirana
1.1 Travel to Shkoder
After you have arrived in Albania, take a bus to the Northern Town of Shkoder for around €5.
Whilst you're here, spend a couple of days staying at The Wanderers Hostel (€8/night), soak up the atmosphere of both this vibrant town and the even more spirited hostel whilst organising your hike.
The staff at The Wanderers Hostel are incredibly informative and will answer all your questions and help you book everything from the comfort of their amazing outdoor living room and bar!
A great thing about organising your hike through your hostel is that there are groups leaving every day. Get to know your fellow adventurous before you even set off!

But if you prefer to stay in a hotel, check out my guide for where to stay in Shkoder below for some other great recommendations!
Whilst in Shkoder, make sure not to miss out on the view from the old castle ruins, plus, a cycle down to Lake Skadar!
Get ready for your hike
But once you've seen the sights, it's time to get ready for your trek! Prepare a small overnight bag for your nights in the mountains, and remember you have to carry it on your hike.
Leave any unnecessary items/bags at your hotel or hostel here in Shkoder to collect upon your return. The Wanderers Hostel will even put your valuables in their safe while you're away!
Buy snacks or hiking gear you would like to take on the trek and make sure to withdraw enough cash to cover the next few days.
TOP TOP: Don't leave this to the last minute (like me)! ATMs in Shkoder do not like to give you large amounts of money. I had to try every card I owned, at every ATM in the town, and eventually, with multiple transactions (and incredibly high ATM fees), I managed to withdraw the cash I needed.
A lot of the ATMs in Shkoder are visa-only, and even more of them seem to constantly run out of money.
When I first arrived in Shkoder I withdrew a little from OTP Bank without fees, but when I returned it was out of money. I eventually managed to withdraw enough from the Raiffeisen bank here, but there were transaction fees and a limit, meaning I had to make multiple withdrawals.
Remember to take out at least 10,000 Lek (€100) to ensure you have enough to cover all your expenses in the mountains, as there are no ATMs or EFTPOS out there. Add an extra 6,000 (€60) if you plan on taking a guide.
Best Hotels in Shkoder
1.2 Transfer from Shkoder to Lake Koman
Book a transfer to the Koman Ferry from Shkoder. Ask at your hotel, they will be able to organise it for you or send you to someone who does.
The great thing about Albania is that they haven't caught on to the trend of charging tourists crazy prices! You can pay for your transfer and ferry ticket in Shkoder for a worry-free, door-to-door trip organised for you.
Shopping around is not really necessary here as all the companies generally charge the same amount. It should cost around 2,200 Lek / €17.50
These will generally leave very early in the morning to ensure you don't miss it!
1.3 Take the Lake Koman Ferry to Fierze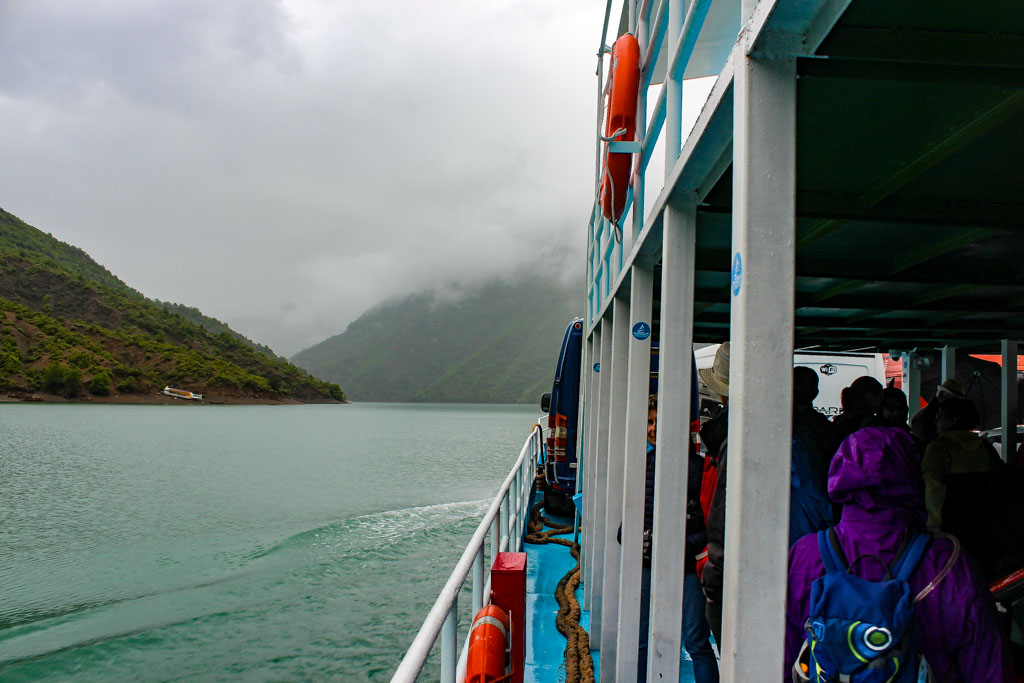 Although the day I took this trip, it was pouring with rain and claps of thunder rang through the sky as we boarded a metal ferry surrounded by lightning strikes. The lake itself was AMAZING!
As we progressed up what looked like a canyon, the storm began to slow and we were able to admire the mountain cliffs and turquoise-blue water between downpours.
Despite the fact that you are travelling up a lake, its narrow shape makes it feel like more of a river. The lake is just 400m while it stretches for 34km!
As you twist and turn your way through giant gorges, the excitement only continues to build as you head towards the next part of your adventure! The trip takes around 2 hours to reach the other side.
1.4 Arrive in Valbone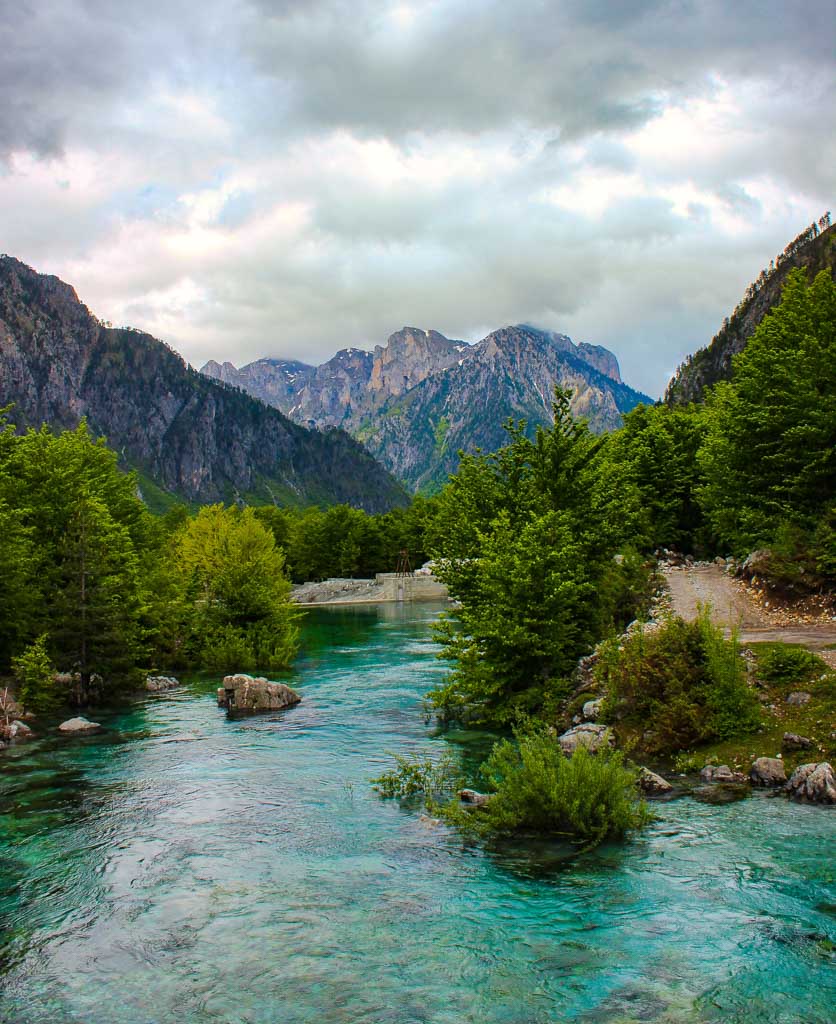 When you arrive in Valbone, if you have booked with The Wanderers Hostel, the lovely Arben will be waiting at the dock to collect you. And if you are organising your trip yourself beforehand, I cannot recommend this guest house enough!
Arben and his wife have turned their beautiful home into a guest house to welcome us, travellers. Nestled between a beautiful blue river and backed into the giant mountains, Guesthouse Arben Selimaj is the perfect location to get reacquainted with nature before you start your hike.

Arben's wife is THE most amazing cook and will do her best to cater to any dietary requirements whilst putting on a feast for the guests every night and every morning! These people are some of the kindest people in Valbone, you will come as a guest but leave as a friend
Staying at Guesthouse Arben Selimaj cost 2,500 Lek / €20 per night with dinner, breakfast and a packed lunch included! You can contact them on 068 36 81 803.
I highly recommend you pre-book your guesthouse, especially if you are travelling during the summer as there are limited beds in the village of Valbone. But if you prefer to take your chances, simply talk to any of the hosts waiting for the ferry's arrival to see who has space for you.
Guesthouses in Valbone
2. The Valbone-Theth Hike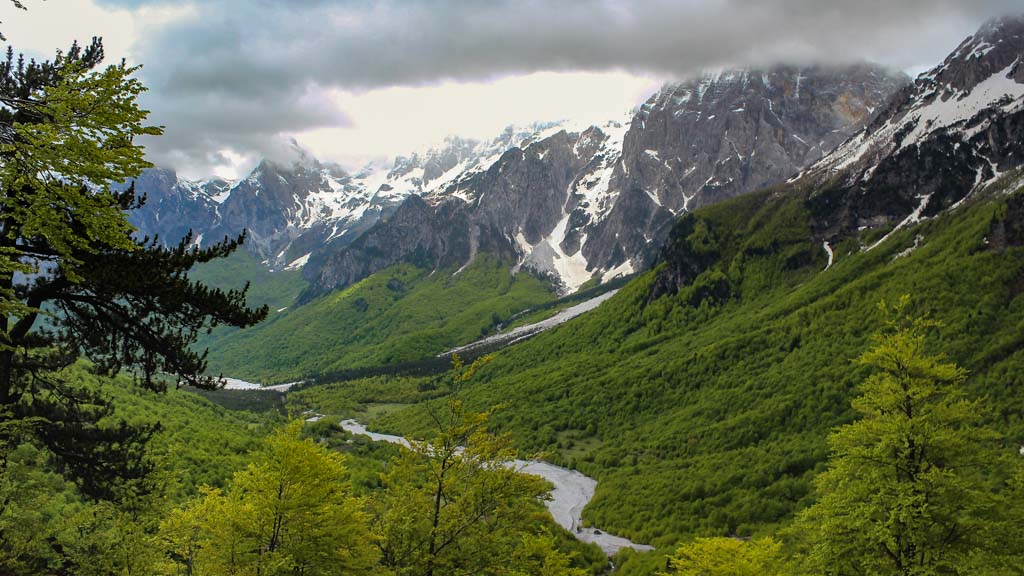 When I arrived in Valbone it was the 20th of April, so very much still springtime, with a lot of snow left in the mountains. Back in Shkoder, I was told that the hike was not possible without a guide at this time but of course, I went ahead with the hope to find out for myself if that was true.
Arriving at the guest house, the weather didn't look promising. Pouring with rain and low clouds was the forecast for the week. At this point, I was on quite a tight time schedule as I had another whole country to cover before catching a flight to Western Europe.
Luckily, I met a couple of girls from England who were also on a time limit and wanted to do the hike the following day, rain hail or shine, and preferably, without a guide. My kinda girls!
Arben and his wife were quite concerned about our plans to team up and tackle the pass unassisted. They mentioned that no one had hiked without a guide yet that season as it was still too early, however, they were still extremely helpful when they realised our determination.
Arben talked us through the whole route, including the slightly dangerous traverse in deep snow, followed by the threat of falling debris from loose rocks above. Arben's wife even made us promise to call from a tea house located on the other side of the pass to let them know we were safe.
My experience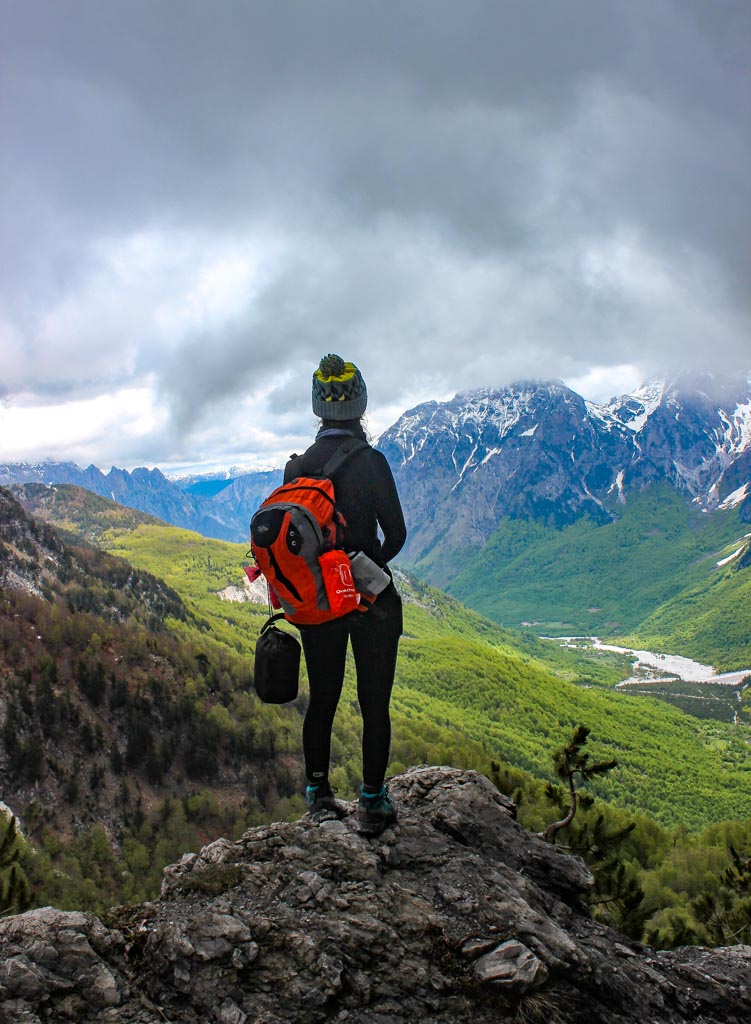 The next morning in drizzling rain and fog, we set off. After walking through town to the end of the road, we eventually found ourselves at the trailhead. Next to a sign that marked the hike as "closed". Onwards and upwards we continued… and I mean up!
At a steady incline, the path climbed its way through a forest. After an hour or so, we found a campsite with fresh water and a toilet! (Another option if you don't want to stay in Guest Houses). Continuing on and up, eventually, we popped out above the trees and found ourselves in a snow-covered bowl, heading towards what looked like vertical mountain faces.
At this point, the trail was quite hard to decipher. Everywhere looked like a dead end and the cliffs in front seemed impossible. After a quick study of maps.me, we blindly continued on towards the mountains.
Finding a bald, steep, snow-covered slope ahead, we began to slowly zigzag our way up, relying solely on our careful footing to prevent us from sliding all the way back down.
Eventually, we were at the base of the cliff, the trail turned sharply to the left and we could see the dangerous traverse cut into the deep snow. Not knowing what lay beneath our feet, we passed this section quickly and found relief in the sight of some big boulders further on.
This was the first point where we were truly able to appreciate the mountain views down the valley. The clouds on the horizon lifted, just slightly at that point, so we could appreciate the rewards of our own efforts.
Carrying on, the path revealed itself from beneath the snow as a clear rocky trail. Another quick jaunt as we passed below the loose rock face, followed by a short (but near vertical) push to the summit.
We were quite saddened to see that the clouds had resumed their looming position at this point and there was no chance for us to see the view from on top. After having made the decision to head straight down the other side, we were quite surprised to find a grey, windy void greeting us as we crossed the threshold.
Up until this point there had been a little rain and some cloud cover but nothing compared to what we discovered on the other side. Heading in practically blind and grasping the rocks for stability in gale-force winds, we began our descent.
Luckily, there was barely any snow on the Theth side because of its orientation and it wasn't long before we were back in the forest, sheltered by trees.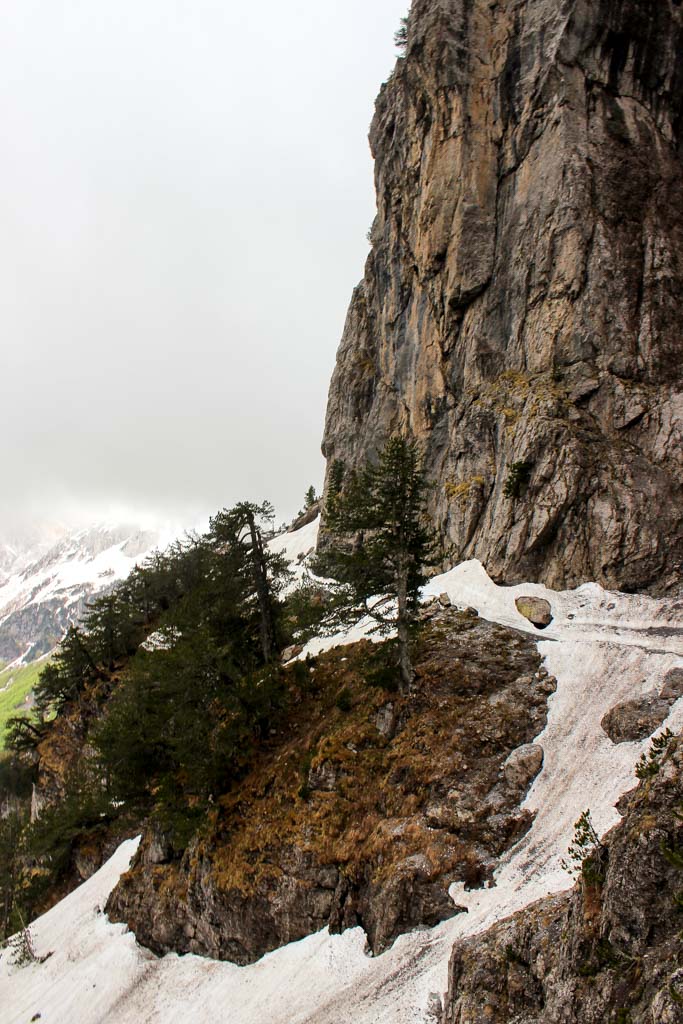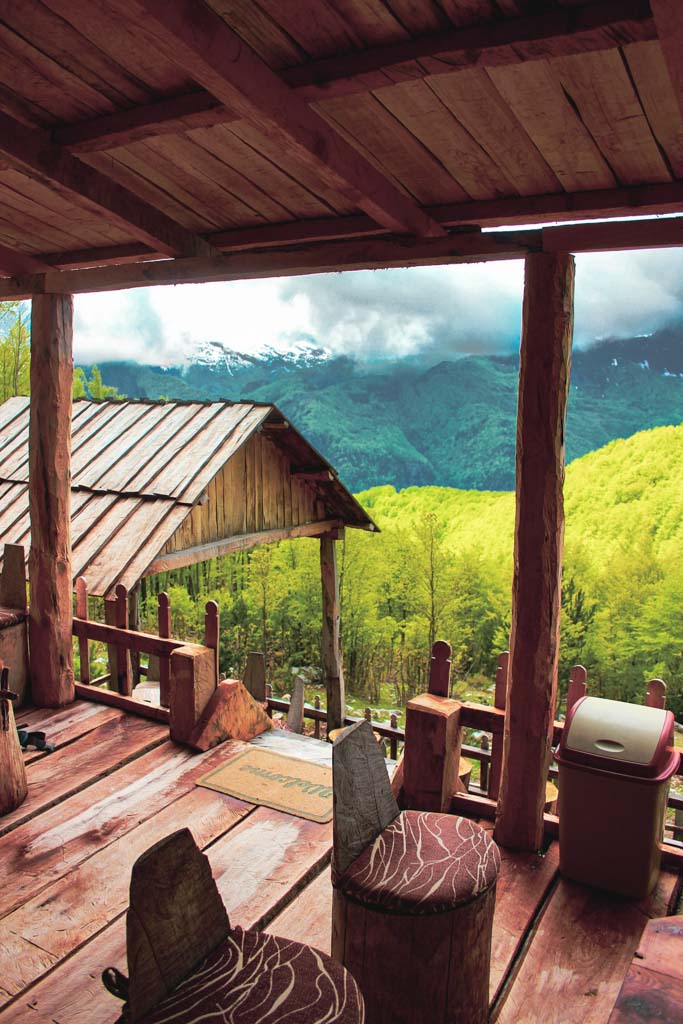 After a pleasant saunter through these woods, we arrived at a clearing, with the cutest Tea House you have ever seen!
As we approached the open-walled shelter and took our seats in front of the fireplace to admire the incredible view, the owner approached us to ask if we were "the girls from Valbone"… Arben had called ahead and asked the tea man to look out for us!!
After warming up, relaxing with a cup of tea in hand and gazing upon the mountains which were now visible again, we continued on our way down to Theth.
The whole hike only took us around 7 hours although we were rushing through many parts of it. I believe most people take around 8-9 hours to complete the Valbone – Theth hike.
In Theth we stayed at Guesthouse Pashko for 2,500 Lek / €20 including dinner and breakfast.
There are quite a few shorter hikes to waterfalls and viewpoints around Theth so if you have the time, it is worth spending a few days in this gorgeous town to explore further.
3. Getting back to Shkoder from Theth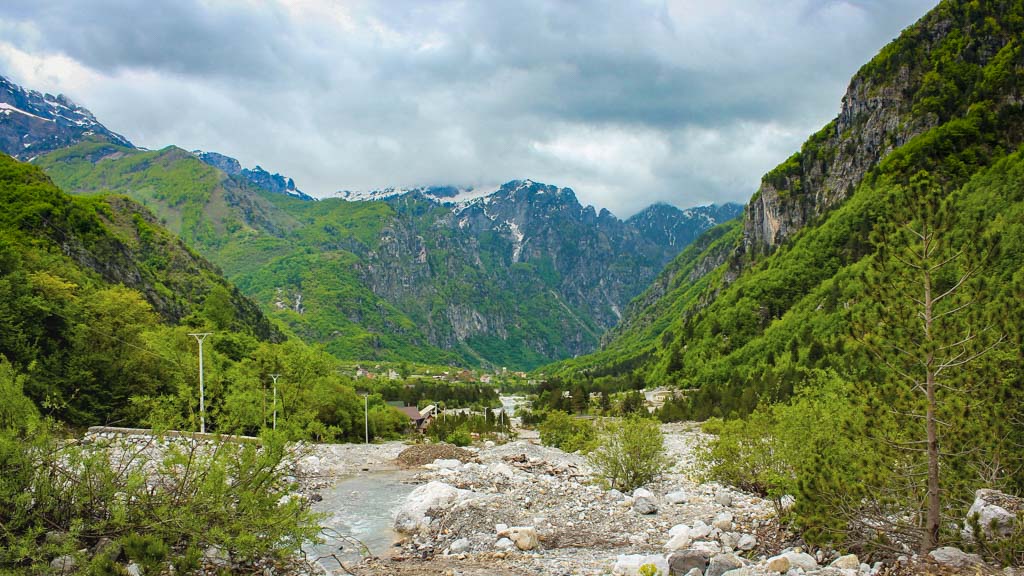 Once in Theth, ask your guest house to organise a transfer back to Shkoder. I was told they generally leave twice a day at 9 am and 1 pm.
I was hoping to catch an afternoon shuttle as soon as arriving in Theth, thus skipping a night of accommodation, however, when I arrived, I was unable to find anywhere obvious to ask to organise one. Once I had checked into a guest house, I was told they only leave in the morning during Spring.
If you're hoping to leave Theth directly after the hike, make sure you take enough cash to be able to pay for a night here, just in case you get stuck!
After exploring the area surrounding Theth for an afternoon, I arranged my "transfer" for the following morning. The morning came and eventually, after breakfast, the guest house owner informed me that my lift was there.
I said goodbye to my new hiking friends, and climbed into the minibus as directed. As we set off in the suped-up vehicle with no other passengers, I sat there thinking the ride would a surprisingly comfortable…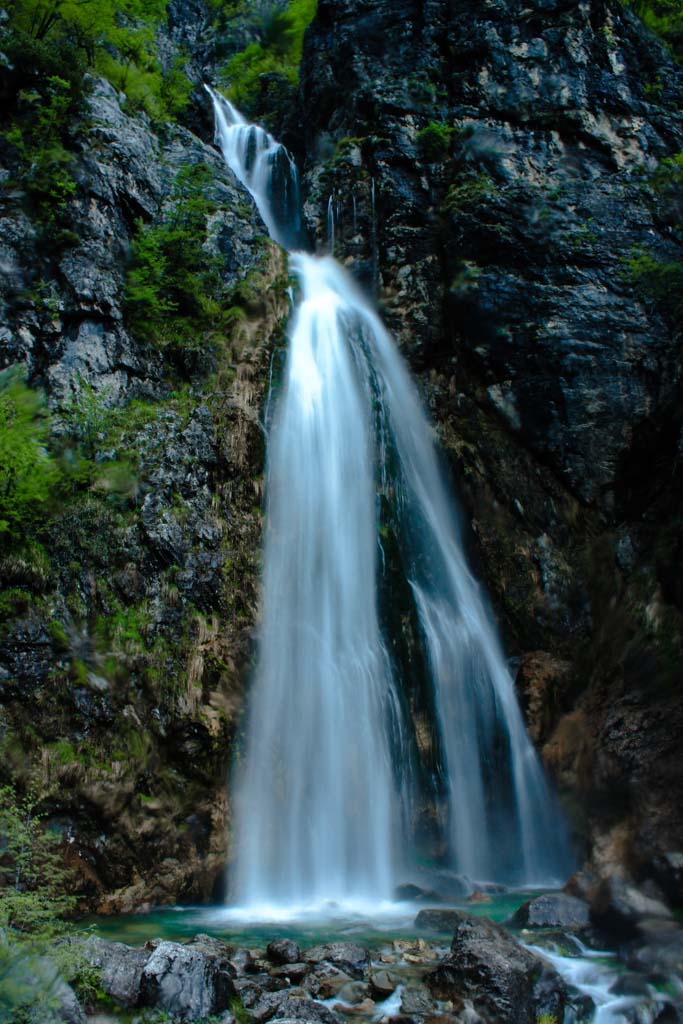 Wrong.
After a short drive through the village, I was brought to an intersection at the turn-off to the exit road. There, I was told to swap cars and that the ancient Mitsubishi Pajero, idling close by, would be taking me to Shkoder.
I climbed in to discover that my journey was going to be shared with 4 local Albanians, confined within a small 4-wheel drive, plus, it seemed that the internal structure of my seat had collapsed a long time prior.
Although they explain this transfer as a shuttle, it is really a locally arranged Uber service! Ride-sharing with locals is the only way to get to or from Theth as the roads are so steep, it's impossible for any other vehicle to traverse these roads. (In winter, they are completely cut off by snow).
We set off for our return to Shkoder.
You may be thinking at this point that the adventure is over. Wrong again. This crazy mountain road winds its way up and up and up the valley, providing amazing views of the surrounding peaks as you climb another mountain pass back to civilisation.
After a lot of bumping around, a quick photo stop on top and a slightly awkward language barrier, we were over the high point and started down the other side.
The rest of the journey takes you through the Albanian countryside and some interesting towns before you will be dropped off at the location of your choice in Shkoder.
The drive can take anywhere from 2-5 hours depending on many factors. Pay your driver directly, the ride should cost you around 1,400 Lek / €11.
Where to Stay in Theth
4. Things to know about the Valbona – Theth hike
Alright, now that you have an idea about the hike itself, it's time to gather some more technical knowledge about the trip.
Below I have outlined some helpful things to know about the trip, but if you have any other questions about hiking from Valbone to Theth, leave them in the comments below and I will answer you!
4. 1 Difficulty of the hike from Valbone to Theth
Although the hike is strenuous and quite long, I wouldn't say it is particularly difficult. Anyone with moderate fitness should be able to complete this hike with a little determination in the summer.
There are plenty of rest spots along the way even with refreshment stands in the summer months!
If you are looking at completing this hike in Spring or Autumn when there is snow and more varied conditions, this, of course, adds a level of difficulty. If you don't have experience in snow hiking or route finding, take a guide for your own safety.
4.2 Cost of the trip from Shkoder and back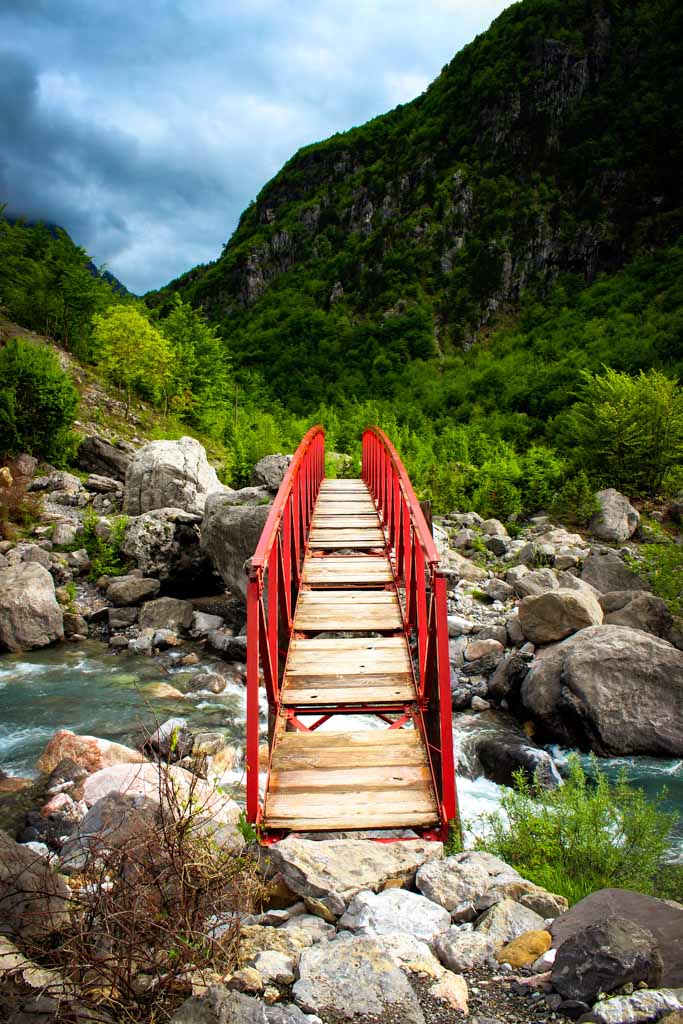 Of course, it can cost more or less depending on how you book your accommodation and transfer, but here is a breakdown of how much everything cost for me.
Shkoder-Valbone (including ferry): 2,200 Lek / €17.50
Accommodation (x2 nights): 2,500 Lek / €20 per night
Theth-Shkoder 4×4 ride: 1,400 Lek / €11
Guide (if used): 6,000 Lek / €50
Round trip from Shkoder – Valbone (via Lake Koman) – Theth – Shkoder, 2 nights accommodation & food = 8,600 Lek / €68.50
4.3 Which Direction Should You Hike: Theth-Valbone or Valbone-Theth?
One of the most commonly asked questions is which direction to complete the hike. Theth-Valbone, or Valbone-Theth?

Although you can easily complete the hike in either direction, I would highly recommend the Valbone-Theth direction as described above.
If you are hiking in Spring or there has been a late winter, it will be much safer to complete it in this direction as you will be heading uphill on the Valbone side where the slopes may still be blanketed in snow.
Once you cross the pass onto the more southern, Theth side, there is likely to be very little to no snow remaining on the descent.
Hiking in this direction also means you can assess the situation as you go and turn around if needed. It would be much worse if you were to head up the clear side from Theth, only to discover at the peak that the Valbone side was not passable.
4.5 Theth – Valbone in May. Can you hike the Peaks of the Balkans in Spring?
As you are generally not able to receive a permit for the full Peaks of the Balkans hike in Spring, many people come to the common misconception that you can't hike here at all in May. But….
IT IS POSSIBLE TO HIKE THETH – VALBONE IN MAY!
Of course, you must be aware that it will still be spring conditions. As the mountains are high in this part of the Balkans, there will still be a lot of snow and the trail will most likely be covered.
Depending on the current conditions, as well as your own experience, confidence and quality of gear you may still be able to complete the hike unguided such as I did. Always check recent trail conditions with your guest house host before setting off as they will know all the up-to-date information on conditions and can advise you further.
If you lack confidence or experience in alpine snow travel, simply take a guide! You can still complete the hike in May!
Most owners of Guest houses in both Theth and Valbone offer guiding services for around €50 (6,000 Lek) per day. Ask your host, guiding can generally be arranged the day before, and the price can be split by however many people are in your group. So ask around at your accommodation, if you're there in snowy conditions, I'm sure many people would be willing to share a guide, especially at such affordable prices!
If you do choose to head to these magical mountains in snowy conditions, make sure you start from Valbone as mentioned earlier, as this is going to be a much safer direction of travel. Also, be sure to be prepared with layered clothing and all the right equipment.
5. Best Tours for Valbone to Theth Hike
So far this has been a detailed post about how to organise the Valbone to Theth hike yourself, but if you are the type of traveller who likes to have everything organised before you leave home, or simply want someone else to do all the organisation for you, here's all the best tours you can book for the Valbone – Theth hike!
From Tirana
From Shkodër
Full Peaks of the Balkans Tours
Peaks of the Balkans – This flexible private tour lets you decide the route, duration and more together so you can develop a customised trip to suit your ability and time.
Intensive Peaks of the Balkans Trail in 7 days – Complete the whole trip around the Balkan Alps with a local guide, accommodation, food and transport all included.
Day Trip Tours
If you don't have time for multiday trips but still want to experience the region, join one of thses day trips to various locations around the national parks.
Frequently Asked Questions about Hiking Theth to Valbone, Albania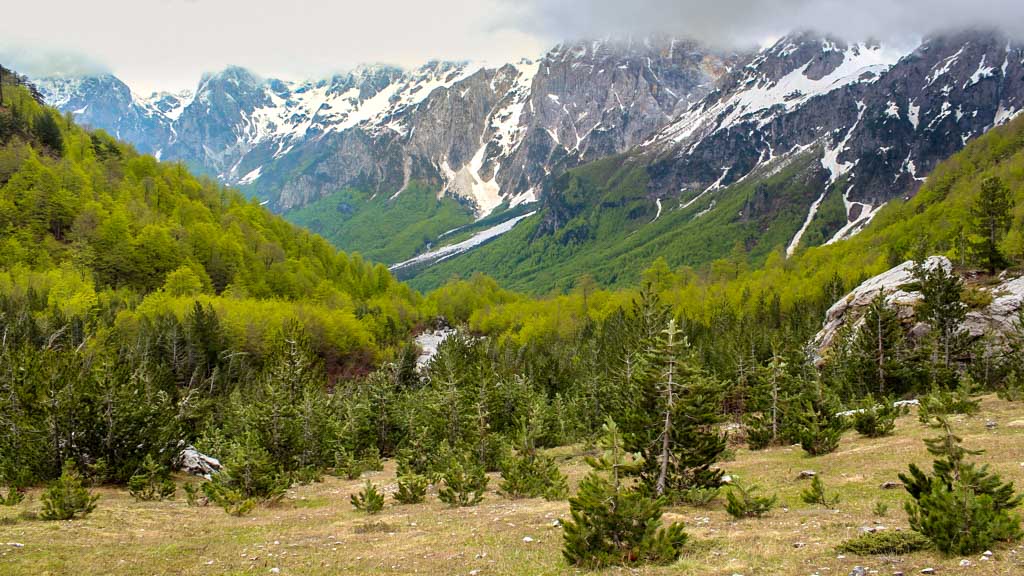 How do you get to Valbone?
From either Tirana or Shkoder, you need to take a transfer to Komani Lake which you will cross on the ferry. On the other side, you will be picked up by the host of your guest house in Valbone.
How long does the Valbone – Theth hike take?
Most people take 3 days to complete the circuit starting from either Tirana or Shkoder, however the hike itself from Valbone – Theth only takes around 7 – 9 hours.
When is the Valbone – Theth hike open?
Theth is completely cut off in the winter due to snow, so the hike only opens when the road becomes clear in late spring. This usually happens from May onwards.
What is the elevation and distance of the Valbone – Theth hike?
The hike from Valbone to Theth is around 16 km (10 miles) with a maximum elevation of 1,800m (5,900 ft).
---
And there you have it! I hope you found this guide for hiking from Valbone to Theth in Albania super useful and that it answered any questions you may have.
If I missed something or you simply want to share your own experience, let me know in the comments. I would love to share my knowledge even further by answering you.
Happy hiking,
Kate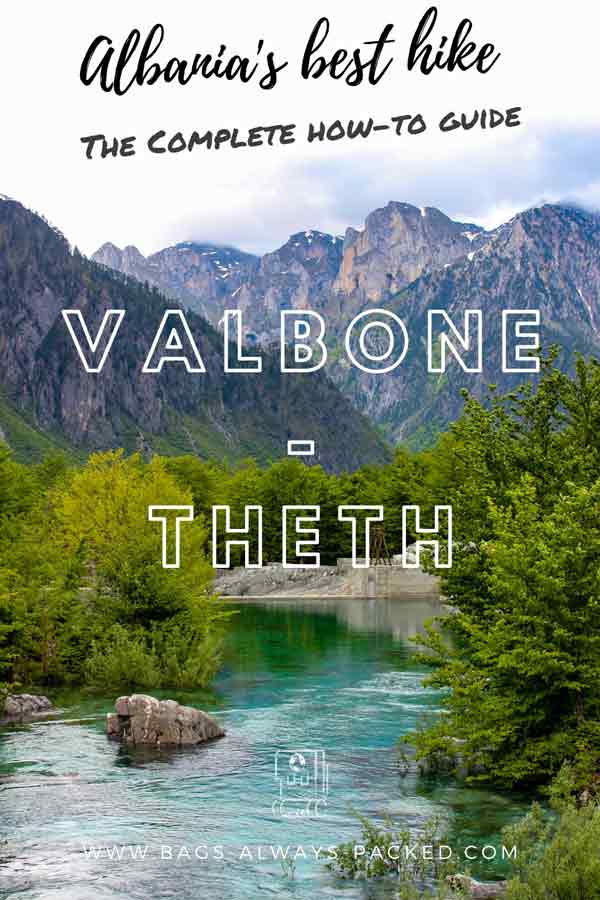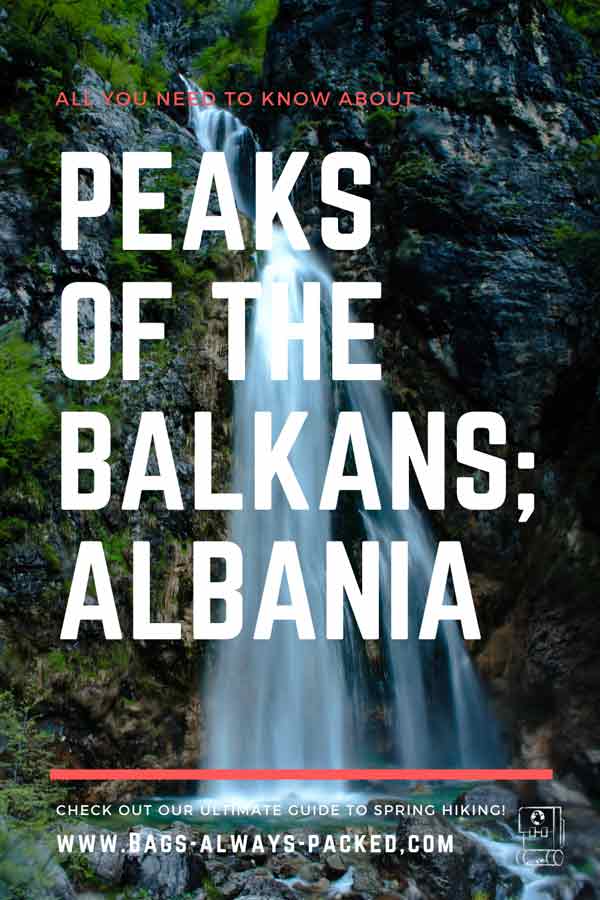 Helpful Resources